#wellmade in Wellington


On Wednesday night, we hosted the first-ever 'Wellington Makers Meetup' in our Wellington office. Aimed at people who are interested in all aspects of digital fabrication, the first Makers Meetup brought together a diverse group of people who are passionate about making, creating and learning.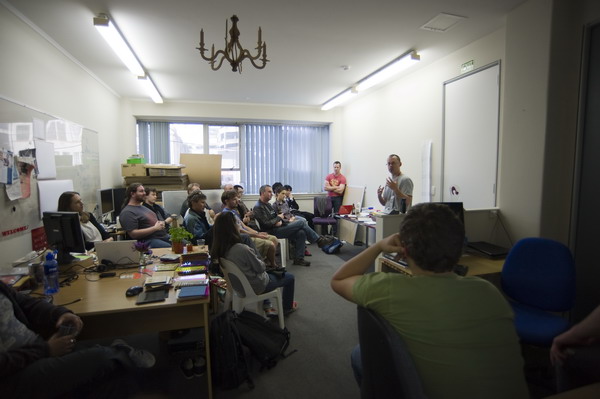 Our co-founder Dave ten Have gave a brief speech that covered the history of different fabrication techniques, noting that we are currently enjoying a special moment in the history of 'making' – we're sitting at the tipping point of new technologies, and it is possible for virtually anyone to jump online and find the resources needed to make products, designs, and electronic components. He cited a fascinating example of a friend of his using a laser-cut leather holster, arduino components and some internet-sourced lines of code to create a 'foaling alarm' for a pregnant mare on his farm.
The meetup then paused to examine the range of Ponoko materials on display and chat to one another, before gathering to listen to Dave Keyes talk about his recent Rocktober trophies project.
We were delighted to be able to give NZ-themed Ponoko-made Christmas decorations to everyone that attended, and our Fabricator, Yana, even laser-cut some beautiful snowflake patterns onto icing for cupcakes!
We were also struck by the energy and excitement of everyone present. Many people talked about their projects with us and discussed the various digital technologies that their children were interested in. Future meetups were discussed, and the possibility of a workshop in vector-based drawing looks to be promising as a future event.
Thank you to Richard Fortune for organising this new meetup – we will continue to attend and watch the development of the Wellington Makers with much interest. You can join the Wellington Makers group here, follow them on twitter @makermeetup, and use the hashtag #wellmade.
If you're interested in hosting your own Ponoko meetup, be sure to let us know via the meetup.com/Ponoko website – we'll be happy to help!