Do-it-Yourself-with-Others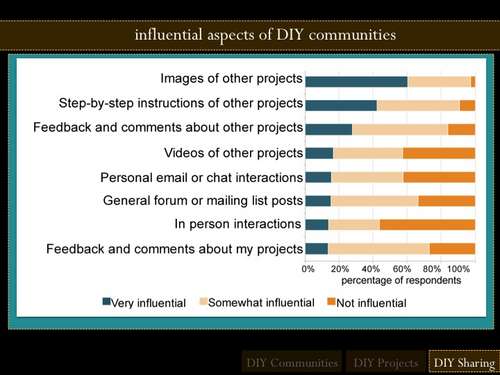 A recent post on Instructables reveals the results of a DIY community survey conducted by Stacey Kuznetsov and Eric Paulos of Carnegie Mellon's Human Computer Interaction Institute.
The survey was posted in the forums of six different DIY communities: Instructables , Ravelry , Adafruit , Craftster , Dorkbot , and Etsy.
The response was "overwhelmingly female (2287 female, 186 male, 11 transgender)," perhaps "due to a female majority in Ravelry and Craftster (71% and 68% respectively)."
But I suspect that women are more inclined than men to take surveys. (We think it's fun.)
Still, the results reveal some interesting insights into why people DIY and why they engage in DIY communities. As you can see from the graphs below, the main reasons why DIY has become a movement, a defining mentality of today, is the desire to be CREATIVE and to LEARN.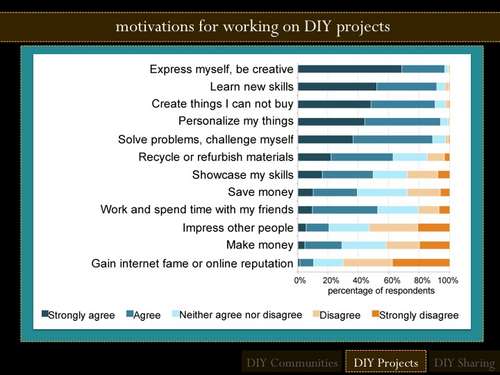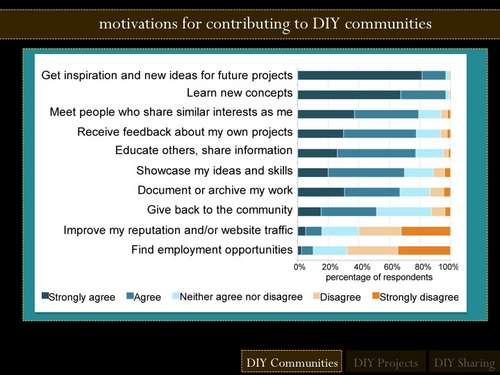 Click HERE for the full survey.