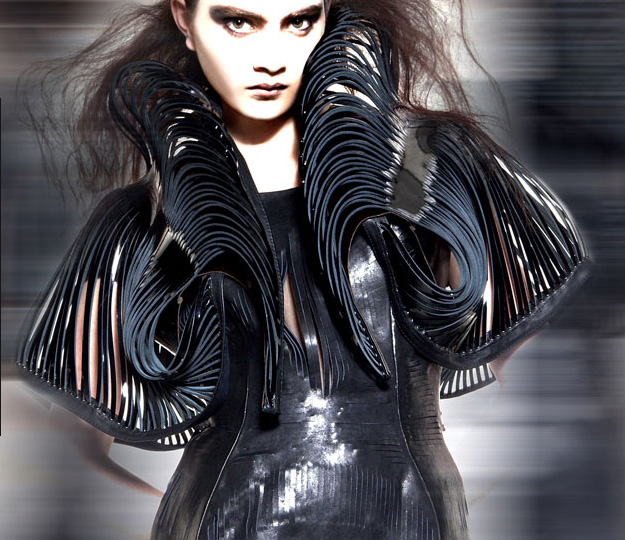 Iris van Herpen exceeds expectations.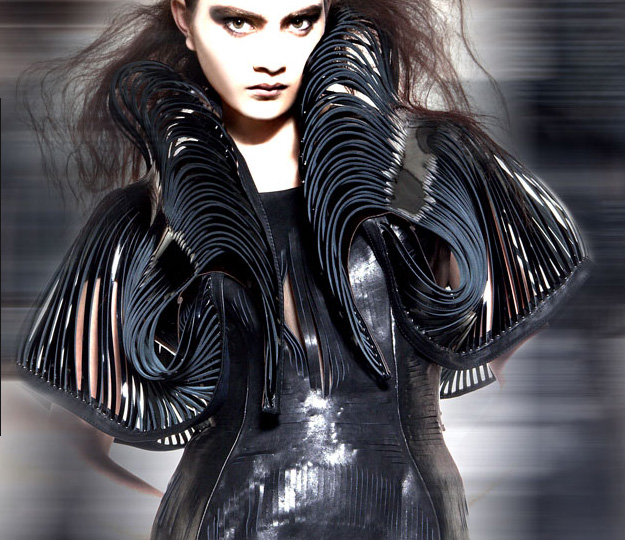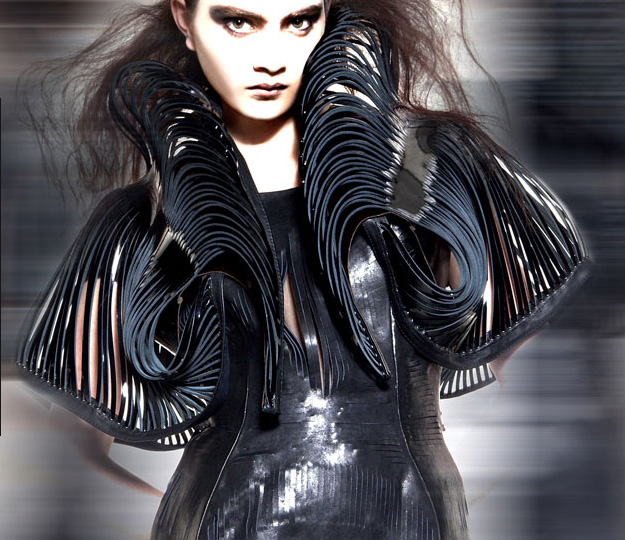 A couple of years ago I started a journal on my absolute favorite artists and designers. Not just simply ones I really really liked, but ones that were beyond subjective preference — artists and designers that were truly phenomenal.
The goal of this journal was to figure out what it was — the quiddity, the essence — that made their work so breathtaking, so amazing, so supreme. And after contemplating factors from sprezzatura to self-discovery, I finally figured it out.
Exceeding expectations. Now I mean this in a grand sense; not just an A+ versus an A. I mean exceeding your expectations of what something can be, a particular potential within the world that you are seeing fully actualized for the first time.
And that's how I feel about Iris van Herpen.
Van Herpen is an extraordinary talent who honed her skill and vision with avant-garde greats Alexander McQueen and Viktor & Rolf. This past weekend she won 3 Dutch Fashion Awards including the €25,000 Mercedes-Benz Award, the Dutch Fashion Accessory Award and the Dutch Fashion Incubator Award.
Van Herpen graduated from the HBO, ARTEZ Academy Arnhem, the Netherlands in 2006. In  2007, she debuted her signature lasercut strips in the Fragile Futurity collection.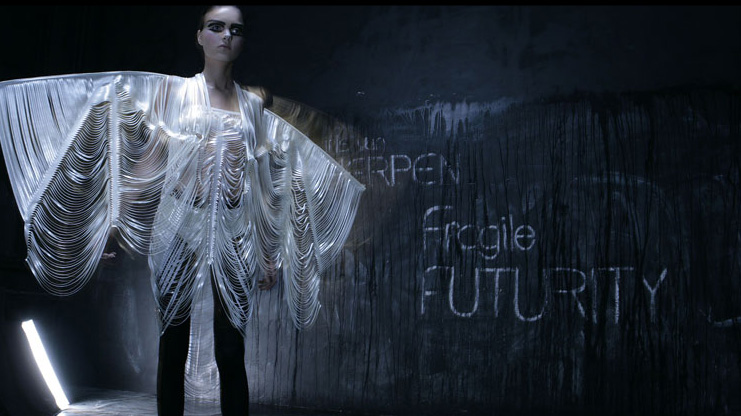 Breastplates of volumetric waves were introduced the following years in her collections Chemical Crows and Refinery Smoke.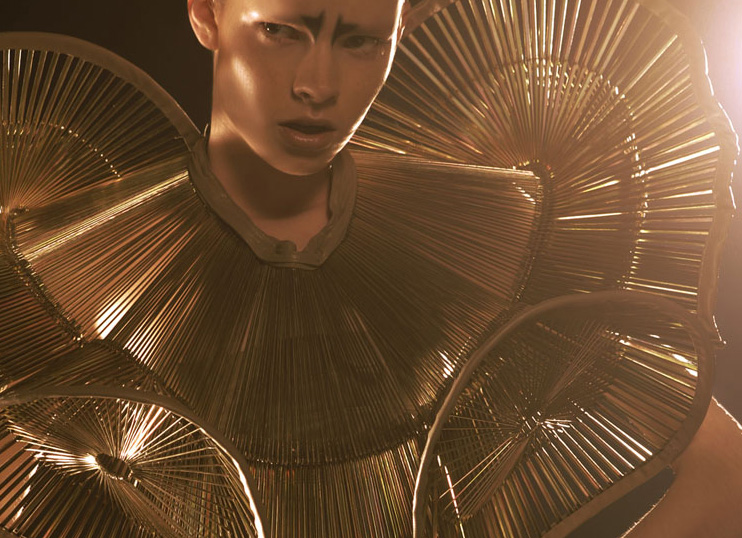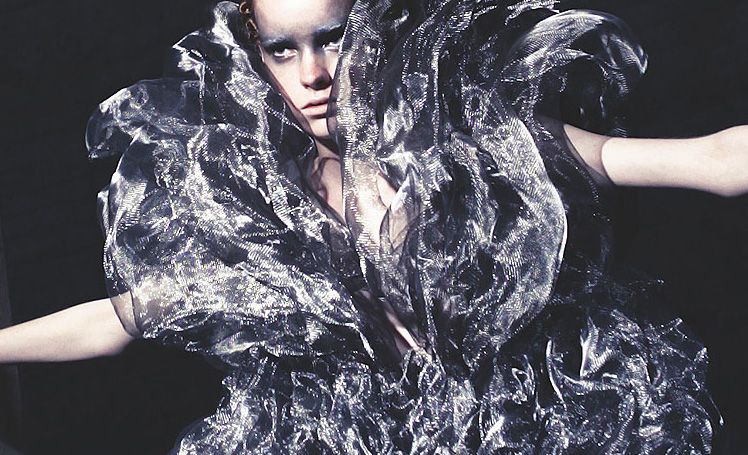 In 2009, van Herpen found inspiration in ancient Egypt's obsession with death. The Mummification collection returned to lasercut strips, this time in ebony and skin colored leather.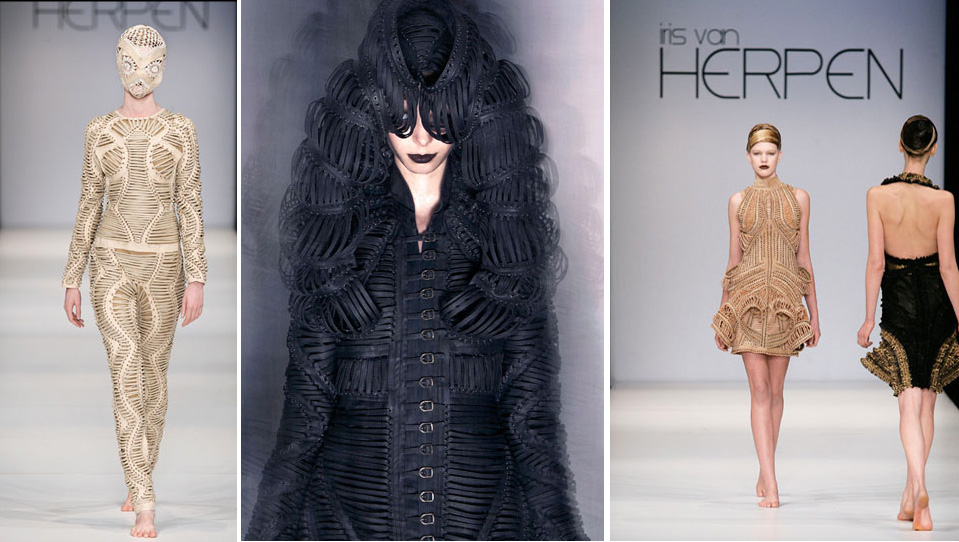 Radiation Invitation is a collection of couture level craft and imagination. Clearly recognizing her own aptitude for manipulating leather, the designer returned to the language of leather strips but this time the strips are no longer confined to being latices between larger pieces of fabric. The shiny patent strips accented with metallic slivers form their own living mass, spreading over the simple shell underneath.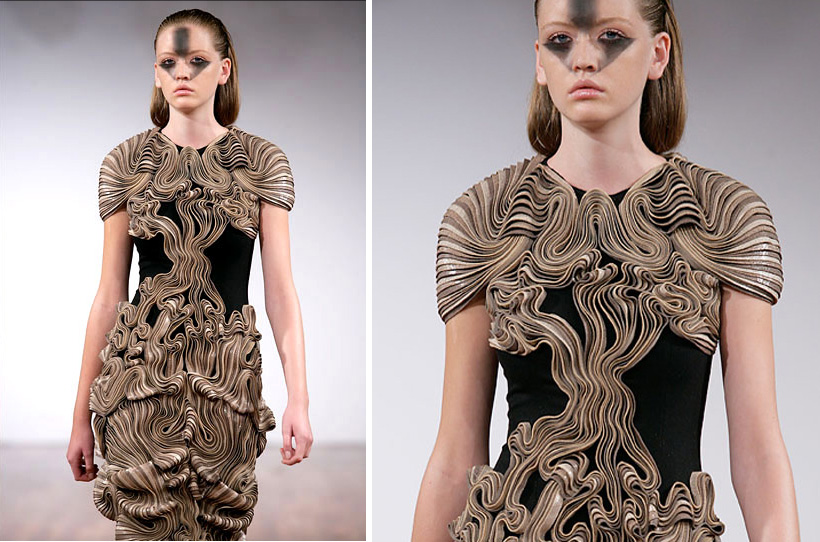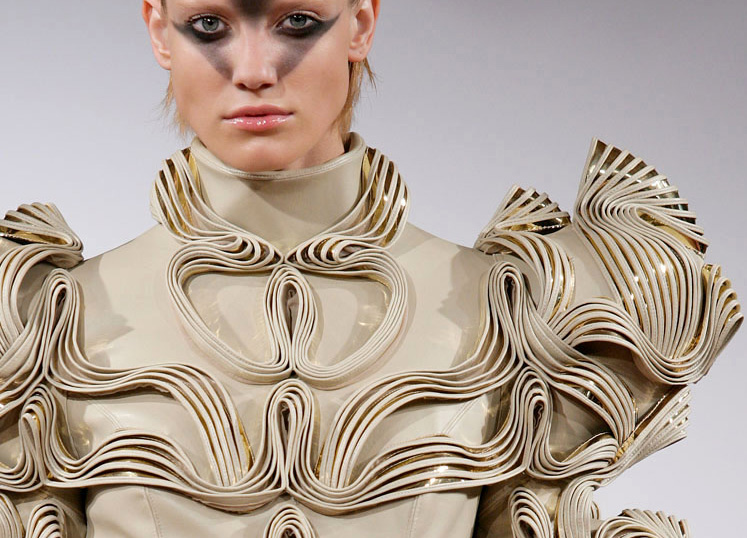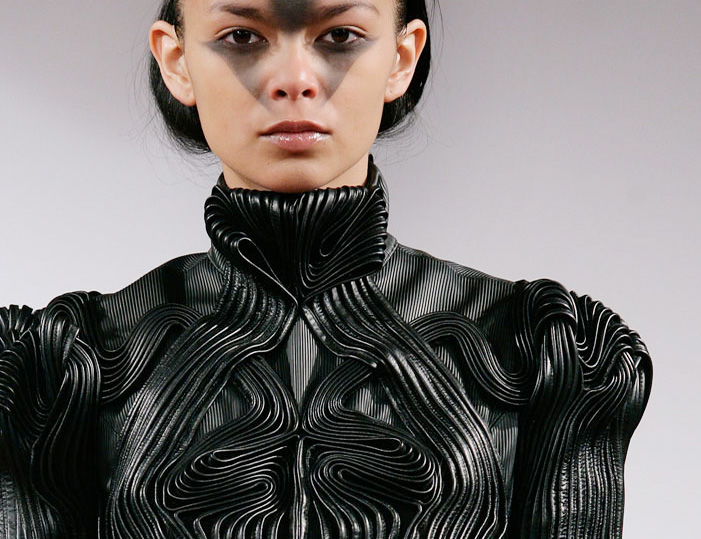 For fall 2010, while everyone else jumped off the laser-cut bandwagon, van Herpen pushed the envelop even farther for what lasercut leather could do. Synesthesia featured delicate exoskeletons complete with lasercut leather claw shoes made in collaboration with United Nude.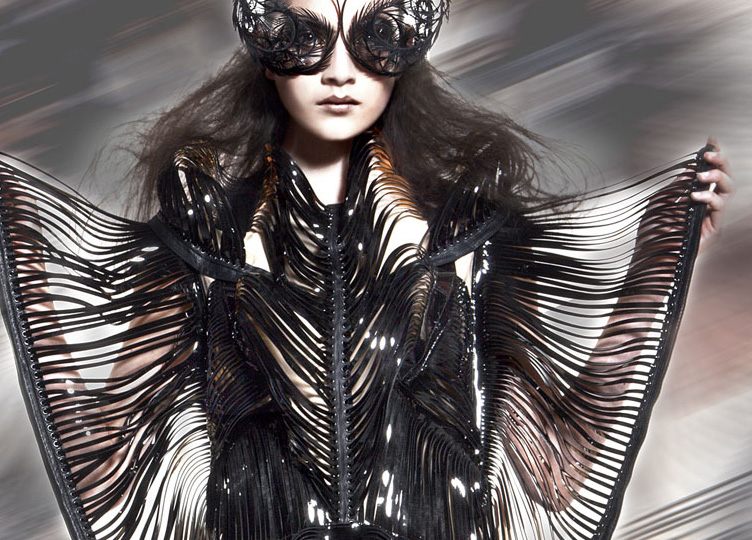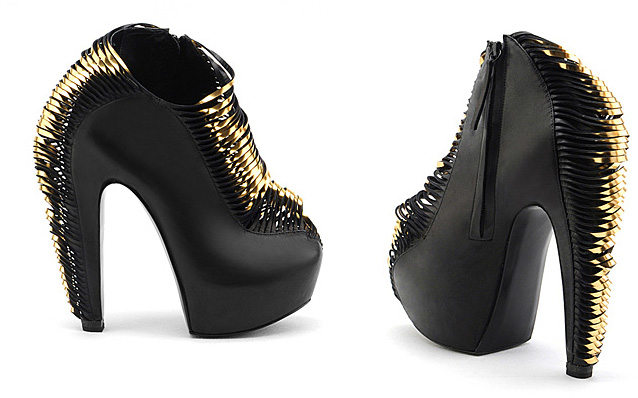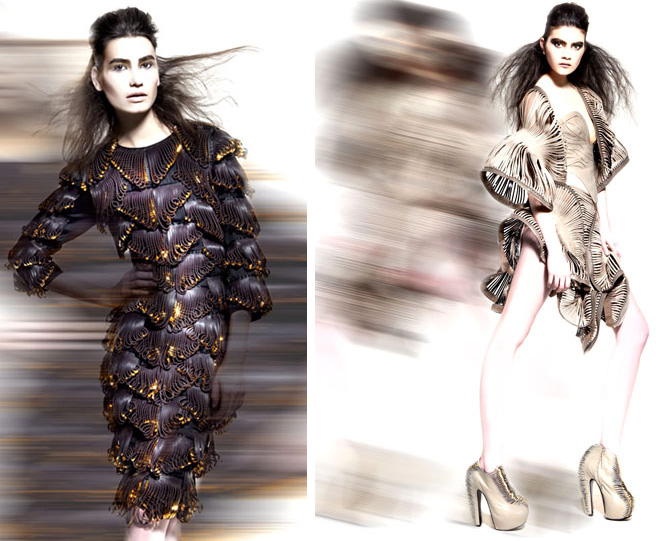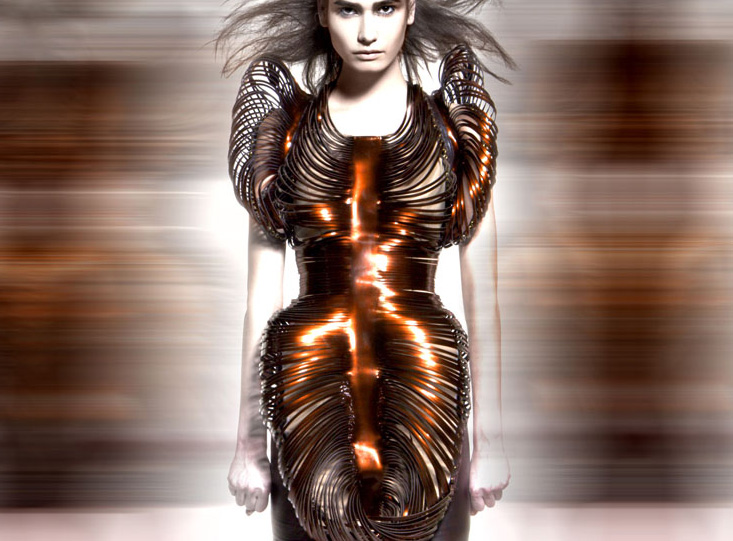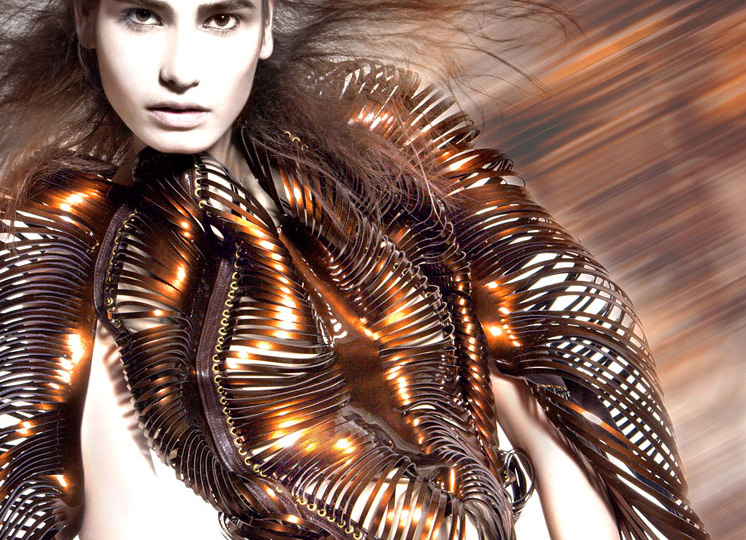 Crystalization is the latest collection, and van Herpen adds a new digital technology to her repertoire.
Water was the underlying theme, and the catwalk show begins with an enormous projection of a woman being splashed. The frame is mirrored and frozen, and there is a beautiful sequence in which the images rotate to create the opening of a massive gate. (See the 1min mark in the video below.)
The leather strips are here again, but this time in less agressive forms. And the show closes with a fully 3D printed breast plate paired with a leather mini skirt.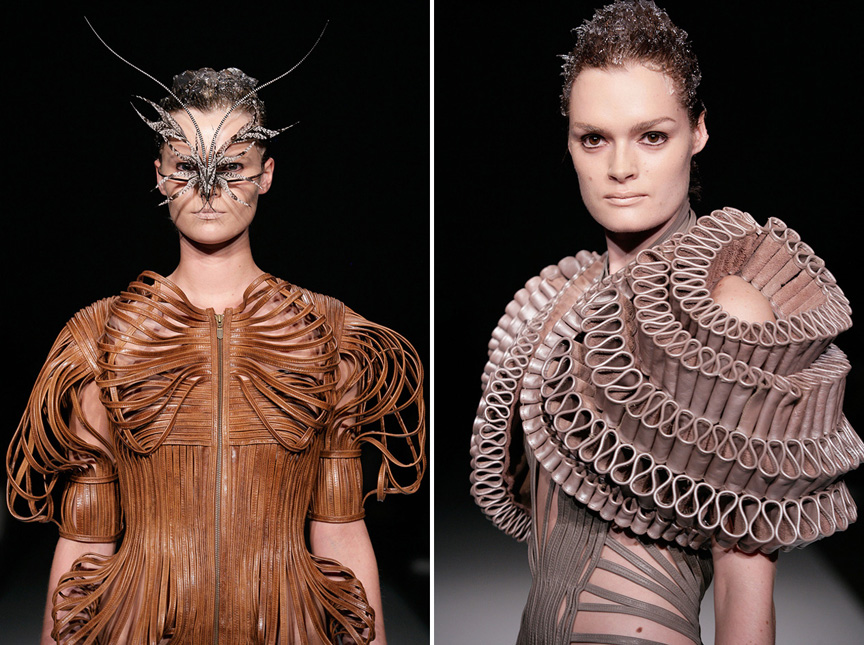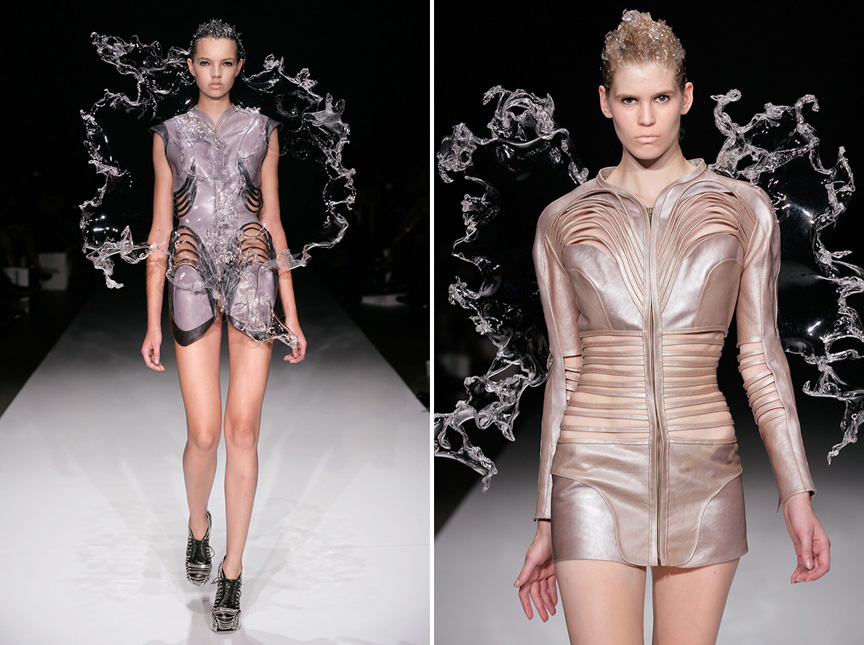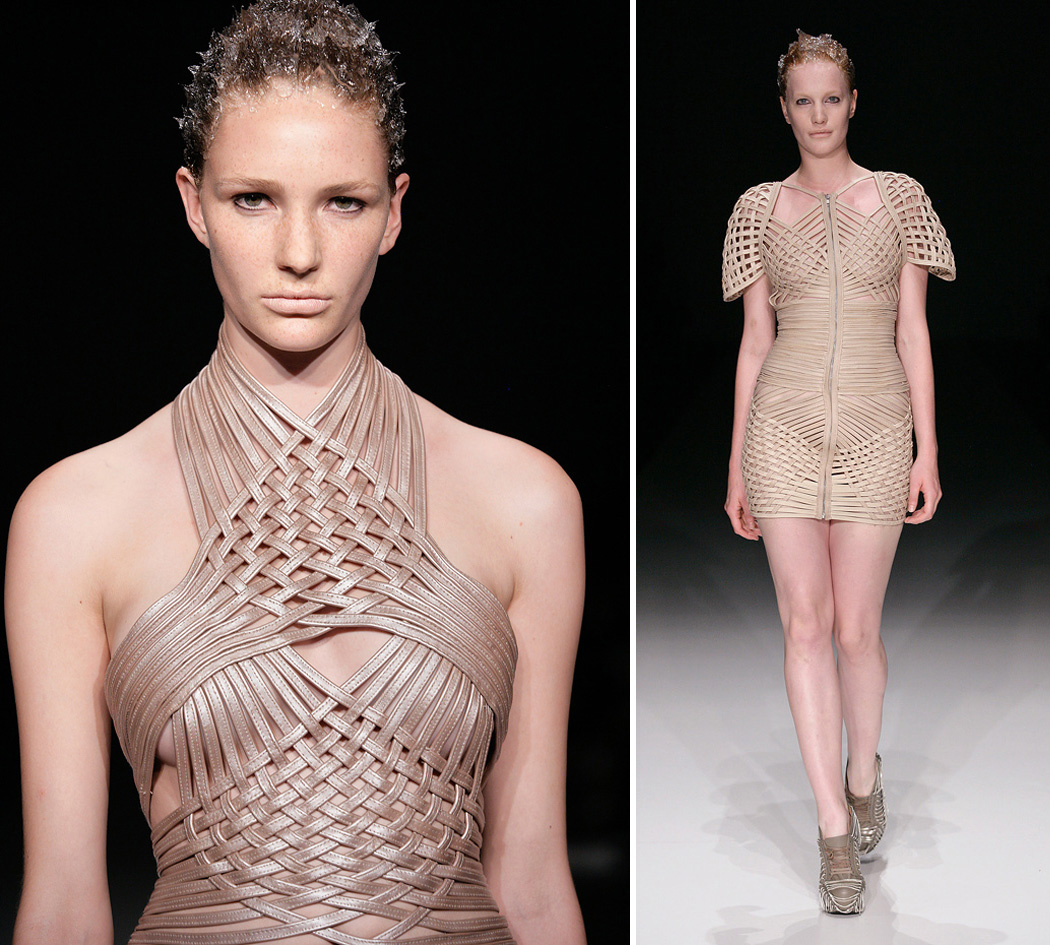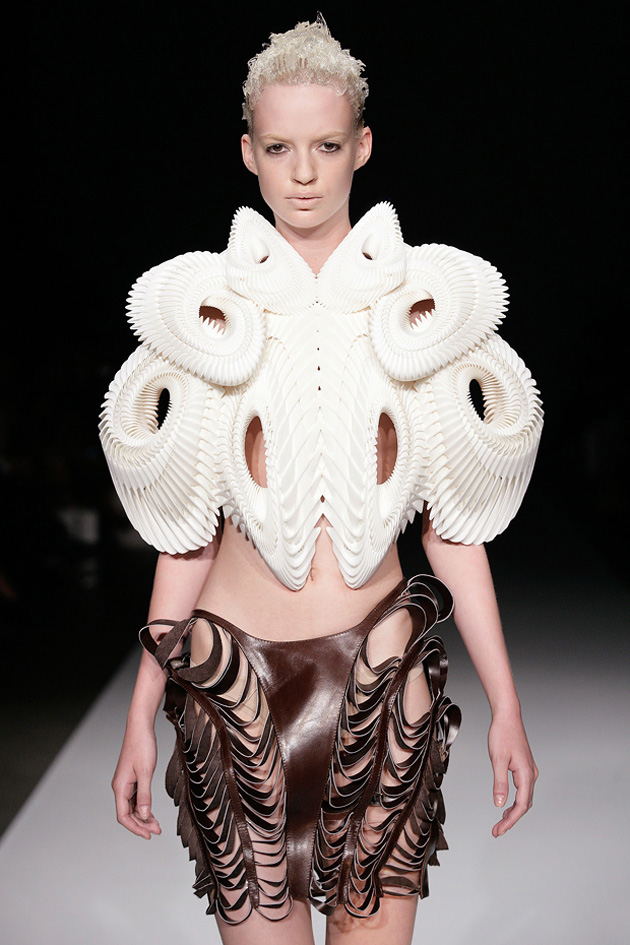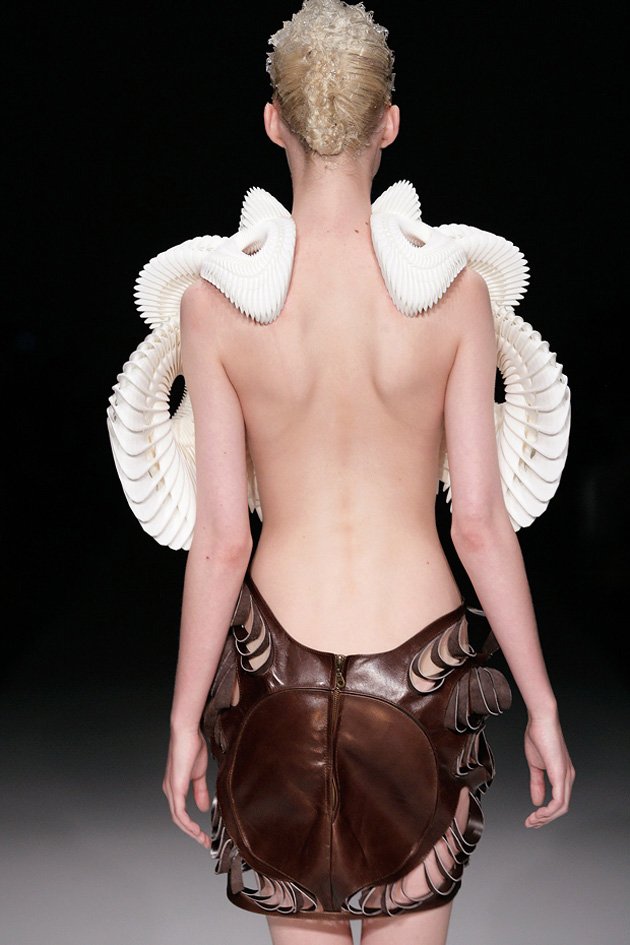 Iris van Herpen is one of the most exciting designers in the game, and I cannot wait to see what she brings to fall 2011. She debuts at Couture Week in Paris in January.
I think her use of 3D printing adumbrates what's next for avant-garde and couture, truly fashion for the 21st century we always envisioned.
all images from IrisvanHerpen.com except Crystalization from PopBee.com
and portrait photo below from YSHLondon.com