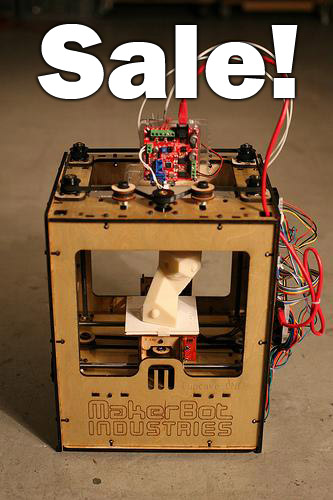 The best price ever for a Cupcake 3D printer from Makerbot.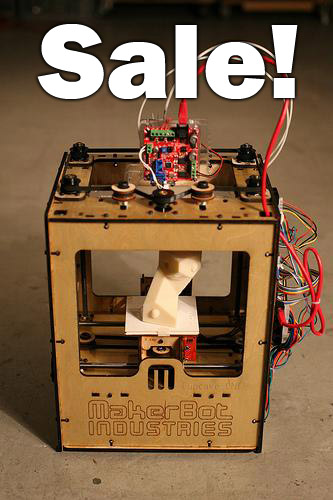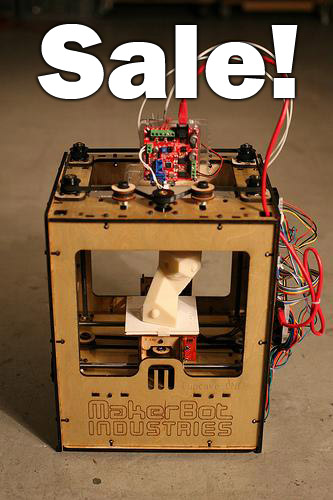 Yesterday Makerbot Industries announced a sale on all of their CupCake 3D printers, because of the upcoming release of a new 3D printer to replace the CupCake. This is a great opportunity to get an excellent 3D printer at bargain basement prices. Of course, if you absolutely must have the best of the best, then you may want to wait for the release of the new printer. Still, it's hard to argue with this deal. They're even including some major upgrades with the Ultimate package.
Read more about this great offer after the jump!

Makerbot Industries is offering two packages:
$649 – CupCake CNC Starter Kit:
This package has all the essentials to start 3D printing without all the frills.
The lasercut body
MK4 plastruder kit
All the necessary electronics
1lbs of ABS plastic filament
Read all the details on the store page for the Starter Kit.
$899 – CupCake CNC Ultimate Kit:
I think this package is a particularly good deal since it includes some major (expensive) upgrades.
Automated Build Platform – upgrade
The MK5 plastruder – upgrade
The lasercut body
All the necessary electronics
5lbs of ABS plastic filament
Read all the details on the store page for the Ultimate Kit.
The only major item not included in the Ultimate Kit (or the Starter) is the Filament Spindle Box Kit. This is something you will probably want to get if you want to seriously get into 3D printing since it helps the plastic to feed properly. It's $95 in the store.
To get a feel for the assembly process of a Cupcake, here's a time lapse video of the whole process condensed to 10 minutes.