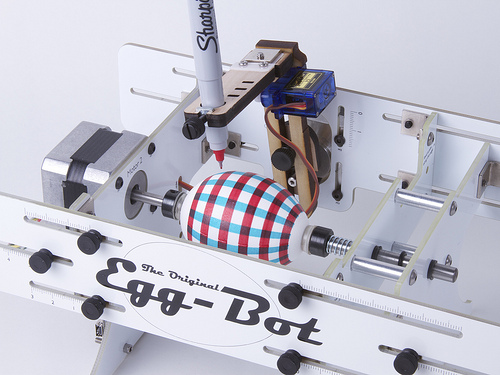 Evil Mad Science Spherical Printer Shipping Soon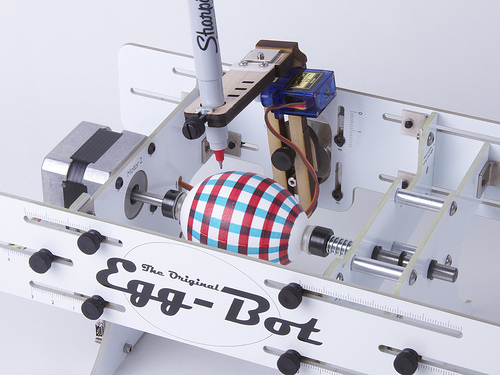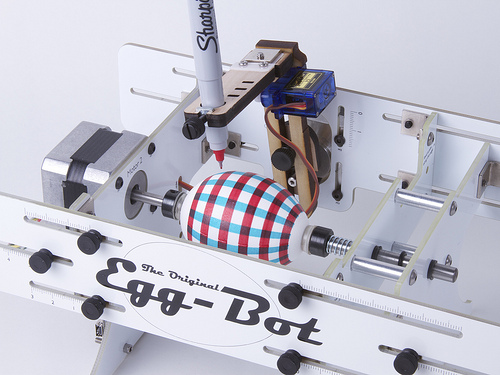 For those of you who couldn't cough up the big bucks for the Up! personal portable 3d printer, here's an interesting alternative that might just suit a more modest budget.
The guys over at Evil Mad Scientist Labs have just announced that their Egg-Bot is available for pre-order, and will be shipping by the end of September.
So what's an Eggbot? It's a machine capable of drawing on spherical or ellipsoidal surfaces. You might say, a pen plotter for spherical coordinates. Or a simple but unusual CNC machine, ripe for hacking. Or an educational robot– and you'd be right on all accounts.
Evolving from the first prototype all the way back in 1990, this clever little unit comes flat-packed and takes an hour or two to assemble. There is little else for the user to do – it's all controlled via Inkscape and therefore plays nicely with Windows, Mac and Linux.
Don't let the name fool you. The Egg-Bot will happily print onto all manner of spherical and egg-shaped objects. So far it has been used on golf balls, ping-pong balls, Christmas ornaments, wine glasses, light bulbs (see below) and of course eggs.
Required dimensions for printable objects are between 1.25″ (32 mm) and 4.25″ (108 mm) in diameter. They recommend using Sharpie Ultra Fine Point Pens, but the unit can fit almost any pen-shaped implement. For answers to all of your questions, the Egg-Bot FAQ has plenty of info and there is more to discover in the EMSL product announcement.
I have no idea what I'd use it for… but I really want one!
Available to pre-order now at Evil Mad Scientist Laboratories for $195.