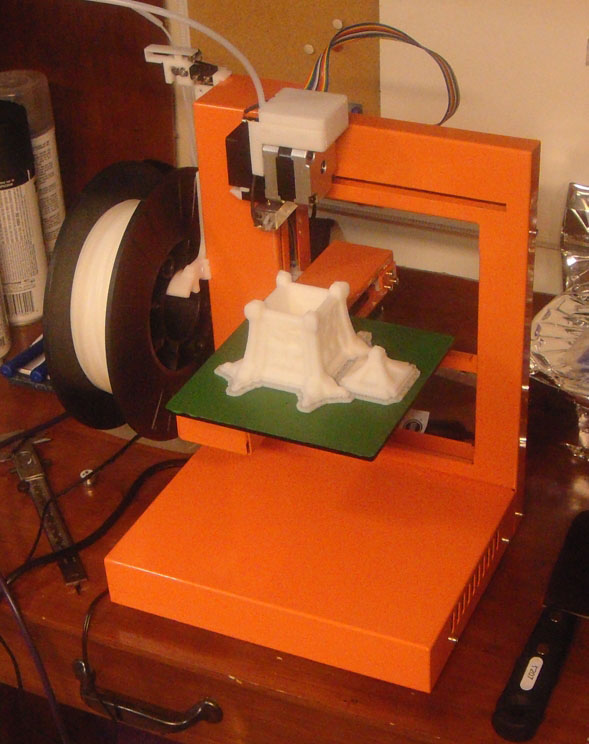 Shopping for a 3D printer? Take a look at the UP!.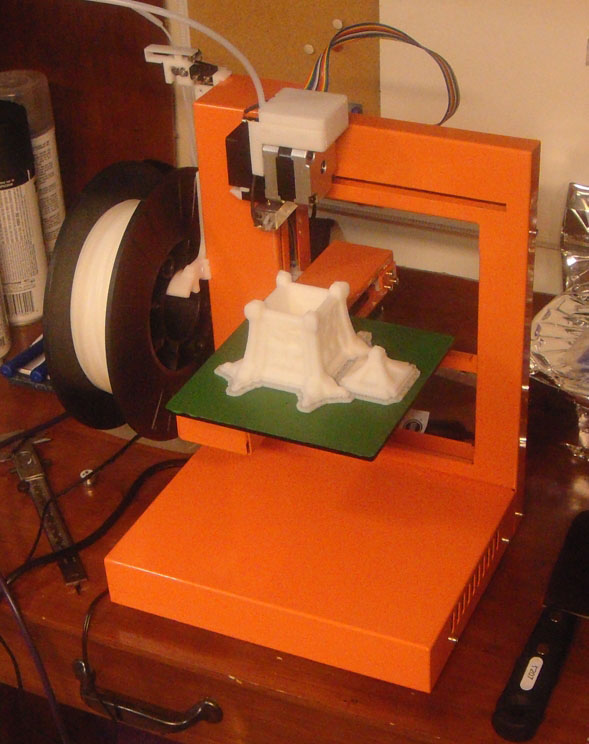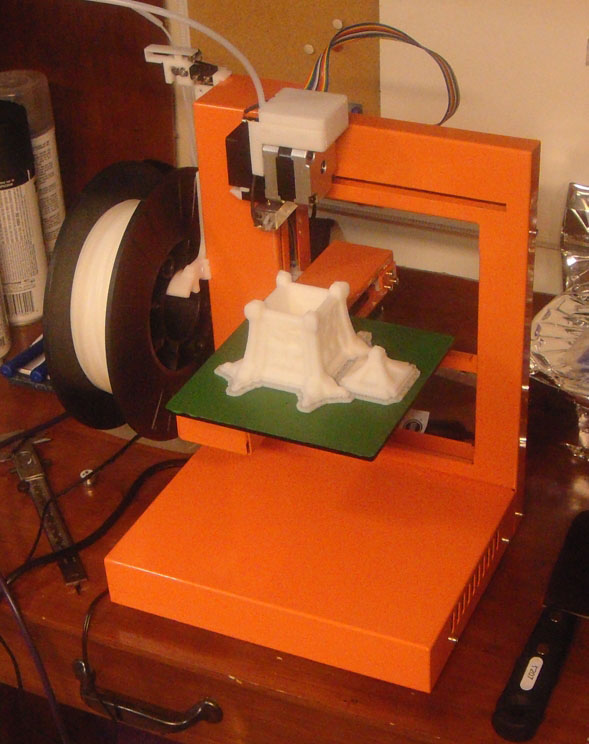 We mentioned the UP! 3D printer on this blog about a month ago when they were first released, but at that time very little information was available from people who had actually used one. Fortunately for the rest of us, one of our loyal readers, Whystler, was brave enough to order one. He tried it out and has generously shared the story of his experiences. Read it after the jump.
The complete story of Whystler's adventure with the UP! printer is below (along with more pictures). It's well worth the read, but I've also chosen a few key points.
Summary:
It's a real 3D printer. The company website may look a little sketchy, but the printer exists and it really works. (yay!)
It's basically plug-and-play with setup taking less than an hour.
It prints in 0.2-0.4mm layers depending on the desired detail and speed.
The detail is at least as good as a well-tuned Makerbot or Reprap, but don't expect the perfectly smooth surface of a really high-end printer.
Read the entire manual before setting up the printer.
The PP3DP is selling the UP! for $1500 for the first 100 sold, then the price goes up to $3000. Here's a pricing guide for some DIY printers. (Edit: Regardless of how many have been sold, the price will go up to $3000 at the end of September.)
And now the story of Whystler's experience with the UP! printer:
Adventures in UP! Printing…
Flashback:
So there I was, freaking out, because I had read a blog post on Ponoko.com telling me that I could have a pre-assembled, no tinkering around, 3d Printer for $1500 from PP3dP, called the UP! Personal 3d Printer. I whizzed away to the website to have a look!
What I saw on their website was impressive, but what concerned me about the product and the company offering it took me on a roller coaster journey of western-centric bias, self-doubt, and trust-in-universe. It was, in a word, "exhilarating" from the panic filled risk of wiring the money, to the joy and exhilaration of my first, truly perfect, 3D print.
Fade to the Present:
At the moment, I can't say enough good things about this printer. The fact that it is now sitting on my desk actually printing seems a miracle in itself. So far it's given me more fun than a trip to Vegas, and folks I know have spent more than twice there than I have on this printer. So really, if it breaks down tomorrow, I suppose I could consider myself having broke even! (someone please do a jinx-ward dance ritual for me, because I would be heartbroken if it broke.)
The prints that this lil gem squirts out are it's crowning glory. I have seen all kinds of things printed on high end machines from zcorp, objet, and the like. This little UP! printer on my desk prints between .2mm and .4 mm layers (depending on the detail and speed you want), rivaling the work of industrial printers that sometimes cost in the hundreds of thousands of dollars even if it doesn't have the same resolution.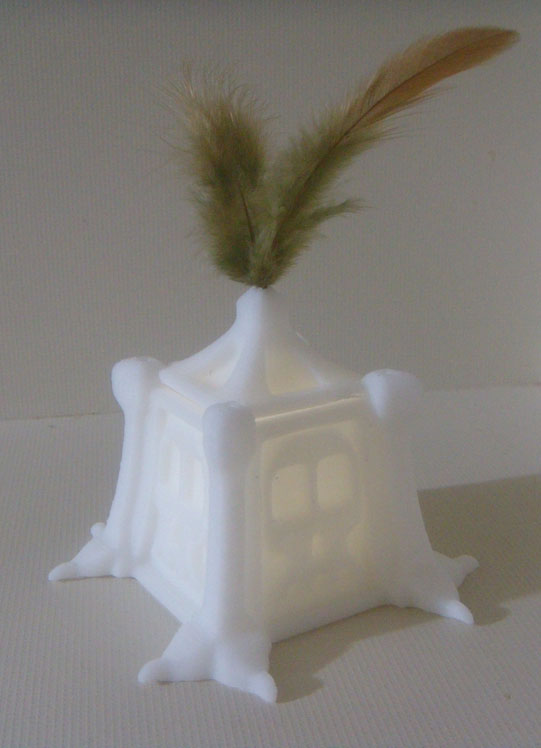 All I had to do was screw in a few screws (maybe 5 or 6?), download the software, and plug in the machine. It's amazingly simple. I was printing within an hour of it arriving on my doorstep.
It has a great support-structure system which uses the same material it uses to print (ABS filament, 1.73mm diameter). Somehow, the support material is printed thinly enough, with tenacious enough attachments, that it is quite easy, even therapeutic, to crack off your model. Sometimes needle-nose pliers and a baby chisel are useful in this process, but sometimes it's just a matter of picking with your fingers. You know you like to pick! We all do.
So now you know that the printer is real (not a pipe dream or scam), it's pretty much plug n play, and the prints are fabuloso! But surely, there is more to the story. Surely there are some deep dark secrets that I'm hiding (cue that weird whiny music you hear when someone on a horror movie is in trouble, but you don't see it yet)…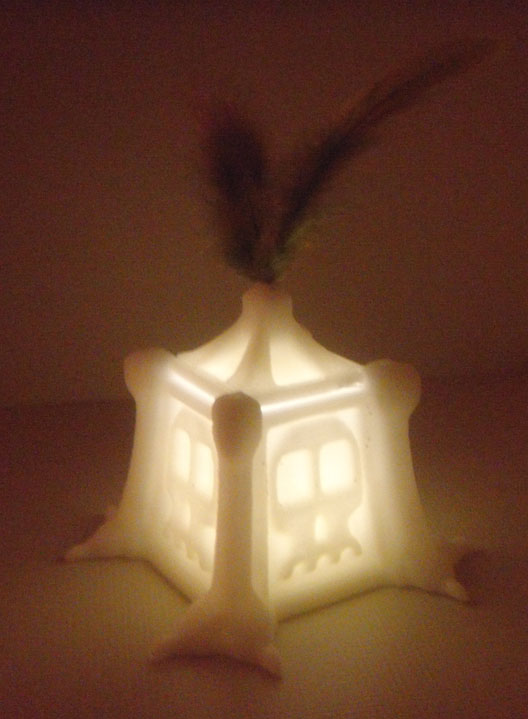 Not really… nothing that crazy.
I mean, the manual could be a little better. While the English is good enough to read, some things are out of sequence. As a result, I fully recommend that you read the manual through before even touching the machine. The company does recommend this.
It's a little noisy. Maybe this is from the fan. I should ask other owners if they also have this noise. I currently have it in a room with high ceilings so the sound is amplified in there. I am right now sitting in the next room, watching it from an open door and it's barely audible now.
The detail is similar or better than a really well tuned Makerbot or Reprap on it's best try with no hassle. However, before you think that it prints a smooth flawless surface, please know that it's not like the kind of detail you can get on an industrial Objet machine. Like any artist, I roll with the punches when it comes to various media. We examine it, look at it's benefits and limitations and then design specifically for it.
Oh did I mention that I am typing on my laptop – the same laptop I use to power the software that runs the UP! printer. Even though I am no longer connected to the printer, it is printing away happily. All of the information it needs, it sucked up from my laptop, and is now completely independent. So I am free to email, chat, do more 3d design work, or write blogs, anywhere else.
I have only had my printer for a few days. So who knows what could happen. I have no information about how well or easily the company can fix the machine if it breaks down. But so far, they have been wonderful.
If you have $1500 you can spend on something like this, I highly recommend you do it now while the printers are in 50% discount phase. Because after they have sold 100 machines, the price goes up to around $3000. I think they had a slow start because of the shock and too-good-to-not-be-a-scam thinking. But last I heard they had sold their 26th printer, and this was more than a week ago.
Yours Truly,
-Whystler
(P.S. if you like the Voodoo Box shown in the pictures, you can download the file from Thingiverse here and print it out on your Makerbot, Reprap, or UP! printer)