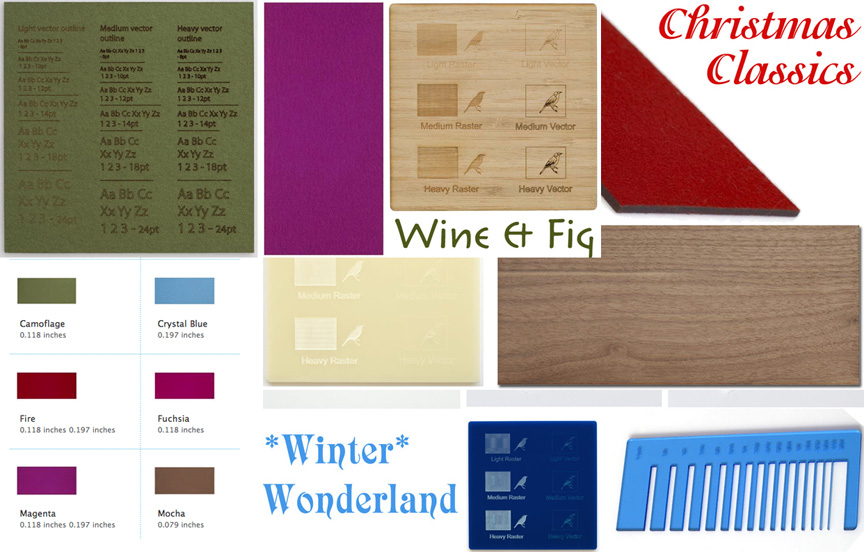 Material Monday: Christmas Classics, Winter Wonderland, Wine & Fig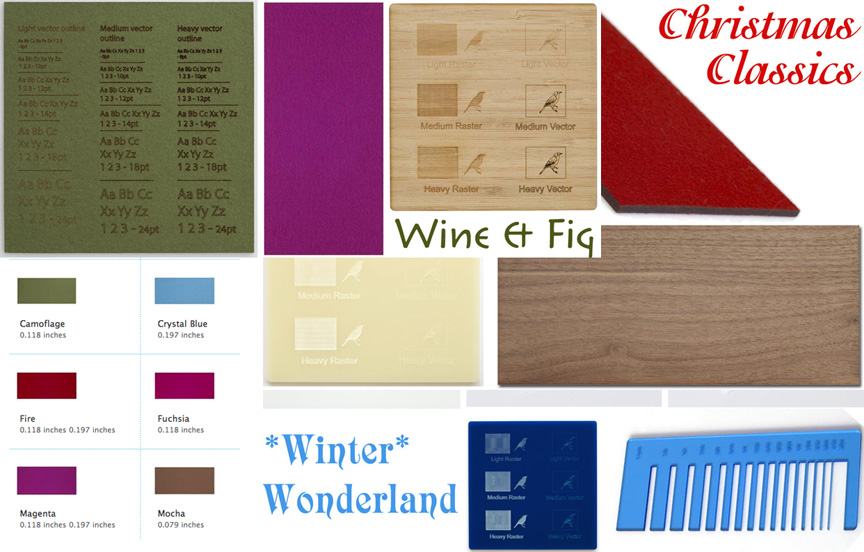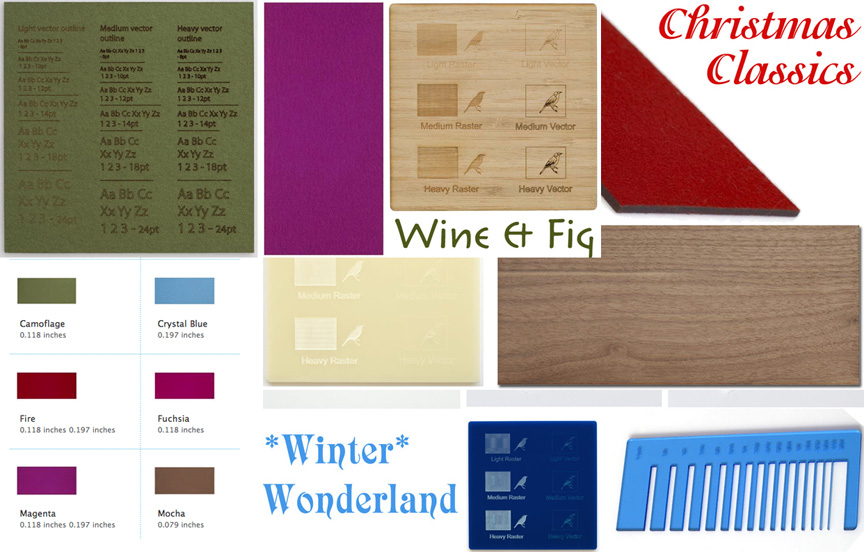 It's time for makers everywhere to get busy preparing their products in time for the holiday shopping season. Holiday shopping is so huge that many retail companies (Big ones. Like ones in the mall.) lose money throughout the entire year and finally pull in enough cash in November and December to be profitable. So if you haven't gotten busy on your end-of-year offerings, now is the time to start!
For a little nudge of inspiration, I've put together three material palettes from the Ponoko US materials catalog.
Christmas Classics
• Fire Felt • Grey Felt • Ivory Acrylic • Walnut Veneer MDF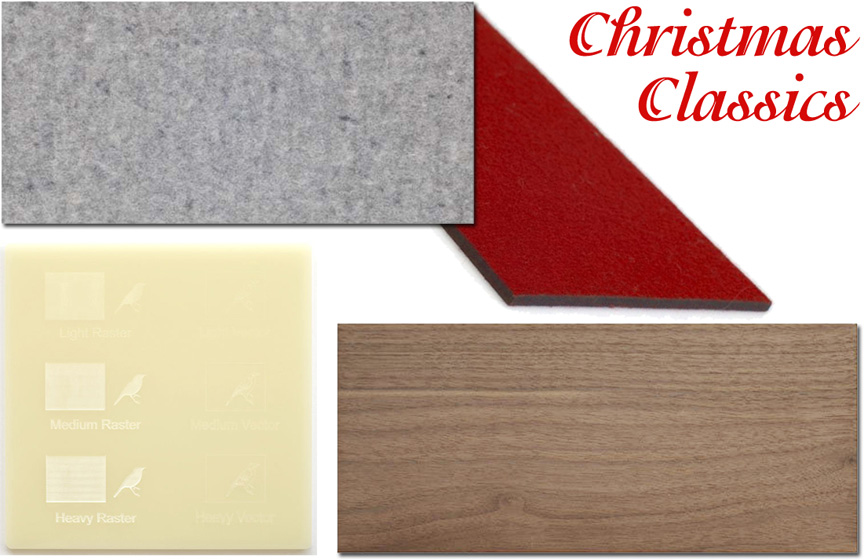 This holiday combination is festive, casual, cozy, and even a bit luxurious. Fire Felt is the perfect holiday red — warm and not at all dark, just like the name indicates. Grey Felt reminds me of a cashmere blanket. It is made with both white and dark wool fibers so the result is a beautiful heathered effect instead of a flat, sidewalk grey. Skip the bright whites (too commercial, too pop) and go with Ivory Acrylic. It's just slightly translucent and has a gorgeous milky quality that reminds me of white chocolate. Walnut Veneer MDF compliments the line up with its classic, quality aesthetic.
Winter Wonderland
• White Delrin • Clear Acrylic • Light Blue Tint Acrylic • Blue Acrylic • Opal Acrylic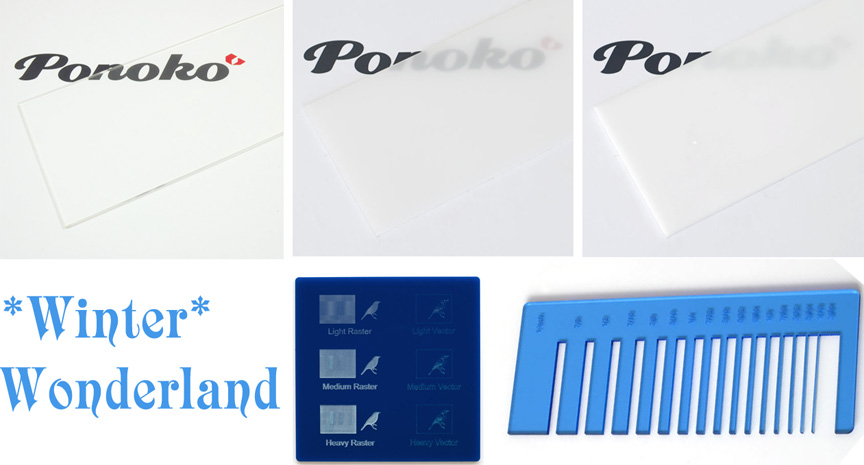 This all-plastic palette plays with translucency to evoke the cold and incorporates classic blues and whites associated with Hanukkah. White Delrin has the slightest hint of translucency which makes it different from the completely opaque White Acrylic. The Clear Acrylic is as lovely and transparent as glass, but more durable. The Light Blue Tint is highly translucent, making it a great material for layering. Blue Acrylic is a beautiful, deep blue that has a powdery white finish when engraved. And Opal Acrylic is a semi-translucent, milky white.
Wine & Fig
• Magenta Felt • Camoflage Felt • Amber Bamboo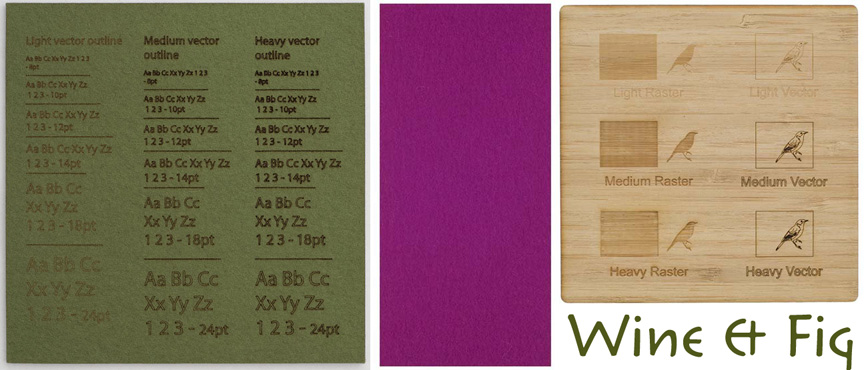 If you want to do something different that doesn't reek of Santa Claus and snowmen but is still festive, try picking colors based on holiday dishes. This collection is inspired by the color of wine and figs. Magenta Felt is so luscious you almost expect the fragrance of currants. Camoflage Felt is a nice, quiet green that's more moss than Douglas Fir. And Amber Bamboo balances the depth with a medium, natural wood.