Last year, Kristen Turner wrote about the design blogosphere positive response to Dave Rollins' controller ornaments.  So how did it all happen for him?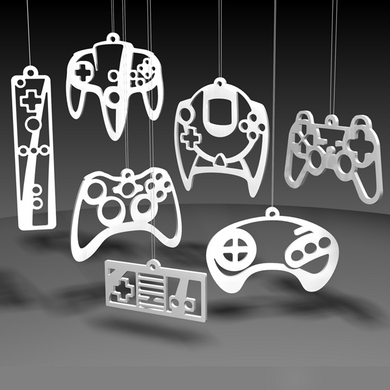 Firstly, Dave Rollins is a US designer who really really likes reading blogs.  It's probably how he came across Ponoko in the first place.
How did you used to make products before Ponoko?
I have a small shop in my garage.  If I ever wanted to tinker I'd head out there to build stuff by hand.  At my last design consultancy job we had a 3D printer that we used daily.  I think that really got me into the mindset of rapid-prototyping and micro manufacturing.
When did you start making with Ponoko and what type of products do you make?
I started on Ponoko a little over a year ago.  My first products were based on digital clocks, but with pieces that you manually add and remove to create number forms.  I figured it would be an efficient way to use materials since the cutouts from one color could then be used with another backing piece of a different color.
During the holidays last year I came up with a set of ornaments based on the designs of video game controllers.  It was a fun idea that popped into my head pretty quickly.  I basically had the idea on a Thursday and started in Illustrator the next day.  By Sunday I had moved my Illustrator designs into a CAD program and did renderings of the CAD models.  By Monday morning, the ornaments had been picked up by some blogs, including Gizmodo.  Sales started pouring in immediately.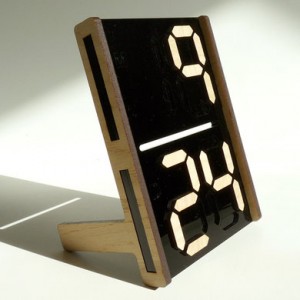 How would you describe your creative process?
A little bit manic. 🙂   If an idea comes to me then I'm usually not happy unless I'm working away on it.   Like I said I'm a big blog reader and there's so much inspiration out there these days.
What material/s do you use/ have you used/are interested in using  and why?
I'm a plastics guy.  I love that the material is essentially ready to go as soon as you peel off the paper.
Have you been surprised by anything in the Ponoko process: positives/negatives?
The amount of precision is really something to deal with.  When I first started I was using gaps that were around 1mm between fitted parts.  Over time I learned how to make parts fit together tightly.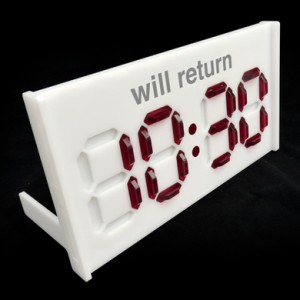 Do you have any tips for other users?
Don't be afraid to try something new, and don't get discouraged when you can't sell a design.  The internet is a fickle place, and all it takes is a positive review from a large blog and you'll see lots of traffic.  When my clocks appeared on Gizmodo, they got slammed. Unfortunately I wasn't the one who submitted the work to them, so I didn't get to properly describe the product or share other versions.  Then, when the ornaments showed up on there (again, not submitted by me), they gave a positive review.  You can really be made or broken by those posts.
http://www.ponoko.com/showroom/digits