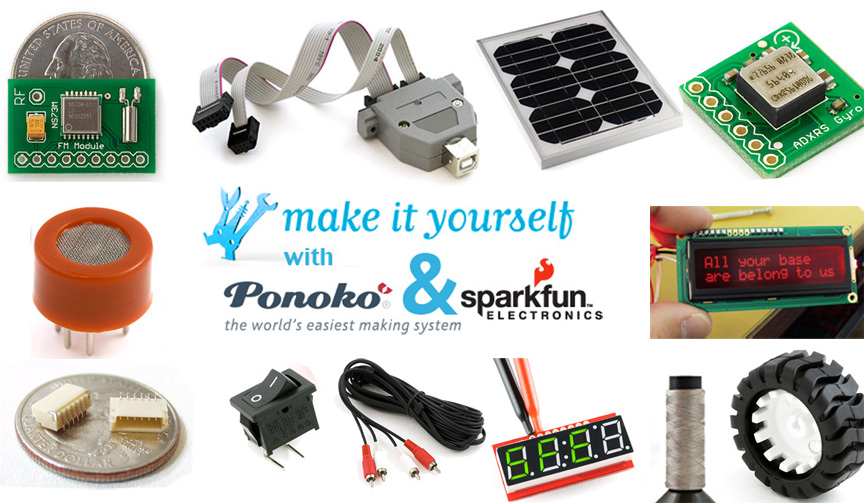 Material Monday: SparkFun open source electronics available in Ponoko materials/hardware catalog.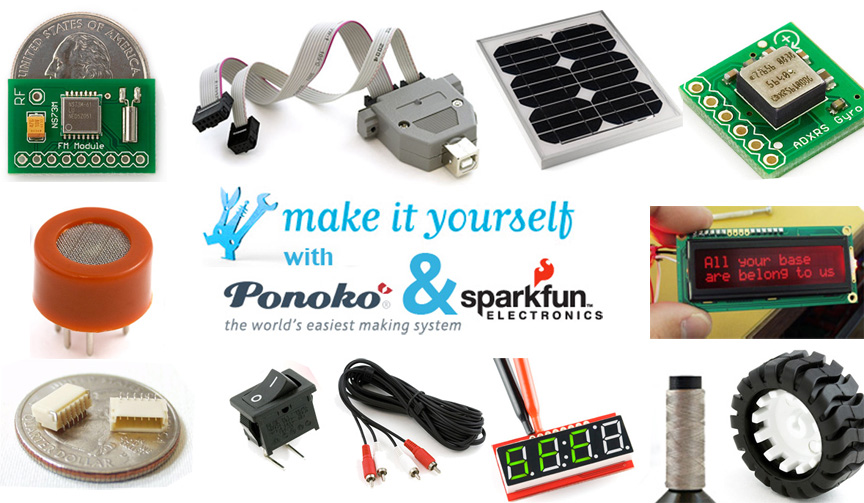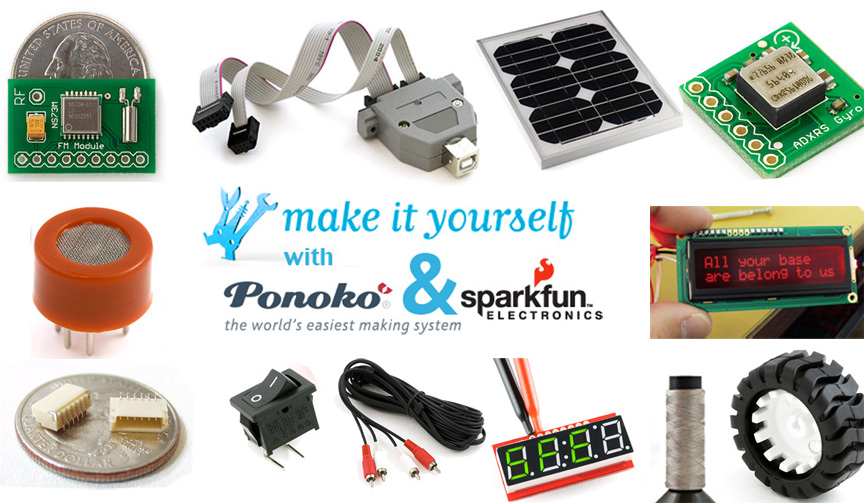 Following the super incredible awesome news of the Ponoko and SparkFun partnership, I wanted to share the 15 new hardware categories and a selection of the electronics now available in the materials catalog.
All the (spark) fun, after the jump.
These tiny boards are used to measure acceleration. They're a great device for monitoring motion. Applications of accelerometers include the Nike + iPod Sport Kit to measure pace and distance, the iPhone to reorient the screen based on the way you hold it, and the Wii remote to allow you a realistic interaction with the game.


Cables of all kinds — audio, ethernet, hook up, serial, USB — at superb prices.

Everything you need to develop cellular devices including antennas, evaluation and breakout boards, kits, and modules.

Components is one of my favorite new sections because there's so much in it. Whether you need a Blackberry trackball, an SNES controller, a voltage regulator, or a hotpink button — components has you covered.

These are the tools you need for developing devices based on a wide range of platforms like AVR, Arduino, iPod, LilyPad, PICAXE, Roomba and many more.


Gyro circuit boards for single, double, and triple axis gyroscopes.

LCD displays and touch screens plus all the paraphernalia.


Let there be light. LED lights.


Tools for programming and debugging.


This category includes batteries, protoboards, various connectors, cases, screws, solar cells, and other hardware store-esque materials.


Robotic drivers, motors, controllers, switches and kits. And wheels.


Lots of sensing components from fingerprint and RFID scanners to gas and sound detectors.


Handy bits from pliers and tweezers to nozzles and power supplies plus all your soldering equipment.


Wireless essentials like antennas, Bluetooth gear, transmitters, wifi, etc.


CLICK HERE to jump in and start making electronic products! (Plus check out the entire 1500+ new electronics catalog.)