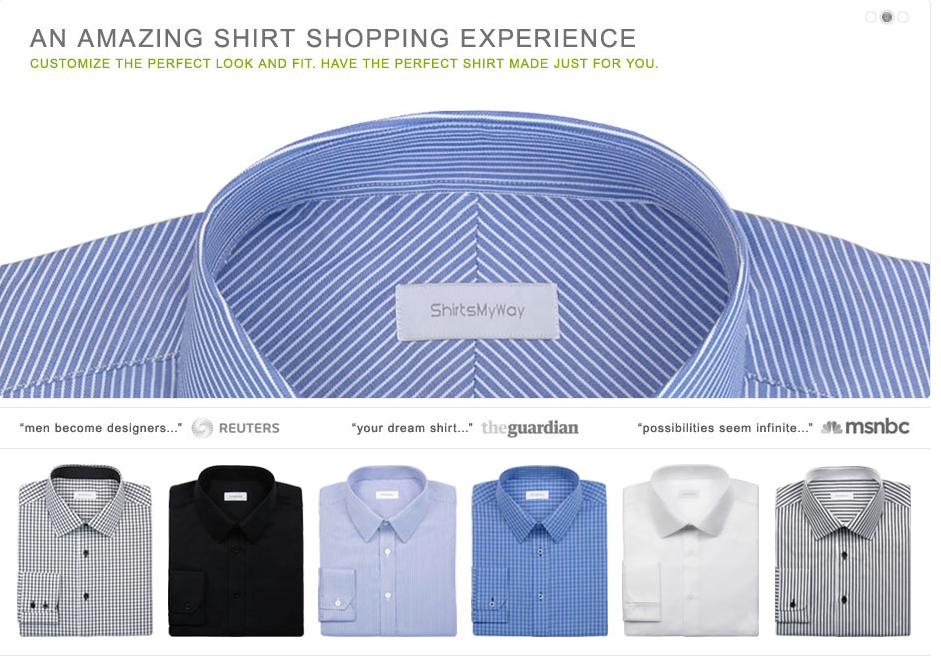 mass-customization for men's dress shirts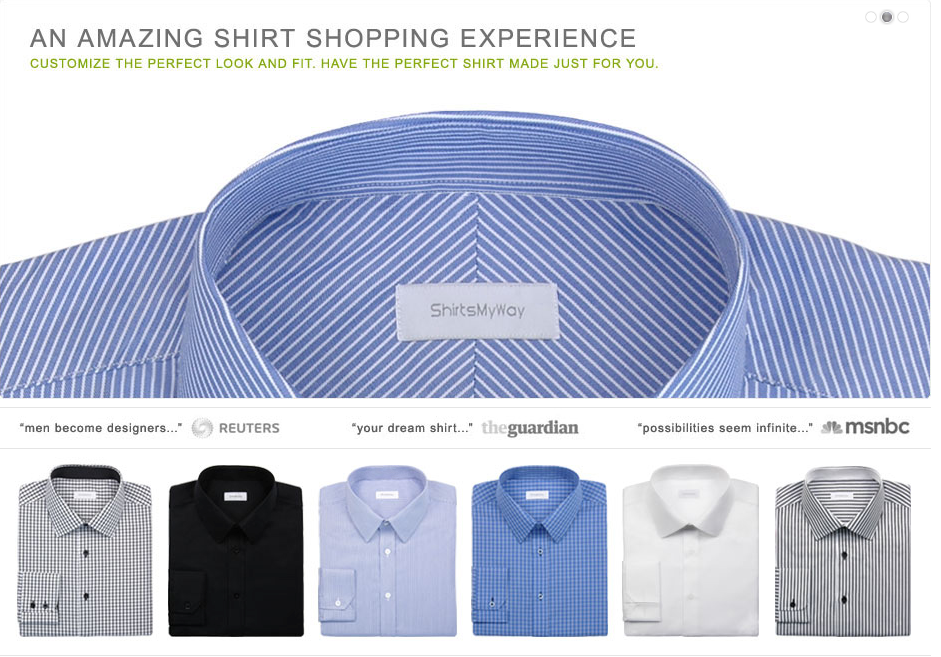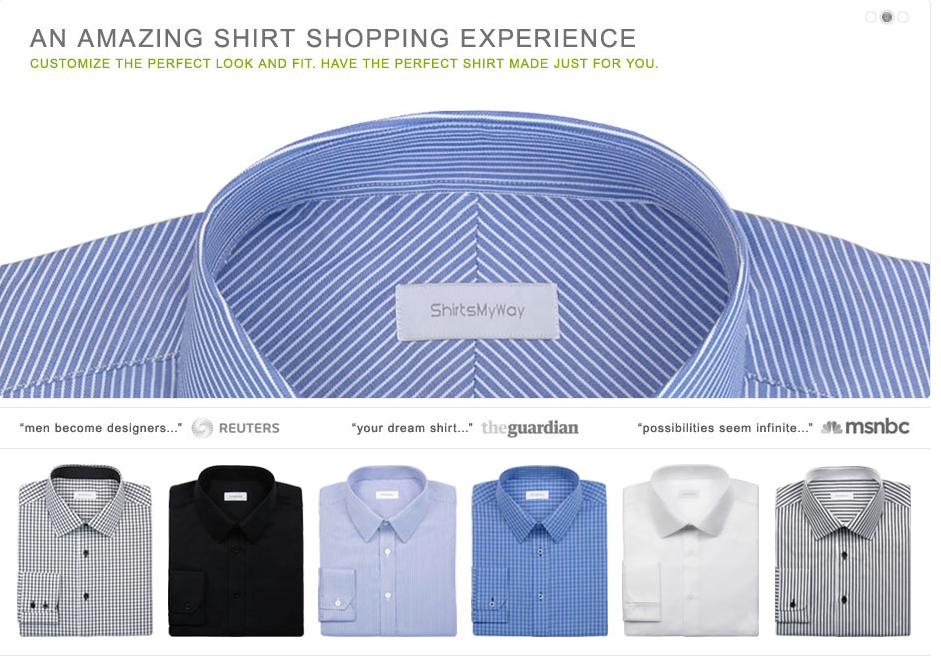 There's been a lot of buzz about ShirtsMyWay, the online service that lets users customize dress shirts for men. I've been really into menswear lately (One of my new side projects is trying to get my boyfriend to dress like Steve McQueen.) so I took a test drive of the site and e-interviewed ShirtsMyWay cofounder Peter Crawfurd.
• Where did the idea for your company come from?
Michael Yang, my business partner and fellow cofounder, spent a lot of time considering which business we should start and finally decided on transforming how people shop for dress shirts. We had both gotten tailored shirts made throughout Asia and thought there should be a way to make that available to more people. We also wanted to give the idea a new twist with a flexible design program.
• Men aren't the first audience you think of when it comes to clothes. How have you approached mass-customization in fashion specifically for a male clientele?

We wanted to create something fresh that meant shoppers could truly design something unique if they wanted, but also something traditional if that's what they were looking for. We get quite a diverse crowd. A lot of guys want to design their own shirts so that they have something that stands out from the crowd. And lots of guys go for a plain, one-fabric shirt. The reasons they come to ShirtsMyWay are the flexibility, great quality, and custom fit.
And while our product is made for men, we may be diversifying into womenswear in the near future. We have at times made shirts for women; so it is a possibility, but it's just not our speciality.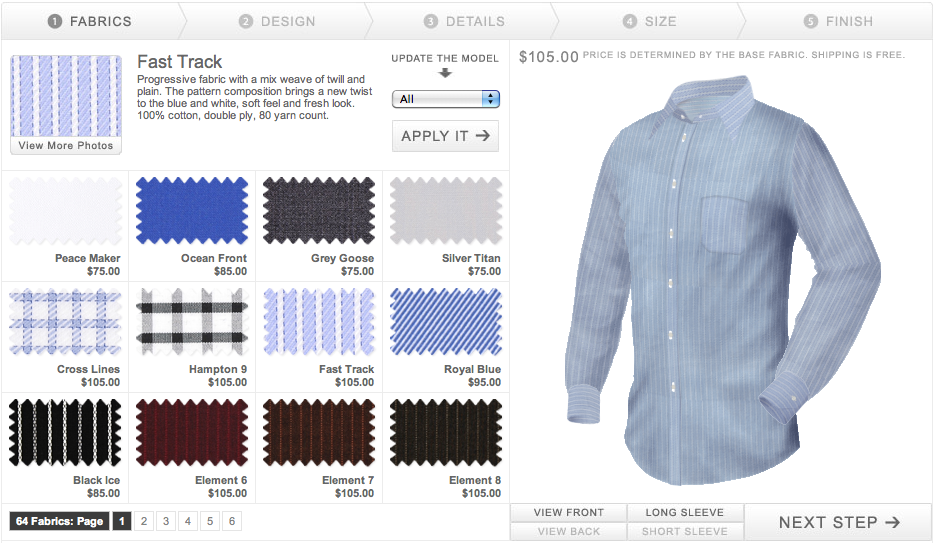 • I was playing with the site, and I'm pretty impressed with the range of options. I think it's great that there are a variety of options for not only fabric and buttons, but for things like pleats, cuff shapes, and concealed plackets.
• I do have a couple of questions about some of the options. I notice that one of the collar options is the buttondown collar. For the collars that don't button down, do they have tabs in them to keep the rigidity?
Yes, they do. There is actually another option where you can choose if you want removeable tabs (collar stays) or have them sewn in.
• My other question is about the pocket. In the visual, the fabric is applied to the pocket in the same direction as the shirt. Can the fabric be rotated 45 degrees for the pocket?
Yes, we do offer customers the option to make shirts that are more customized than the one they see on our website if they place an order of at least 10 shirts.
• Can you tell I studied fashion design?
: )
• Just out of curiosity — where is your company based, and where are the shirts manufactured?
We are based in Shanghai where our shirts are made, but over 90% of our customers are in the USA.
• Okay, last question. Do you think mass-customization will become ubiquitous or remain a niche service in the world of products and product design?
I think mass-customization will become more and more common, but it won't replace the bulk produced goods. One reason for that is there will always be people who don't want to have to make extra decisions when buying something. They want it as simple as possible. In addition, although mass customized goods are getting cheaper, they will never be as inexpensive as mass produced goods.
CLICK HERE to start the looking-good process with ShirtsMyWay.
P.S. They've also got a really well-written blog.