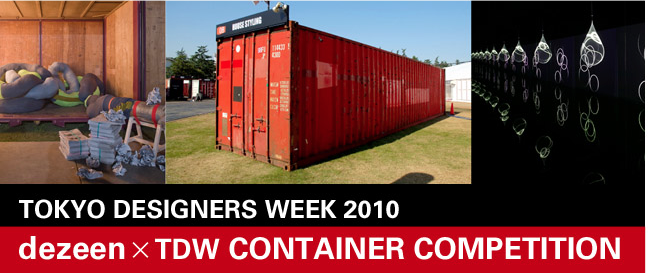 30 design contests & competitions
EDITOR'S PICKS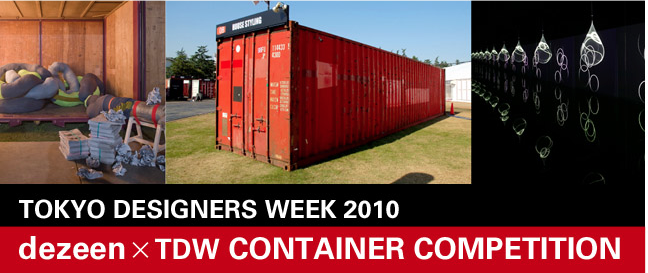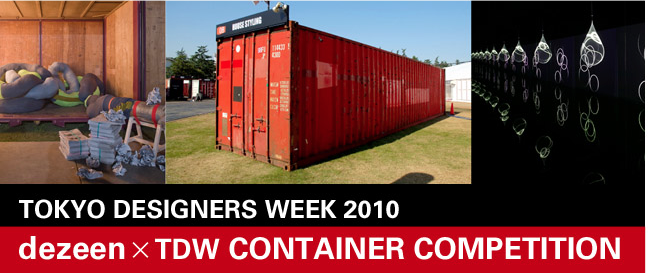 • Environmental Container Design & Art — 30 July 2010
10 designers/builders/makers will win a 20ft container of exhibition space at Tokyo Designers Week Container Ground exhibition. Winners will also receive up to (aprox) $3400 construction budget and coverage on dezeen.com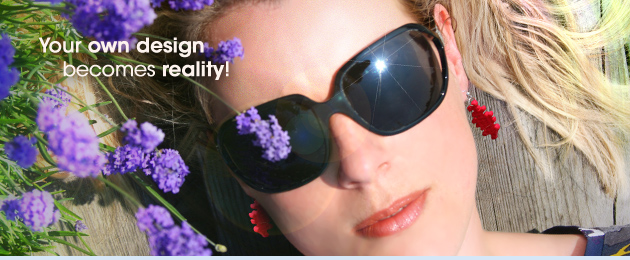 • Draw Your Own Earrings Sweepstakes — 16 August 2010
Shapeways will be picking random winners for this one. 1st prize is having your design 3D printed in Silver plus a $100 Shapeways gift certificate. 4 runners up will have their designs 3D printed in Gold Plated Stainless Steel and another 20 will get their designs 3D printed in Alumide. Discounts available for nearly 1,000 other entrants.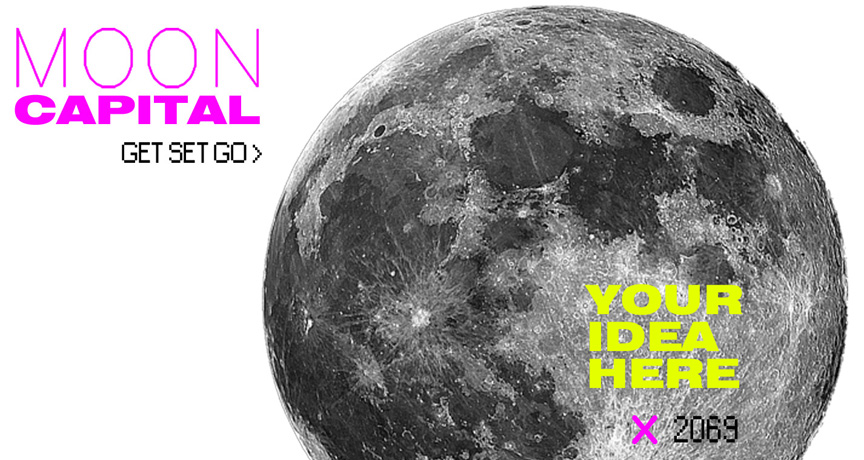 • Moon Capital Competition — 3 September 2010
How would you design the capital of the MOON? You can go in two directions: 1) Take it seriously and design an actual LUNAR BASE. 2) Use your imagination and have fun designing a LUNAR CITY or completely new MOON CULTURE.
* = previous Editor's Pick
DEADLINES
• Neo-Tokyo Odyssey — 31 July 2010
Submit a graphic for the cover of a makeup palette from Shu Uemura. You just win makeup products, but I bet winning makeup is really fun.
• Summer Camp Extravaganza Competition — 5 August 2010
Using your grownup design knowledge and Ponoko's making system, select a summer camp craft (birdhouses, picture frames, dream catchers, vases/boxes/containers, etc.) and improve it!
• Industrial Design Writing Competition — 15 August 2010
Open only to students in Australia. Write about any topic on Industrial Design and win awesome design gear including vouchers for rapid fabrication companies like Ponoko!
• STUFFED — 15 August 2010
Published twice a year, Stuffed is 144 pages of fun and whimsical soft dolls, accompanied by technique articles and a large gallery section. Felt monsters, crocheted food, fabric pirates … we're looking for softies that show the heart and soul of plush art while demonstrating artistic touches. via fiberartcalls
• HABARI Stool Design — 20 August 2010
The objective:  present new design ideas that combine the use of modern but simple manufacturing technology with the advantages of typical African Stools. Best idea(s) will go into production. A selection of stool designs selected by the Jury will be exhibited during the 2010 Vienna Design Week.
• Thirst For Design — 23 August 2010
Anti-Bottle — a foldable, flexible, reusable, eco-friendly water bottle designed to make tap water infinitely portable — needs awesome graphics for their new line of Artist Series anti-bottles.
• IIDA Green Heart — 25 August 2010
3 categories: green design for humans, green design for the city, green design for communications
• Design a Fin Contest — 26 August 2010
Thalia Surf Shop and Captain Fin Co. are looking for graphics for a surfboard fin. There really isn't a prize besides getting your design on the fin. And a t-shirt.
• Corel Asia-Pacific Digital Art Competition — 31 August 2010
Entries may be static images or videos and must be produced using Corel software. Open to entrants from Australia, New Zealand, China, Hong Kong, India, Indonesia, Japan, Korea, Malaysia, Philippines, Singapore, Taiwan, Thailand and Vietnam.
* Pocket Luck — 31 August 2010
I really like this one: "In a global context of crisis characterized by economic instability and by the inefficiency or inadequacy of the political world to resolve the major social issues, in which the lack of attention to the value of the individual and the environment emerges, the following is requested: the design of a pocket lucky charm/talisman to carry in all situations that require a vibration of "positivity", of altruistic courage, of critical spirit, of creativity and of necessary irony." There's an even a special prize for the youngest designer selected.
This competition is only open to designers living in the following countries: Albania, Austria, Belarus, Bosnia and Herzegovina, Bulgaria, Croatia, Czech Republic, Estonia, Germany, Hungary, Italy, Latvia, Lithuania, Macedonia, Moldova, Montenegro, Poland, Romania, Serbia, Slovak Republic, Slovenia, Turkey and Ukraine. via Art News Bulletin
HEADS UP
* Robot Design Competition — 1 September 2010
Anyone is welcome to create a social robot for the year 2020, an age where intelligent social robots built with consilience will grey the boundaries of human and machine interaction. Submission can be conceptual or work-in-progress concepts/prototypes.
• Steampunk Form & Function — 5 September 2010
Steampuffin's Annual Competition represents the best work across the world in creative Steampunk design for housing modern day technology and conveniences, as chosen by a distinguished jury of design peers. All Steampunk design projects will be exhibited at the Charles River Museum of Industry & Innovation in Waltham MA from October 22, 2010 to May 10, 2011.
* UNESCO Award of Excellence for Handicrafts Logo Design — 7 September 2010
Design a logo representing the UNESCO Award of Excellence for Handicrafts program. Through providing training and support services, the program aims to help strengthen sustainable livelihoods. Another guiding principle of the Award of Excellence program is to encourage the linking of traditional skills with innovation so that handicrafts remain relevant, valuable and marketable in today's changing world.
• (Un)Limited Design Contest — 9 September 2010
Check out Taylor's post on the competition right here.
• Positive Posters — 10 September 2010
The theme is 'A Glass Half Full'. Design a poster full of positivity. The winner will have 3,500 copies of their poster posted around Melbourne, Australia. Plus Adobe CS5, a Wacom tablet, and a bunch of other designer great stuff to have.
• Typography Competition — 10 September 2010
Communication Arts magazine is searching for the the best use of typography as the primary visual element in design and advertising, plus new typeface designs, calligraphy and handlettering. via dexigner
• Tivoli Audio 10th Anniversary — 15 September 2010
You are asked to prepare a poster to celebrate TIVOLI AUDIO's 10th anniversary using the medium of your choice: illustration, photography, painted, hand drawn or computer aided etc.
• Andreu World International Design Competition — 15 September 2010
Design a chair and/or a table using primarily Beech, Oak, or Walnut woods. Designs should be original, functional, and suitable for mass-production.
• The Concrete Classroom— register by 15 September 2010
Students in the field of architecture are invited to present conceptual designs for a new education and training facility for a state concrete association.
• Fash 2011 — register by 21 September 2010
What is beautiful? When do people really look good? What defines today's fashion? Is the focus on profit, attention, or beauty? Are there any dreams and visions left? What drives us? Why do so many consider glamour beautiful? Is less still more? Are elegant simplicity and quiet splendor still significant? How can fashion embody cultural relevance, a beauty which challenges the mind? Why can beauty be a comfort?
Under the motto "Attention please!?" the European Fashion Award – FASH 2011 is looking for answers to these questions. via dexigner
• Tivoli Audio Graphic Design Competition — 30 September 2010
You are asked to prepare a poster to celebrate Tivoli Audio's 10th anniversary using the medium of your choice.
* Your Curious Story — 30 September 2010
There are no boundaries to this call for creativity using paper from www.curiouscollection.com Your paper creation should tell a "curious story" and could win you a variety of technological delights including Macbook pros, iPads, Wacom tablets, Adobe products and more. Open to students and professionals.
via Design You Trust
• Playable 2010 — 1 October 2010
Submit your designs for Playable Art / Playable Sites / Playable DIY Sites / Playable Kids. The competition will culminate in a conference on designing for play at Georgia Tech.
• REPEAT — 3 October 2010
REPEAT is an international competition established to foster the creative spirit in the burgeoning field of digital fabrication. We encourage the generation of cutting edge design proposals for a structure of your design with the only caveats being it must serve a purpose, be generated and conceived digitally, incorporate repetitive elements, be optimized for 'flat-pack' transportation and be produced through fabrication technologies available within Houston, Texas.  REGISTRATION OPENS 16 JUNE 2010 (Who knew the lone star state was so into digital fabrication?)
• International Diamond Jewellery Competition — register by 15 October 2010
If any of you make one-of-a-kind diamond jewelry, here's your chance to shine. The Antwerp World Diamond Centre is looking for "modern diamond jewel and avant-garde ideas." And from the looks of previous years' winners, they like drama.
• Copper and the Home — 30 November 2010
Design a decorative object for the home using copper or copper alloys that exploit the intrinsic qualities of these metals. Separate categories for students and professionals under 40 years of age. (p.s. The site is pretty clunky. To read the competition details go to News>newsletter>#07)
• Living City Design Competition — 1 February 2011
The international living Building institute, in partnership with the national Trust for Historic Preservation, invites the world's most talented and daring designers, planners, artists and animators to create a new global vision: a breathtaking, compelling model for the future of civilization.