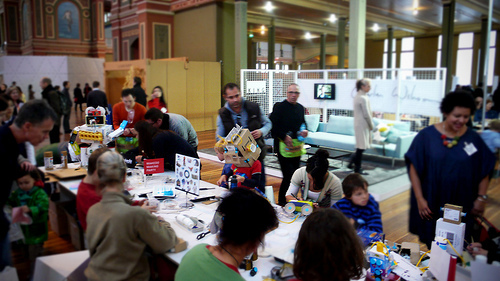 State of Design – Makedo's Making Party
Melbourne's State of Design festival is more than just a place to observe creative output. As we found out at the Makedo Making Party, it is also a place where creativity is very much a hands-on experience.
Stretching out across the Long Table at Design:Made:Trade, this two hour workshop saw robots, vehicles, jewellery and more being constructed (and then deconstructed and rebuilt all over again) using reclaimed materials and those incredibly ingenious little blue connectors. The energy was infectious as parents jostled with their kids for choice cardboard boxes; while right beside them suave designers threw caution to the wind to embrace playful creativity amidst smiles and laughter.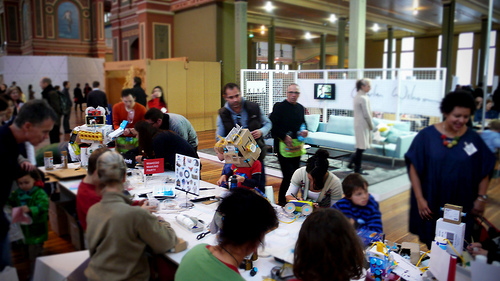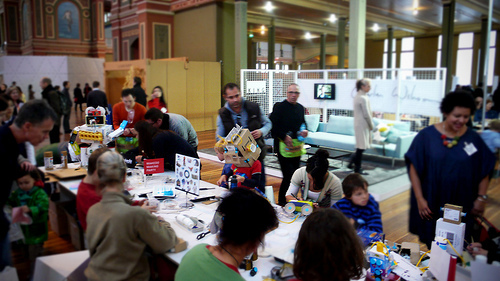 Read on to see a few of the outcomes from the Makedo Making Party.
A robot always has appeal… but add in some decks and high-tech headphones, and you have a setup that would make even Grandmaster Flash take a second glance.
Perhaps not quite as cool, yet sporting a style all of his own, is this guy. The creator's explanation was simply: "his name is Burt".
The last time we featured makedo, we were blown away by the versatility enabled by this connector system. The things people are making (particularly in these workshop sessions) appear to be driven by the materials at hand. The current focus is on reclaimed and upcycled materials – but just imagine what could happen if some Ponoko laser cutting were to be combined with makedo! Now that would be a workshop to get excited about.