Whystler's 3D approach to making.
Meet Whystler – a Canadian digital sculptor with a medieval bend.
How did you used to make products before Ponoko?
-I make my living selling virtual products, that is products designed in 3D for virtual worlds (ie. clothing, furniture, apartments etc).  Since I already use digital imaging programs, like 3d Studio Maze and Corel PhotoPaint, it was a simple matter of taking these skills and using them to design things for Ponoko.  Even before my career as a virtual artist, I was a potter and sculptor specializing in clay and paper.  I think this experience also translates well to 3d printing and laser cutting.
What type of products do you make with Ponoko?
-I think you might say that I am still experimenting with different angles on Ponoko.  I have created products that are recreational, like the 3D chess game and some toys.  I've gone into housewares like products for lighting and decor.  I tested out a table design, and my harddrive is full of other pending products for Ponoko.  I just love this service.  It really opens up the floodgates for artists who like the sculptural process.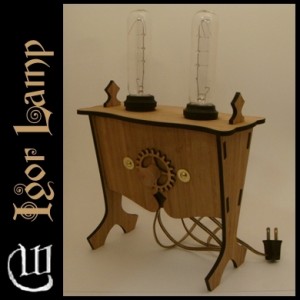 How would you describe your creative process?
-Everything starts with a spark of inspiration:  an external source or combination of ideas hits me in such a way that I think it would translate well to laser cutting.  Sometimes I actively pursue the inspiration and sometimes it comes as a surprise.  The next step involves a pretty rigorous research period, where I spend a lot of time on internet searches.  This information not only builds on the inspiring idea, but also exposes me to what already exists on the market and allows me to make the decision about whether to continue with the project.  If something close to what I am preparing to do has already been done, I quickly lose interest.  I like new things.  Next, if the idea has survived to this point, I start drawing it in Inkscape, or I might make a 3D model as a virtual prototype.
What material/s do you use/ have you used and why?
-I think my favourite material from Ponoko is bamboo.  It has such a nice grain, the material feels good and the look is very natural.  I've also done a bit of work with other plywoods and acrylics.  Acrylics are nice because of the range of colours available, and the finished product looks slick with flame polished edges.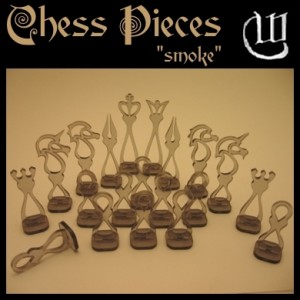 Have you been surprised by anything in the Ponoko process: positives/negatives?
-I think the fact that your service completely opens up manufacturing processes to artists that were previously only available to companies who could afford large scale product is wonderfully surprising in this age of industrial competition.  I am very grateful that folks like Ponoko, Shapeways, and Spoonflower are doing this sort of thing.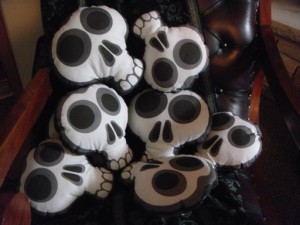 Do you have any tips for other users?
-Tip 1:  Don't be afraid to ask lots of questions, but don't be discouraged when you aren't given all the answers you want.  Learn how to search effectively on the internet and be tireless in your quest on the Ponoko website for information.  If you really want to be a designer, no one is going to hand you information on a platter.  You have to get out there and find it.  It's all there and really, it's not hard to find.
-Tip 2:  Strive to be original.  If you just want to make a quick buck by copying someone else's idea more cheaply, then this game is not for you.  You will get no enjoyment out of it.  The *real* thrill is creating something unique that you can say has a lot of "you" in it.  It's not about making money fast.