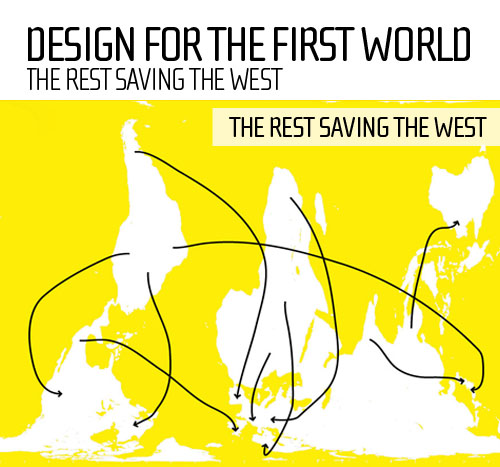 What began as a sarcastic comment from one NYU student in response to being asked to design an object that world solve problems of Third World Countries has become the topic of a competition and blog.
Design for the First World asks problem-solving citizens of Developing Countries to focus on fixing some of the things wrong with First World Nations.

"Dx1W has pro claimed 2010 International Year of the First World in Need, and has defined four main areas to address: Food Production and Eating Disorders, Aging Population and Low Birth rate, Immigration and Integration to Society, Sustain­ability and Over Consumption.

Further more, one of the major aims of the Year will be to demonstrate the beneficial effects of cultural diversity. We want to recognize the importance of transfers and exchanges between cultures through implicit or explicit dialogue that underlines how cultures and civilizations are interlinked and contribute to the progress of humankind."
I think Dx1W creator Carolina Vallejo and I are definitely seeing eye to eye.