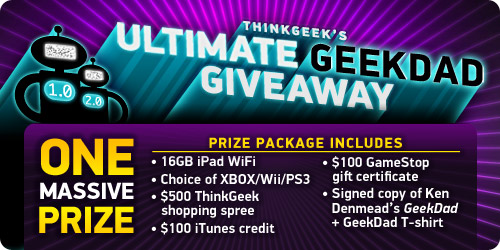 Enter by Friday, June 11th (tomorrow) before midnight for a serious prize package.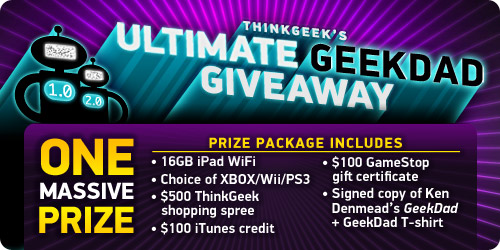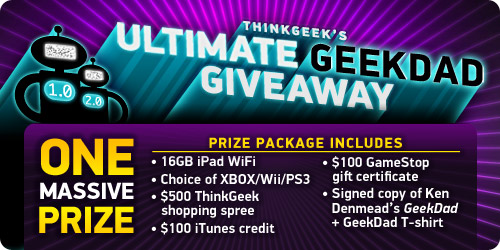 GeekDad and ThinkGeek are partnering together to offer one of the better prize packages I've seen in awhile. It includes an impressive selection of wonderfully geeky things worth more than $1500. Here's the full list:
1. Microsoft XBox Arcade OR Nintendo Wii OR Sony PS3 Slim (to be chosen by the Winner)
2. 16GB iPad (wi-fi enabled)
3. $500 TG Gift Certificate
4. $100 Gift card to iTunes store (so you can buy cool apps for the iPad)
5. $100 Gamestop Gift Card (so you buy cool games for Wii/Xbox/PS3)
6. Signed copy of Ken Denmead's GeekDad + GeekDad Shirt
7. TiVo Premiere (recently added)
This contest is winner take all, so if you're selected you get ALL of this. Anyone 21 or older can enter. You can enter the contest on the ThinkGeek site just by filling out a form (click "enter contest"), but remember to do so before midnight tomorrow!
Here's some other geeky stuff we've covered:
Via: GeekDad