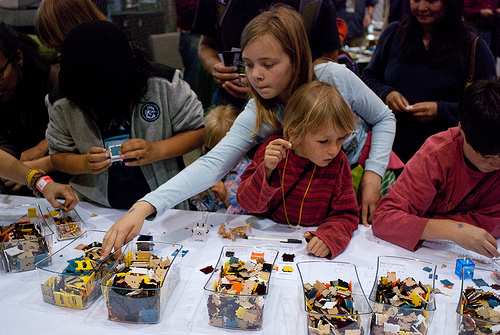 Maker Faire 2010: Interview with Ponoko's Dan Emery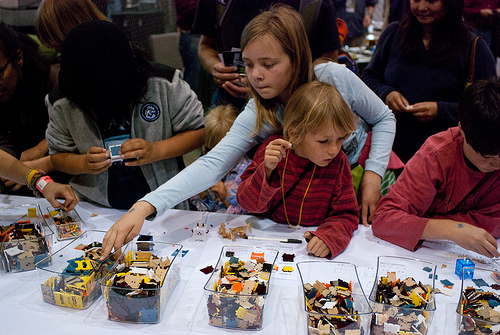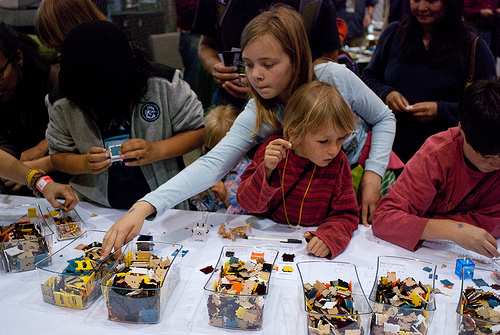 What event to be a part of!  With over 600 makers and a constant stream of eager enthusiasts, Maker Faire Bay Area  2010 was full of fun and excitement.  Thanks to the efforts of Dan Emery and his gang, the Ponoko stand was a real hit with everyone from bright-eyed first timers through to seasoned makers.
One of the highlights had to have been the Vambit construction area (pictured above), where the public were invited to put together their own unique little lasercut critters.   To see the good natured jostling as people searched for just the right panels from trays of pre-cut components was a true testimony to the endearing toothy grin of Drownspire's Vambits.

The following interview with Dan should give you a few insights into what it was like not only at the Ponoko stand but also to be a part of the broader experience of Maker Faire 2010.
First things first, before we get to the serious questions… was it fun?
Yeah it was heaps of fun. There are so many cool projects, so much creativity that it is inspirational. The most incredible thing there is the super intelligent kids who are making stuff that I have no idea how to make. The next generation is exposed to so much cool stuff at these events, at an early age, that they will be unstoppable in the future. There are children making robotic fire breathing dragons!
How did the Ponoko experience differ from previous years?
It was our 3rd year there and my first. I cant compare to how the other years went but this year was definitely huge. Our give-away  product was a robot toy this year where previously it had been jewellery. I think this went down well with the crowd and they were being made as  fast as we could put them out.
What aspects of the Ponoko stand received the strongest response – the DIY fabbing machines, the Vambits, the member products…
Obviously the Vambits got a lot of response. Next up people saw the Makerbot and wanted to know if we sold them and if all the other products were made by it. That led to talking about using our service to customize your own bot. People liked being able to see our material samples and feel them in their hands. Lighting is always great to show off what people can make on Ponoko so a lot of people had questions about the lamps on display. All in all, people love to see what can be made using these technologies.
What was the level of knowledge like amongst people who came up to talk about Ponoko?
A lot of people had heard of Ponoko before but wanted to clarify what we do and could offer them, to check out the materials range in real life and to discuss their projects. Quite a few hadn't heard of our service before but after seeing the example products they were inspired and thought they might have projects they could use us for.
Were many actual Ponoko members popping by?
We had a couple of customers show up that I saw, some even sporting pieces that they had designed and made. We also had four of our local makers (see below) helping on the stand as well.
Some people are making just for the fun of it and others have profits in mind.  How was the relationship between these approaches revealing itself?

There was a distinguishable difference between stands that were trying to sell a product and those that were just showing off their projects, like Universities or art projects. Having said that, the Intel stand was an interesting middle ground. There was a guy at a university  in Phoenix who built an 8 legged robot powered by Intel chips. He posted videos of it online and it probably got picked up by the gadget blogs etc. Intel saw that, asked for (or bought) one and now use that to show off their hardware. I think this reflects the power of the internet/Digital/Personal fabrication revolution that we are part of. Services like Ponoko, Cloudfab, Shapeways, Makerbot, Fab@home, Sparkfun all make making stuff easier so these awesome projects get a more of a chance to be realized. All this hardware and software is easily available so the constraints to making anything are greatly reduced. The thing looked slick too. The electronics were neatly housed in a body and legs that had been 3D printed. That's the other great thing about the digital fabrication revolution, the prototypes can look very refined without a lot of cost.
With over 600 makers and hoards of excitable enthusiasts, who did you meet/chat with that really surprised or impressed you?
The Ponoko stand was under a full scale Vambit invasion, so I barely had enough time to talk with people on the other stands. The Fab@Home and Makerbot guys are doing cool stuff so stay tuned for an upcoming feature on the Ponoko blog.
So, who were those Ponoko members lending a helping hand? Those familiar with Ponoko may have seen these guys before –
Many thanks for your efforts!
As a final treat from the Ponoko stand at Maker Faire, here is a
brief video
of some Vambit construction in action (click on the image below)