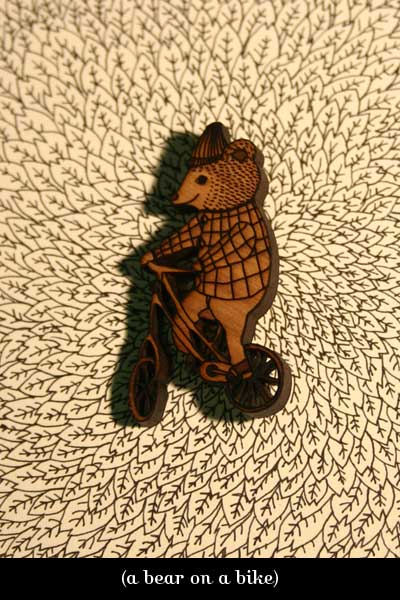 Bonnie Poplar's wooden brooches
Sydney based Bonnie Poplar started creating after she found Ponoko while looking laser-cut service on the net.
How did you used to make products before Ponoko?
I didn't! Ponoko was the answer to all my technical disablilites. I always have the idea to create laser-cut pieces but it's so hard to find a place where you can just send your design and "print" them. And obviously, you can learn yourself how to laser-cut, invest on a laser-cut machine or even visiting other laser-cut places. But Ponoko is best as you can do everything online and everything is so simplified you can just concentrate on design and Ponoko team take care of materialising the ideas.
What type of products do you make with Ponoko?
So far Ponoko (NZ) has produced beautiful intricate laser-cut wooden brooches. I'm looking forward to more opportunities to have my ideas materialized by Ponoko in the future. Would love to do laser cut on metal… that would be awesome!! I have yet to try playing with acrylics too, so many ideas so little time!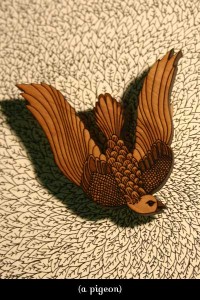 How would you describe your creative process?
First thing, I would construct ideas inside my head. What the concept is, how to visualize it then putting pen on paper and voila! a finished design. To me the longest part is the visualizing part. You can have these many ideas but sometimes are limited to what you know technical-wise, or sometimes what's in my head is just not doable in reality. If that happens, that means you just have to find a different form of outcome.
For example, my current wooden brooches were initially designed to be produced on clay/porcelain, but the extreme details made it impossible for me to produce good amount of high quality objects within reasonable timeframe and effort. I ended up producing it on wood and it's different from what initially I had in mind but it feels right when I see them, then I know my work's done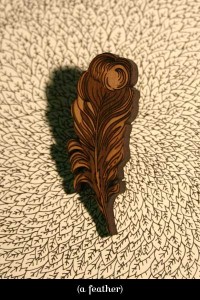 What material/s do you use/ have you used and why?
I've used only timber so far, just because they fit my current design. But as I mentioned, I'd love to have a play with other materials. Sometimes new materials inspired me to look outside the box and that becomes a design challenge, outside my comfort zone but very rewarding in the end.
Have you been surprised by anything in the Ponoko process:
My whole Ponoko experience has been only positives so far. The company's a whole package. They deliver great products, very punctual, always with can-do attitudes and very helpful and always available when needed, and I keep recommending Ponoko to my friends and complaints are unheard of… What more can I say?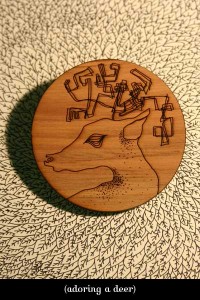 Do you have any tips for other users?
Always try to push how far you can go with your design and the technology you are using. In my case, looking at my finished intricate wooden brooches were very surprising and satisfying to both Josh at Ponoko and I. We didn't think that much details would reproduce amazingly. Of course, it could've gone the other way, but the risk was worth it!!
www.bonniepoplar.blogspot.com, www.flickr.com/photos/bonniepoplar