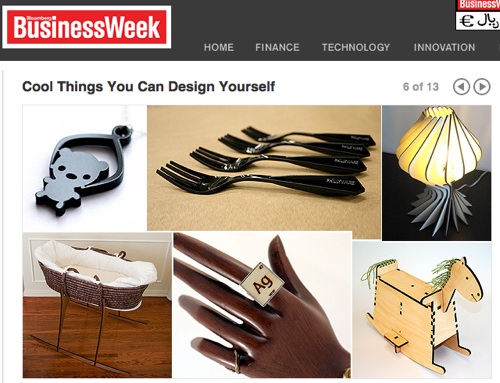 Cool Things You Can Design Yourself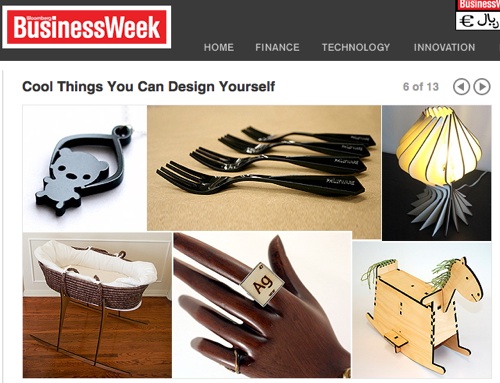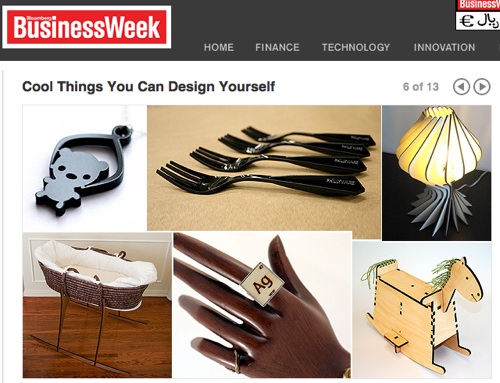 In a slide show atttached to a special report in Business Week on Thinking About Open Design by Roland Harwood and David Simoes-Brown, Ponoko gets a mention in Cool Things You Can Design Yourself suggesting Ponoko to be a perfect place to Design and Make your own furniture.
Of course as their reference image above illustrates, Ponoko is perfect for designing and making a diverse range of items from jewelry to cutlery, lamps to iPad stands, clocks to coathangers, the possibilities are endless. The article also mentions Makerbot, LEGO's Design byME, Converse, Blank Label and others that straddle a broad spectrum of DIY from open 3D printing to cosmetic mass customization.
Harwood & Simoes-Brown are co-founders of 100%Open, an agency devoted to open innovation. Their article sites an example of their work using consumers to lead innovation with Virgin Atlantic which led to six social media-based projects including a taxi-sharing scheme for Virgin Atlantic customers and a Facebook application that links with the company's "Flying Club."
I am not sure their example is really open innovation or crowd sourcing as 100%Open and Virgin were gatekeepers to which social media based projects were supported, although I guess the 'consumers' could start their own facebook page?
What do you think defines Open Design? Cosmetic customization, your hand held through an ideation process or access to data and tools?