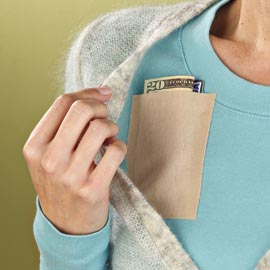 from 'the catalog of industrial design disasters'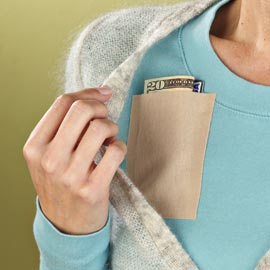 Peel-and-stick Instant Pocket gives you a pocket so you can mingle with crowds, go for a run or work in the yard and keep important things safe.
This is the kind of item you usually see in those weird junk mail catalogs that have every innovation for the home that you will never need or want. I like to call them 'the catalog of industrial design disasters' and know that I have truly failed as a designer when anything I have ever worked on ends up there.

But, I kinda like this one in the way that I would never actually wear it, but I do like the simplicity that reminds me of a couple of the projects by Amron Experimental such as his Money Clip and his Split Key Ring that I think is genius.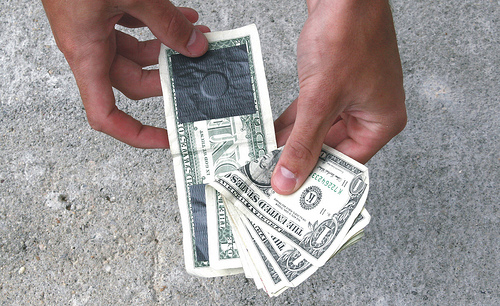 I can see how a simple Ponoko enabled product could become a great little gimmick that would rise above the catalog of industrial design disasters to become a classic collectible design.
woah, also available via solutions.com, the 3-in-1 Stow & Go Car Seat for your dog, Lettuce Compost Keeper Kitchen "art" is really an odor-free compost bin, All-in-1 Chair™ Chair and rolling tote in one, with storage under the seat! and almost Vapoorise as seen on tv.
via monogocoro