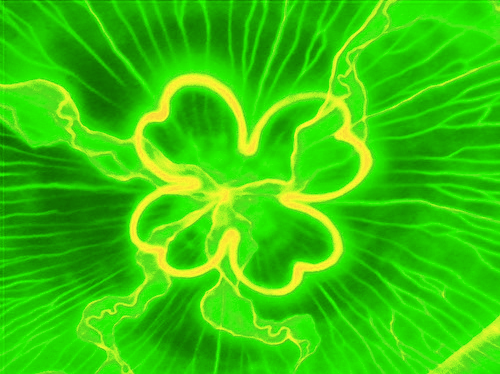 save up that Irish luck — 28 competitions after the jump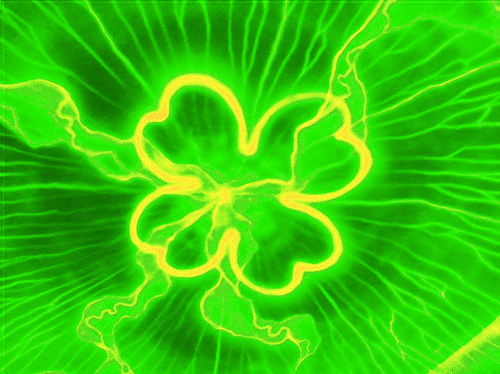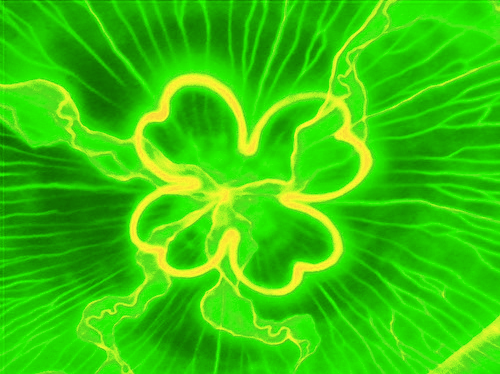 (this rad lightening shamrock is actually a picture of a jellyfish I took off flickr)
DEADLINES
• Art House Co-op Projects — various deadlines
No matter what sort of art, craft, design, or making you're into, there's a good chance your work could find a happy home as part of one the 7 projects going on at Brooknlyn's Art House co-op.
• Lift Hold Roll — 31 March 2010
Create a product that utilizes a pulley, clamp, or caster. The coolest ones will be part of a curated show at ICFF.
• Mowing to Growing — registration deadline 31 March 2010
A design competition for creating productive green space in cities. One winner, $10grand.
• DJ Shadow CD Artwork — 31 March 2010
Send in your non-cliche artwork submissions for a new remix project from DJ Shadow.
• CGarchitect T-Shirt Design — 31 March 2010
Design an awesome graphic using the CGarchitect logo and find yourself with $100 cash plus an extra $200 worth of prizes.
• Craft Victoria — 31 March 2010
Submit an exhibition proposal for Melbourne, Australia's 2010 celebration of contemporary craft and design. Exhibitions run from January through June of 2011.
• the Pattern Project — sign up by 1 April 2010 / artwork due 15 May 2010
Create artwork based around and inspired by pattern. Sign up and create a piece of art work that uses pattern, repeat, or repetition in it. Send it back and be part of an exhibition highlighting the significance of pattern in art.
• International E-Waste Design Competition — 1 April 2010
"We invite you to create a broad range of design concepts and innovations for technology products that demonstrate fresh approaches and responsible solutions for green computing technologies." Platinum, Gold, and Silver cash awards totaling $16,000.
• The Left Hand of God — 4 April 2010
Your chance to design the cover of a sci-fi novel from Penguin publishers. Winning artist also receives £200 worth of Penguin books.
• Athens Bench Mark — 6 April 2010
Design an awesome bench! Selected entries will be featured in an exhibition called Future Bench in Athens, Greece. Good money in it for 1st, 2nd, & 3rd place. Competition is open to anyone, anywhere.
• World Industrial Design Day Student Poster Competition — 15 April 2010
Last year's winner was a total rip-off, so I can't wait for a new one.
• Art "Works Every Time" T-Shirt Design — 15 April 2010
Design up a t-shirt for Colt 45 for a thousand bucks and some change.
• UU Theory Challenge — 24 April 2010
Besides the format (Horizontal A4 300dpi) the only limitation is that you have to somehow include the UU logotype to your creation. The best 40 entries will compete against 10 chosen artists from around the world for the grand prize.
• Socio Design Foundation Integrated Competition — register by 30 April 2010
Craft and clearly communicate your idea for a design school that fosters a socially-aware education for its students.
• International Lace Award — 30 April 2010
"Challenge conventional notions of lace and its application in the areas of fashion, the built environment and digital multimedia. … The Award defines lace as an openwork structure whose pattern of spaces is as important as the solid areas."
• Street Furniture Light — 30 April 2010
The objective of the competition is to design an object that qualifies as a street furniture while retaining its primary purpose, lighting.
HEADS UP
• One Good Chair — 1 May 2010
The theme is Minimum/Maximum. Can you design a chair that is almost nothing and almost everything at the same time?
• Bench Jewelers Passion Award — 1 May 2010
Submit your finished jewelry pieces or CAD renderings designed after January '09. Awards will be presented at the Bench Jewelers Conference in Atlanta, Georgia.
• Electrolux Design Lab Competition — 1 May 2010
Open to undergraduate and graduate students to design home appliances for small domestic spaces.
• Game Changers —  11 May 2010
Design a game that aims to create change by improving lives or inspiring new behaviors.
• MINI Countryman —  11 May 2010
Create a 2D concept for a feature to be added to the MINI Center Rail of the new MINI Countryman car. Pretty nice prizes, like a trip to the Paris Motor Show.
• Porch Shed Design Competition — 15 May 2010
Come up with the ultimate porch for a shed, it may be a simple classic design or a complete wrap around, it could be very clean lines or richly decorated the choice is yours.
• The Living Climate Change Video Challenge — 25 May 2010
Create a video of no more than 2 minutes in length that depicts how you see climate change impacting or shaping our lives over the next 20 to 30 years.
• Crochet Guild of America — 15 June 2010
Join the CGOA and enter your amazing crochet creations, anything from fashion and accessories to toys and home decor.
• Seoul International Design Competition — 13 July 2010
"The 'design for all' objective is made to increase the efforts and the pursuit of design production
that can be shared by all, removing emotional and physical barriers by becoming an universal
communicative social solution." Competition is open to anyone, anywhere!
• Food Design — 15 June 2010
Design with food; design for food; and a tasting kit design: this is probably the coolest concept competition on this entire list. And even if you have no plans to enter, you should jump over to Dexigner and see the image for this contest. It's prosciutto juxtaposed with a linen sheet. Cured meat and textiles are both really my thing.
• Playable 2010 — 1 October 2010
Submit your designs for Playable Art / Playable Sites / Playable DIY Sites / Playable Kids. The competition will culminate in a conference on designing for play at Georgia Tech.
• Copper and the Home — 30 November 2010
Design a decorative object for the home using copper or copper alloys that exploit
the intrinsic qualities of these metals. Separate categories for students and professionals under 40 years of age. (p.s. The site is pretty clunky. To read the competition details go to News>newsletter>#07)