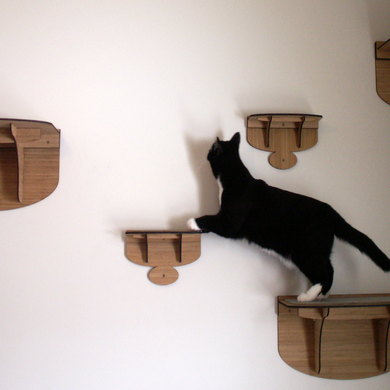 Flat Pack for the Feline……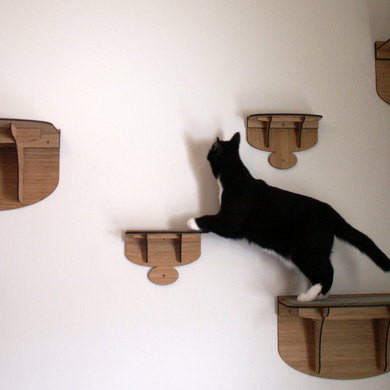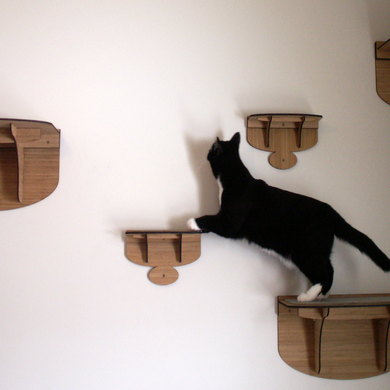 The Kitty Klimber shelf provides a purrfect feline transition point and is an excellent limited floor space solution. The Kitty Klimber is simple to assemble, easily mounts on walls and is made from eco-friendly materials.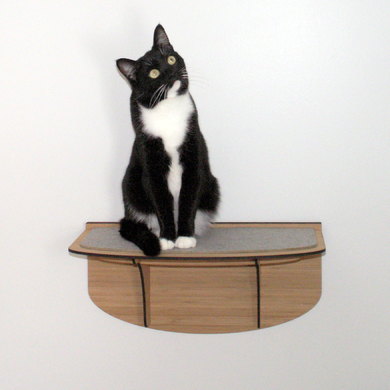 Companion Kitty Kozy shelves (larger platform) are available in the Catter Wallin' Showroom. And the Kitty Korner shelf (corner retreat) is currently in the prototype/design phase and will soon appear in the Catter Wallin's Ponoko Showroom.

Kitty Klimber Features:
– Cat friendly space with zero floor footprint
– Made of 100% renewable Bamboo
– Simple no hardware assembly
– Easy wall mount with two screws
— Pre-drilled vertical holes for residential wall stud mounting
— Two wood screws provided (one 2-1/2 inch & one 2-inch)
– Laser cut edges cleaned and inspected prior to shipment
– Environmentally friendly Felt shelf pad available at additional cost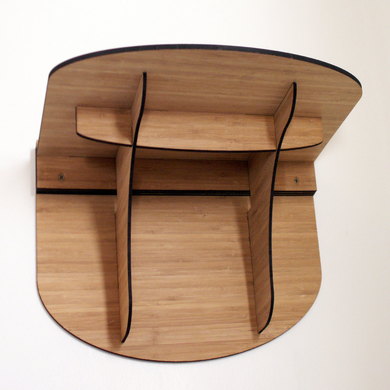 Catter Wallin's listed price includes the Kitty Klimber shelf, Assembly and Mounting Instructions, Mounting Hardware and FREE U.S. Shipping.
If you've read this far, then you must be animal lovers, too. Catter Wallin' pledges 10-percent donation of our sales dollars to the American Society for the Prevention of Cruelty to Animals. Catter Wallin' also firmly supports eco-friendly sustainable living.