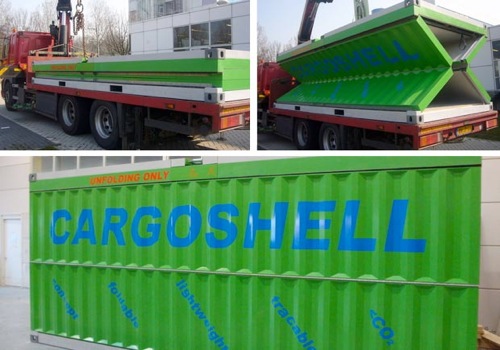 The new sustainable concept for transport.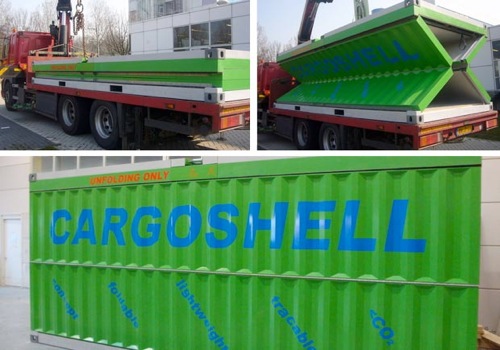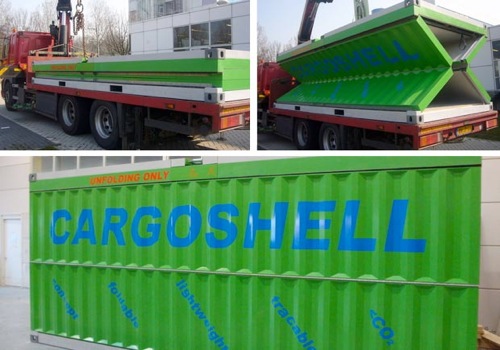 The image above of the Cargoshell is striking in it's simplicity, so what does it mean?
Based on an idea of entrepreneur Ren Giesbers, Cargoshell has been developed which can be integrated in the current, standardized freight chain. A composite folding container makes the world transportation system more environmentally friendly (the CO2 reduction in particular is significant) and lowers the costs pertaining to business economics. Launched at The International Port of Rotterdam the Cargoshell is not yet ready for production. The challenge to realize this scale-up now lies with the sector, the industry, the government and financial parties.

By collapsing by 75%, they radically reduce the volume of empty containers. Several empty Cargoshells can be transported together in the space of just one steel container, If all steel containers will be replaced by Cargoshells, the amount of transport kilometers will decrease by 75% (currently the cost of shipping an empty container is similar to that of shipping a full container).
Composite construction 25% less weight, transportation of a light-weight container saves energy (generated by fossil fuels) and therefore reduces CO2-emission considerably. The composite Cargoshell is made of, also has its advantages concerning temperature-controlled transport. Composites are good insulators which will result in a reduce of energy needed to keep the temperature steady. Composite is a hygienic material. It provides no nutrient for fungi and insects and it also doesn't provide shelter for them. To prevent corrosion, steel containers are coated. Composites don't corrode in contact with air or seawater. During the lifespan of a Cargoshell it is therefore unnecessary to repair or renew a coating, like for a steel container. The environment isn't polluted with coating flakes or metal particles. The saving of paint results in an substantial CO2-reduction.
Storage of empty containers is a huge problem: they take a lot of valuable space. The volume of a folded Cargoshell is 1/4 of the original volume of the container.
The Cargoshell is supplied with a roll-up door. When this is opened, it stays within the contours of the Cargoshell. The doors of a traditional container open outward. Cargoshells can be placed closer by each other than traditional containers, because they don't need the extra space to open.
A certified Cargoshell is being developed, which will meet all international requirements. they are also working on establishing a green energy label, to draw special attention to the sustainability and energy savings of Cargoshell.
The containerization of shipping has had a huge impact on commerce and society, the docklands of Australia have either been converted into waterside housing developments or ghost towns. It will be interesting to see what changes will come about should this innovation take hold????
Via Fast Company