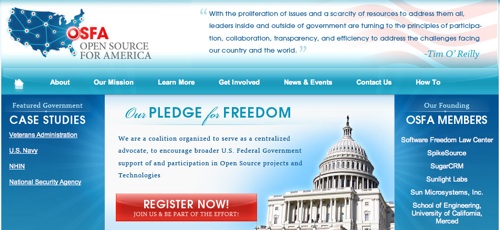 A coalition encouraging the U.S. federal government to support Open Source projects and technologies.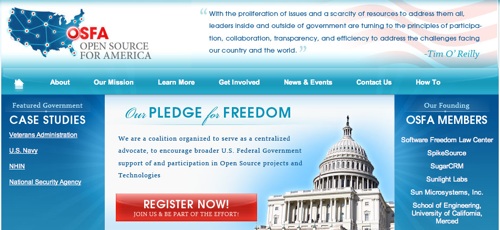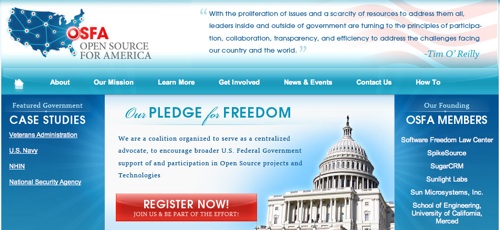 The mission of OSFA is to educate decision makers in the U.S. Federal government about the advantages of using free and open source software; to encourage the Federal agencies to give equal priority to procuring free and open source software in all of their procurement decisions; and generally provide an effective voice to the U.S. Federal government on behalf of the open source software community, private industry, academia, and other non-profits.
The mission incorporates three goals:

to effectuate changes in U.S. Federal government policies and practices so that all the government may more fully benefit from and utilize free and open source software;
to help coordinate these communities to collaborate with the Federal government on technology requirements;
to raise awareness and create understanding among federal government leaders in the executive and legislative branches about the values and implications of open source software. OSFA may also participate in standards development and other activities that may support its open source mission.
Ok, I admit that at first I had stumbled upon a West Wing fan site and wondered about the legitimacy of the site, this was quickly changed when I saw the heavyweight board of advisers including Tim O'Reilly, Simon Phipps, Mark Shuttleworth, Jim Zemlin, Roger Burkhardt and founding members including AMD, Google, Mozilla, the Linux Foundation, Red Hat, Sun Microsystems etc. etc.
With some amazing case studies such as US Navy's Real-Time Open Source Software to standardize the shipboard systems on its new destroyers migrates to Wall Street to execute orders predictably, without relying on vendor-specific hardware and software. Podcasts such as Simon Phipps (Sun) and Michael Tiemann (Red Hat & OSI) discuss the history of free and open source software, what the "freedoms" in the Free Software Definition really mean, and how Governments can benefit from free and open source software.
If you are interested in getting involved, general membership is open to any individual or entity that is committed to the campaign's mission.