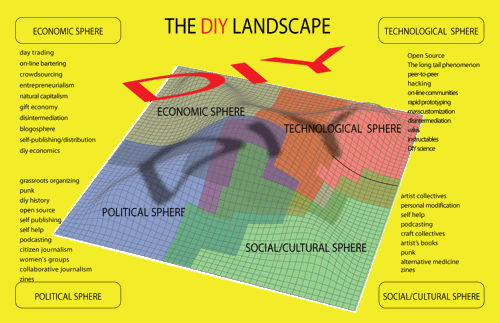 Pass It On: Connecting Contemporary Do-It-Yourself Culture.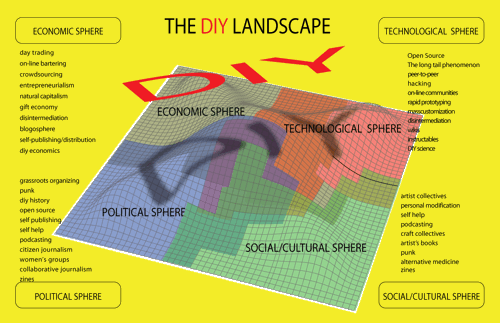 I recently stumbled across the online remnants of what looks like a really interesting exhibition Curated by Anne Dorothee Boehme, Lindsay Bosch and Kevin Henry at the The Averill and Bernard Leviton A + D Gallery in mid 2007.
Pass It On! Connecting Contemporary DIY Culture ; examines the do-it-yourself ethos that encourages artists, designers and cultural thinkers to produce and create work outside mainstream and commercial systems. The show is similar in spirit to the international exhibition Massive Change that explored ethical and social issues through the display of designed objects . With participants bearing names like Hacking Couture, Graffiti Research Laboratories, Sewing Rebellion and Microrevolt there is no question that the DIY movement was/is delving into diverse political and social territory.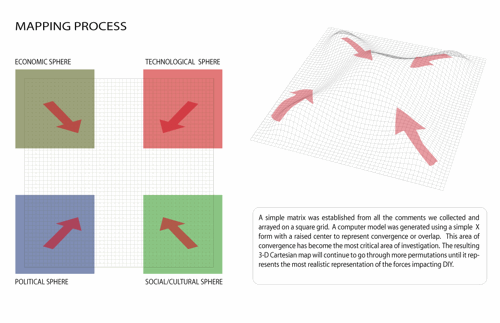 Particularly interesting was that as part of the exhibition the curators asked the participants to help map the DIY landscape "…to gather, glean, and anticipate a shape from which the exhibition might emerge. We did find that the areas of interest had a great deal of overlap and with a lot of editing we could narrow down the concepts and create a more concentrated instruction set for what the show will be."
Their map broke down the DIY landscape into 4 major overlapping realms:
The Economic Sphere
The Technological Sphere
The Social/Cultural Sphere
The Political Sphere
It would be interesting to see the map circa 2010 with the influence of Ponoko, Shapeways, 100kGarages, MakerBot, etc. etc. etc…..
Also check out their great links page for more DIY love.