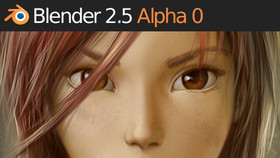 Free open source 3D content creation suite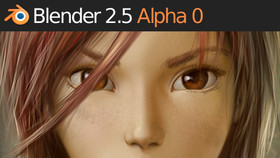 The Blender Foundation and online developer community have just released Blender 2.5 Alpha 0. This release is the first official testing release of the Blender 2.5 series, and represents the culmination of many years of redesign and development work.
Blender is a perfect tool for 3D modeling, animation, product and architectural visualization with an amazing array of tools including particle physics, smoke simulation, ray traced rendering and more, available for all major operating systems under the GNU General Public License.

Foe existing users, new features and updates include:
Blender 2.5 has a new GUI layout, with updated graphic design and a new icon set. The GUI layout has been re-designed to be clearer, better organised and easier to navigate, and is fully customisable with Python scripting. Other improvements include a new file browser, customisable tool shelf and more.
Blender 2.5 includes a new fluid-based smoke simulation engine. Alongside this is capability to scale up a low-resolution sim, maintaining detail with wavelet turbulence. Smoke can be generated by input particle motion, and can be affected by colliding obstacles and force fields. The smoke data is output as voxels, which can be rendered as a volume.
The animation editors have had a complete refresh in Blender 2.5 with a new graph editor, supporting multiple objects and F-curves simultaneously, a scene-wide dopesheet, a redesigned Non-Linear Animation editor and new functionality for shape animation, driver, expressions and keying sets.
Particle systems have had a refresh, now taking advantage of fully interactive animation playback and editing. New additions include particle path editing with brush tools, a new point caching system, new boids physics and hair dynamics using cloth simulation.
As part of the google summer of code, the ray trace acceleration system has had a complete overhaul, making it significantly more efficient and with support for new features such as instancing. Now multiple BVH based acceleration structures are available, in artists' terms, rendering some scenes up to 10x faster!
Download it here…