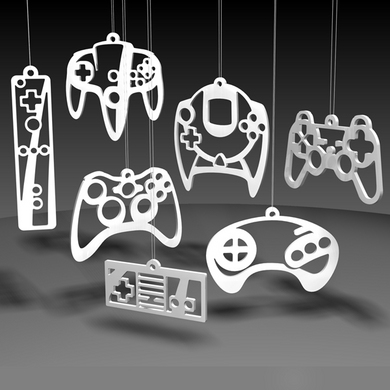 game console controls on a string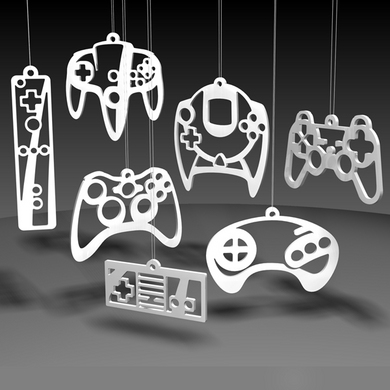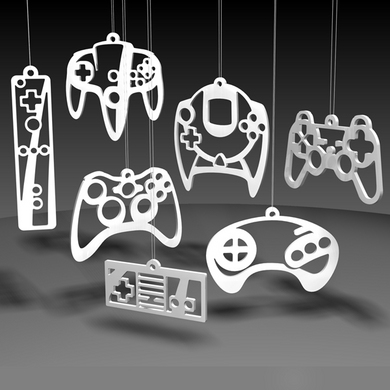 Digits aka Dave Rollins recently added an assortment of lasercut video game controller ornaments to his Ponoko showroom. The set includes seven system control ornaments, everything from the original NES to the Wii and the Dreamcast to the PS3. And from the blogsphere buzz, these iconic gaming shapes are evidently proving very popular.
• Gamers Daily News waxes poetic about Dave's design: "So why not take an extra step & decorate this year, with these awesome ornaments, shaped like gaming gear?"
• Jesty Suggest puts these on their geek shopping list.
• The Technabob blog is "absolutely in love" with them. "Buy a bunch and cover your whole tree. I'm hoping next year that Dave will make some matching console ornaments and maybe an Atari paddle controller or two."
• Geekologie will out tree-decorate Martha Stewart. "Alternatively, take your controllers from yesteryear and drape them around the tree like tinsel. Thread popcorn onto the cords for a real decorative touch."
• DVICE likes them too! "I mean, if you have a choice between a boring red ball ornament or a Dreamcast controller, are you seriously going for the ball? Let's be reasonable here."
• Apartment Therapy's Unplgged says: "the ornaments actually look cooler than the real thing."
• The Awesomer: 8 stars so far
Looks like it's gonna be a good Christmas for Mr. Rollins.
Ornament assortment available in white, black, red, yellow, or clear acrylic for $25 from digits showroom.