two internet communities that are democratizing the travel industry


Maker fairs, design conferences, trade shows — Whether for business or leisure, travel is an essential part of many people's lives. And like most other essentials of modern life, it is dominated by big industry. Often the greatest expense when it comes to traveling is the accommodation. Even if you have the money for that plane/train/bus ticket, the cost of a hotel can make a trip simply unfeasible.
This fall, I had the opportunity to see a huge chunk of the American West. I recently returned from an epic seven-week road trip (the half-way point of which was meeting Ponoko CEO David ten Have at the studio in San Francisco), and along the way took advantage of a couple of resources that are making it easier to travel for less, thanks to people just like you.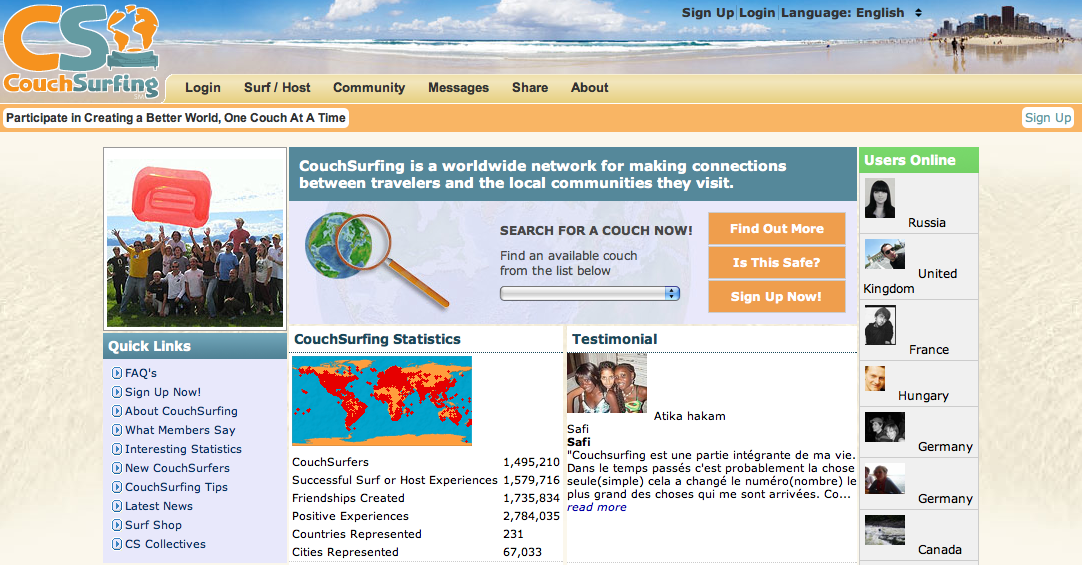 CouchSurfing.org is a global network of people who have signed up to offer travelers a free place to stay. The CS spirit is nothing short of utopian, "Participate in Creating a Better World, One Couch at a Time". There are over one-million available places to stay in 231 countries, and member experience is over 99% positive.
My first couple nights of the road trip, I stayed with a host in Rapid City, South Dakota. Not only was it a free place to stay, but my host had been a youth leader and taken many groups through the Black Hills. He took me on a beautiful hike through the National Forest and even taught me about geocaching. Staying with a host through CouchSurfing was an enriching experience that I never could have gotten through a hotel chain.
While the CS ethos is committed to making new friends and helping people out free of charge, there is another website that allows members to make a profit.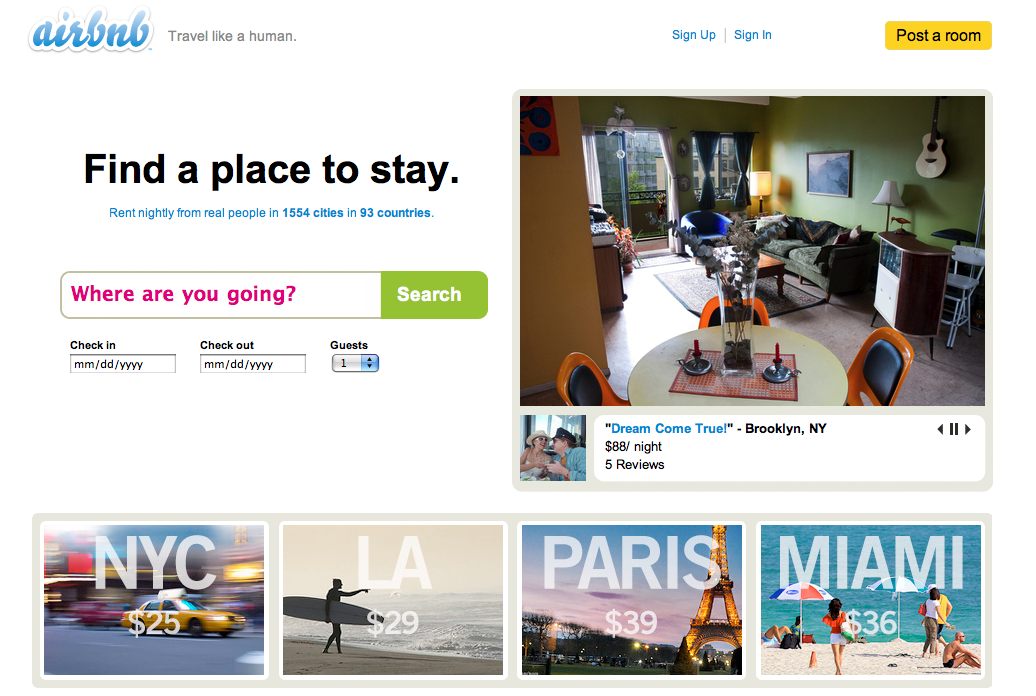 AirBnb.com is a newer resource which lets people rent out an available room in their home/apartment or their entire property for whatever rate they set. Covering over 1500 cities in 93 countries, these "listings include vacation rentals, private rooms, entire apartments, bed and breakfasts, boutique hotels, castles, treehouses, and many other traditional and non-traditional accommodations."
The site uses PayPal for transactions, has a built in calendar for each member, and users can search available places in a specific city just like booking a hotel. AirBnb has the potential to be a huge benefit to hosts and visitors alike. While hunting for a place to stay in San Francisco, I came across a beautiful Victorian apartment in the Mission District; the entire 2br apartment was renting at just $100 a night. It wasn't surprising to see that this place was booked through November — that's $3000 a month from a quick listing.
Big hotel chains will survive as long as business expense accounts do. But when the trip is on your dime, that dime might go farther with someone just trying to make a little extra money or on a thank-you gift for someone kind enough to offer no-charge accommodations. As with all internet communities, going from the virtual to the physical involves a very real risk; but taken with caution, I think it's worth the reward.