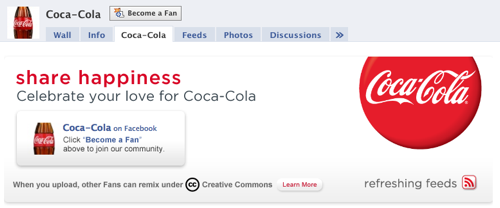 3,667,238 fans can't be wrong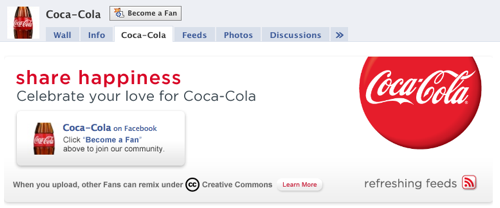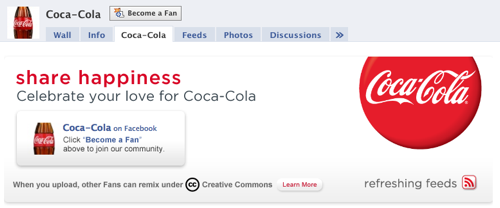 Coca-Cola recently relaunched their Facebook Page (one of the largest pages on the social network, with 3,667,238 million fans), and included a policy that content shared by fans be available under a Creative Commons Attribution-NonCommercial-ShareAlike license. The specific CC license badge appears in the sidebar on the Coke wall, but is also referenced in the Coca-Cola Facebook Terms of Service.
….Furthermore, each user retains ownership of all User Content posted by such user to the Coca-Cola Facebook Page, subject to the following grant of rights:

The user grants an irrevocable, perpetual, global and royalty-free license to The Coca-Cola Company, its subsidiaries, affiliates and bottlers, their respective successors, assigns and those acting under their permission (collectively, the "Coca-Cola System"), to use, broadcast, publish, modify and create derivative works of such User Content for advertising, promotion, publicity, trade, merchandising, packaging, public relations and media purposes and for any other lawful purposes whatsoever, in all media now known or hereafter developed, with or without attribution to the user.
The user grants to any person or entity other than the Coca-Cola System such rights as to such User Content as are set forth in the Creative Commons public license titled "Attribution Non-Commercial – Share Alike 3.0", the terms of which are available at here.
It is great to see a major player recognize the importance of playing well with others..
Oh yeah, you can also become a fan of Ponoko on facebook, if ya wanna.
via Creative Commons, of course….