Desktop Factory Sold to 3D Systems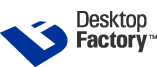 South Carolina-based 3D Systems Corporation, already a major developer of 3-D Printing, Rapid Prototyping and Manufacturing solutions has bought out Desktop Factory which could not otherwise raise the funds needed to continue developing a commercial 3D printer for under $5k.
While they have committed to complete the development of this breakthrough technology they will need time to fully assess the maturity of the existing design, time to potentially improve it and time to test and prepare to launch the first sub-$5K 3-D printer. (read shelving? or just major delays?)
Here is what Abe Reichental, CEO of 3D Systems said.
Until recently, cost and complexity have confined 3-D Printers to the shops and design departments of major corporations and premier design firms. The growing success and acceptance of V-Flash®, our first sub-$10,000 compact desktop 3-D Printer, reaffirms our commitment to one day make 3-D Printing as common in offices, factories, schools and homes as 2-D printers are today. We believe that the technology already developed by Desktop Factory in combination with our extensive technology portfolio should lead to a new generation of fast, simple and affordable 3-D Printers capable of making durable plastic parts.

We want to keep this exciting conversation going. The ability to design, create and produce models and prototypes "on your desktop, within a few hours" should be available to all. Our global economy runs on innovation, and we intend to provide the necessary 3-D printing tools to help you succeed independent of the size of your company and budget or your design challenges. You can count on our commitment to affordable 3-D printers — starting with V-Flash® today and even more affordable 3-D printers in the future.

In the coming weeks we will announce our formal communication strategy and invite you to participate with us as we seek your input and ongoing support. We are very excited about the potential before us and look forward to delivering an even wider choice of affordable, accessible 3-D printing technologies.
Best of luck to Cathy Lewis and crew..