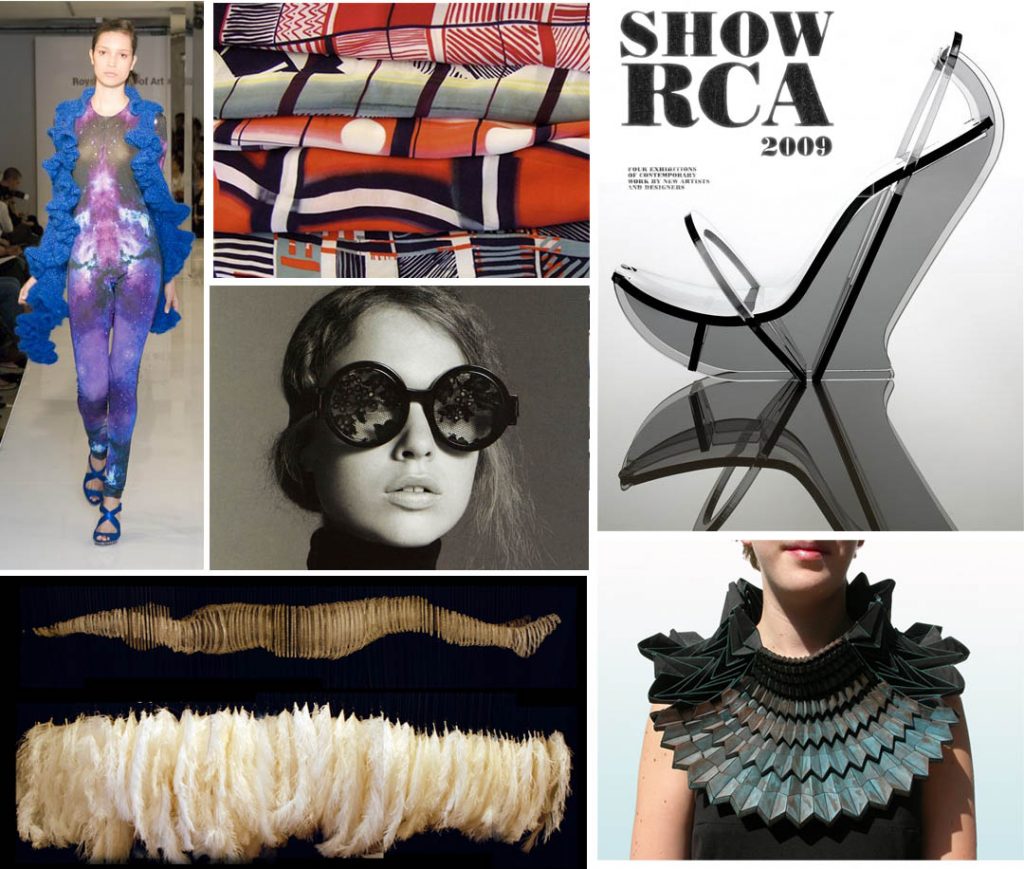 shoe sculptures, nebulous knits, copper cloth, and more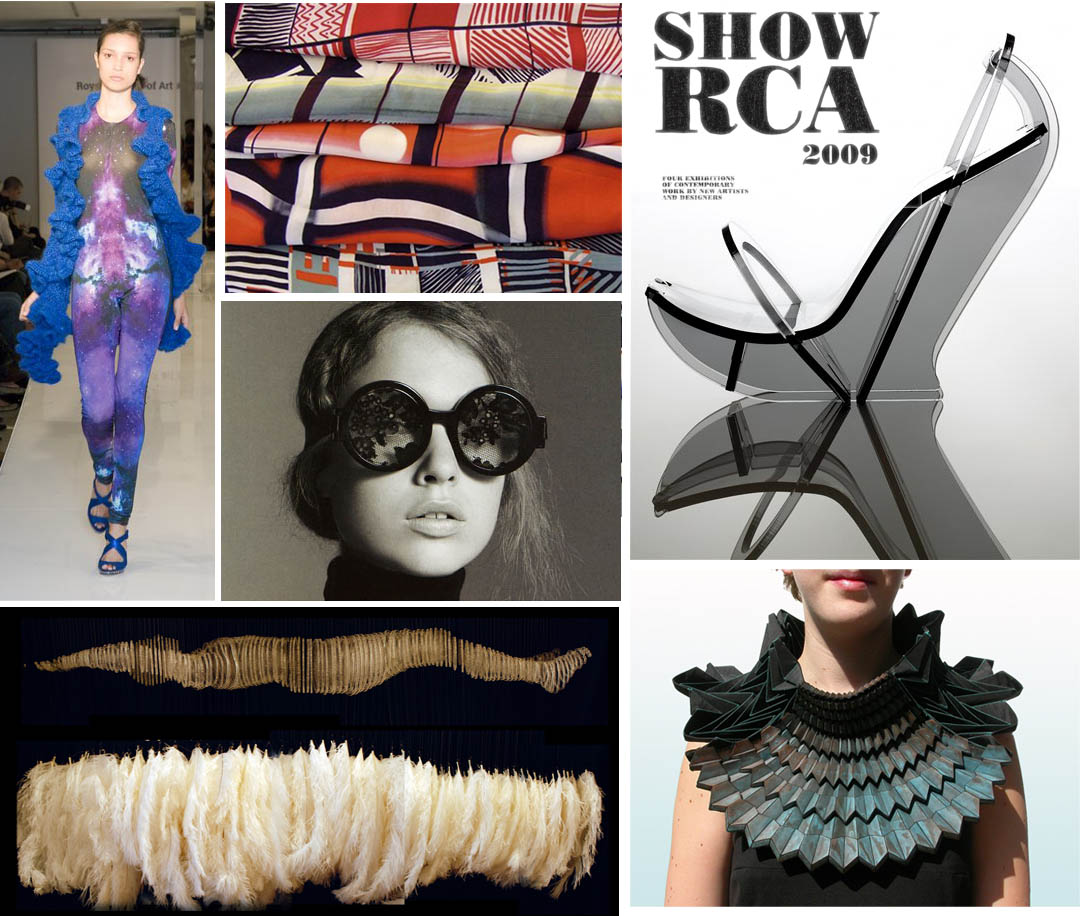 The second part of my SHOW RCA 2009 coverage of rapid production and personal favorites highlights the Fashion, Jewelry, and Textiles program with a quick nod to Printmaking and Vehicle Design.
Fashion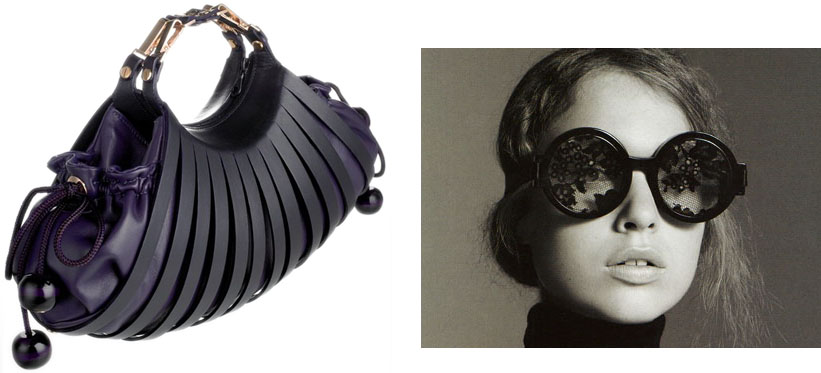 Eylem Binboga is a versatile accessories designer. Her leather bag above is inspired by "the way in which rough and intuitive outlines in a sketchbook are translated into finished designs". (www.eylembinboga.co.uk)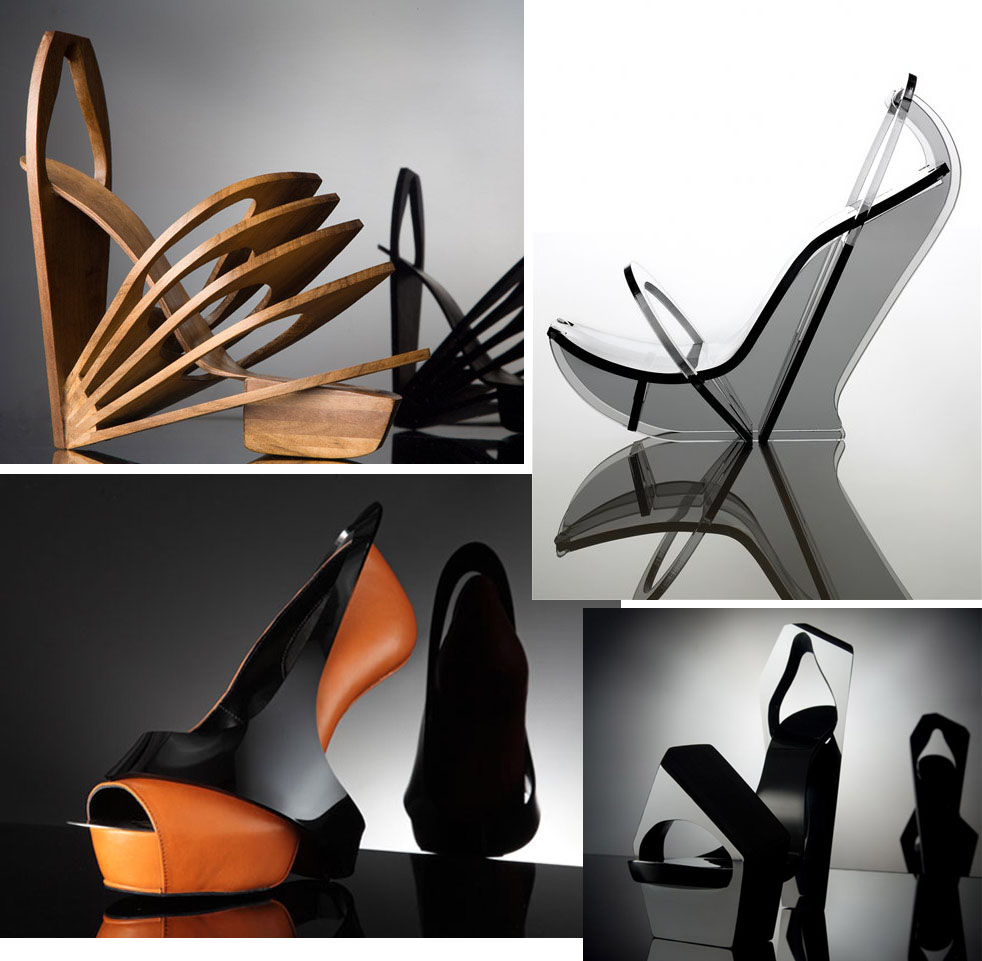 Footwear designer Chau Har Lee has a distinctive architectural style, using materials like laser-cut acrylic, wood, and steel alongside traditional leather. (www.chauharlee.com)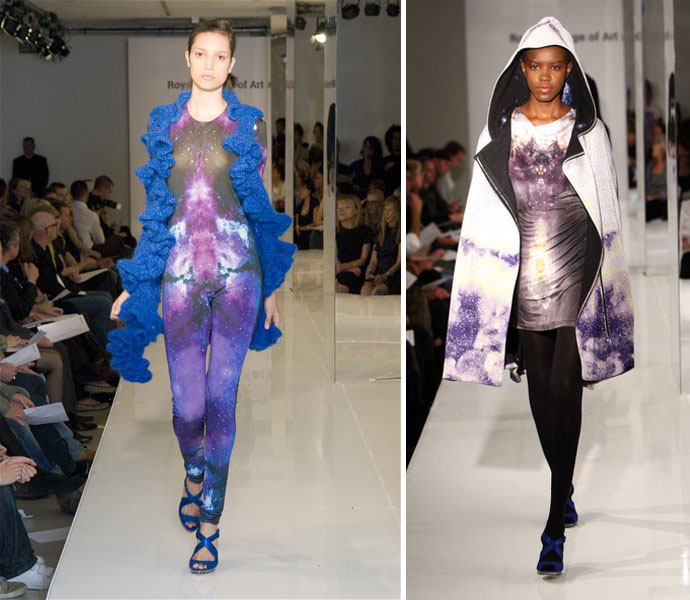 Sini Moilanen's BIG BANG collection features knit garments digitally printed with images of the cosmos.
Goldsmithing, Silversmithing, Metalwork & Jewellery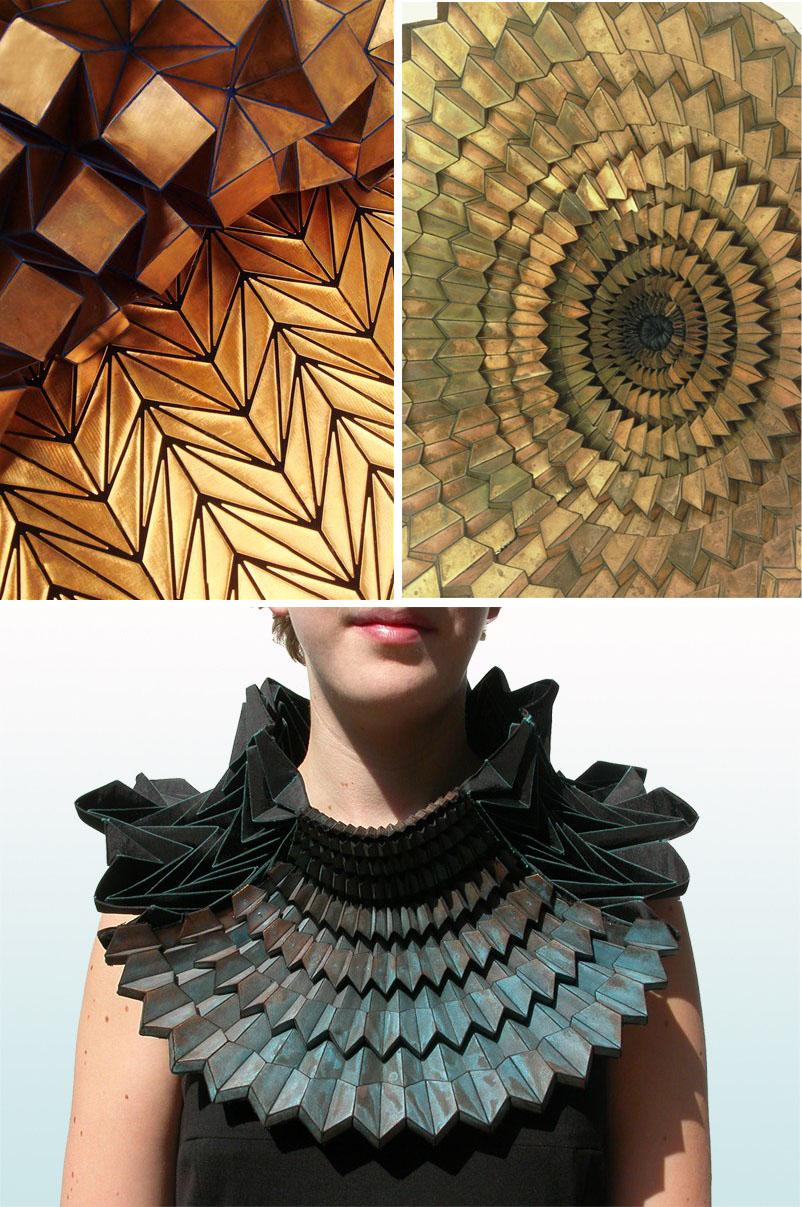 While earning her Masters, PhD student Tine de Ruysser developed a "wearable metal oragmi" by fusing copper plates to fabric. The result is a sculptable textile that is rigid yet flexible. (www.tinederuysser.com)
Printmaking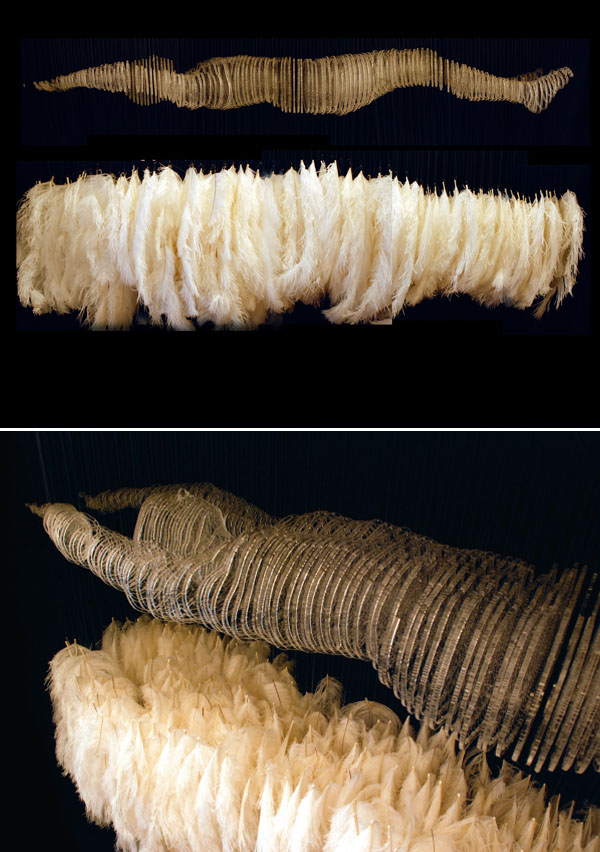 I also wanted to mention artist and PhD student Mariléne Oliver who uses "the digitised and coded body (in the form of MRI, CT and PET scan data) as material for making sculptures." above: Dreamcatcher, laser-cut acrylic, fishing wire and ostrich feathers (www.marileneoliver.com)
Textiles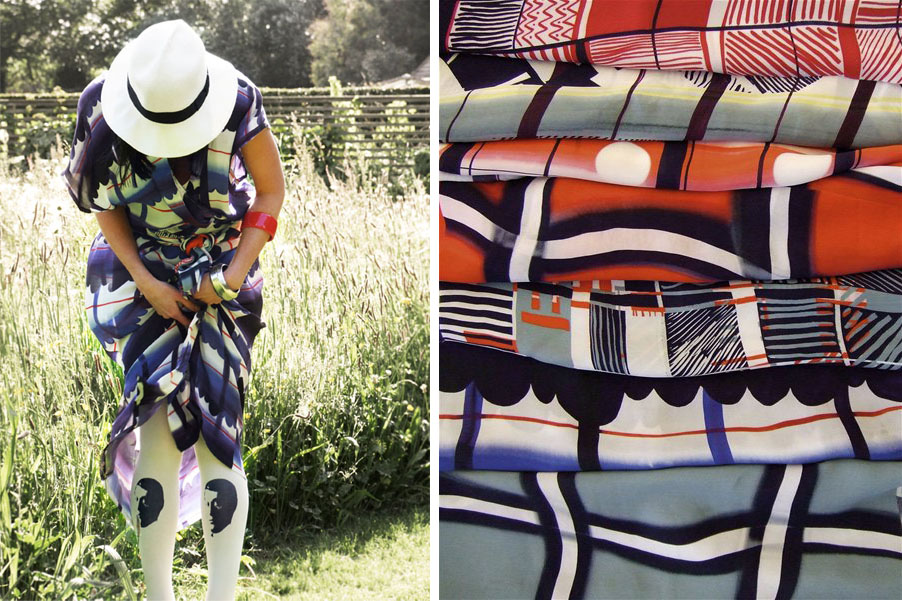 Charlotte Linton designed a collection of digitally printed silks for "the wardrobe of a fictional character; a zoologist travelling around the world in the earlier part of the 20th century." (www.charlottelinton.com)

The narrative installation above entitled Down at the Bottom of the Bolly Woods captures a "mystical world, creating a sense of escapism" says artist Rebecca Lucraft.  (www.rebeccalucraft.com)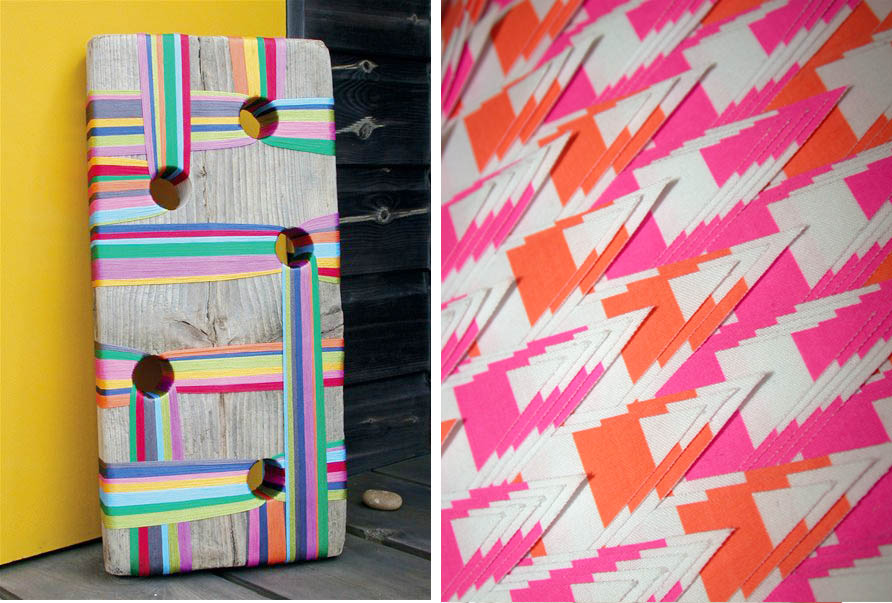 I also really like Ella Robinson's drift wood pieces wrapped with thread. Spinning Turtle is shown above next to one of her earlier textile constructions. (www.ellarobinson.com)
Vehicle Design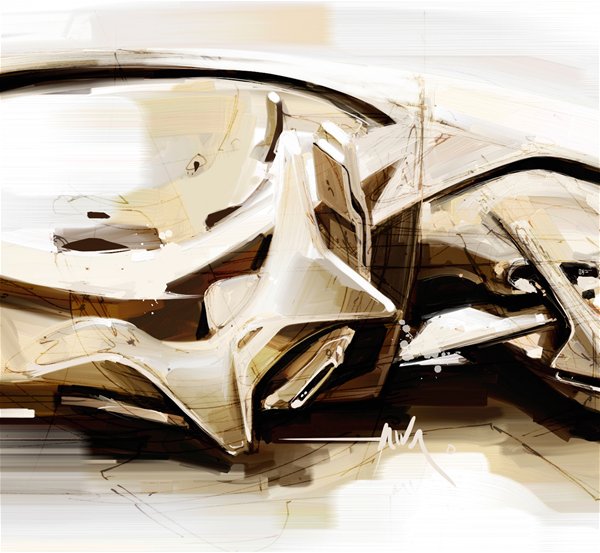 I want to close the post out with this gorgeous rendering by Thomas Smith. It illustrates the interior of the Deka car, a concept for a biodegradable automobile.
Be sure to take a look at all the fantastic stuff from the Architecture, Design Interactions, Design Products, and Industrial Design Engineering students in my first part of SHOW RCA 2009.