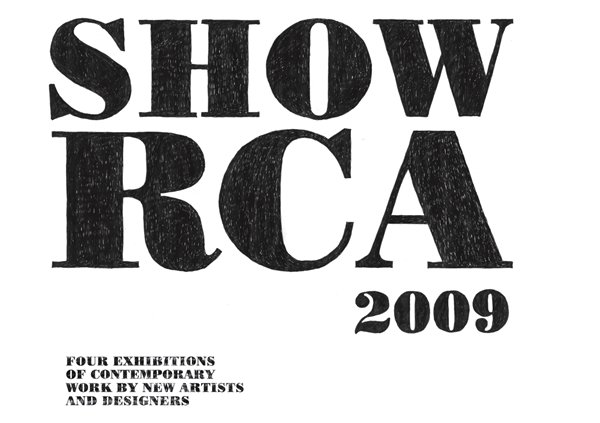 rapid production from recent graduates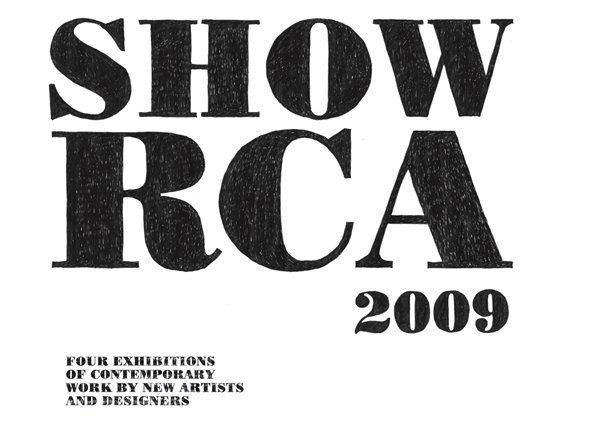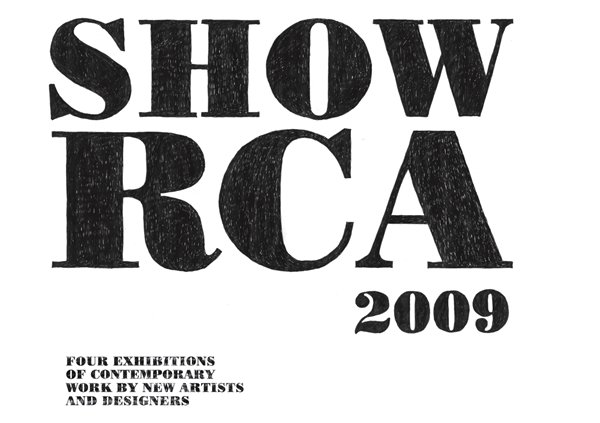 SHOW RCA is the annual exhibition of graduate and doctorate work from the Royal College of Art, one of the most badass schools in the world. From architecture and industrial design to fashion and jewelry, work from this year's graduates demonstrate a widespread use of digital fabrication used for both prototyping and final product. What follows is an amazing collection of work from the Architecture, Design Products, and Industrial Design programs utilizing laser-cutting, laser-sintering, and digital printing to (rapidly) shape the future of art and design.
Architecture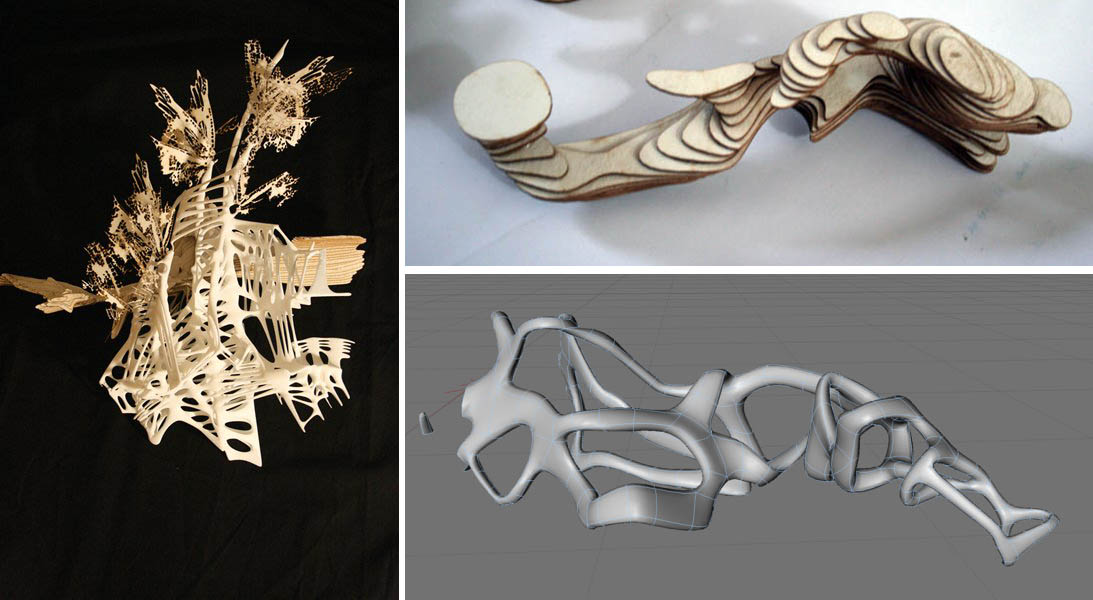 Mark Adler explores various rapid-prototyping techniques. above: Homeostatic Skin Interface 1.00:___Wind Modulation Device, Hybrid rapid prototype, laser cutting; laser-cut landscape topology model; 3D rendering
There's no laser cutting here, but I wanted to mention Fergus Feilden because I think this idea is so great. Depicted above is Feilden's vision of a "bio-dynamic farm and studio-school run by excluded and marginalised young people," something he calls Agridemics. (www.feildenfowles.co.uk)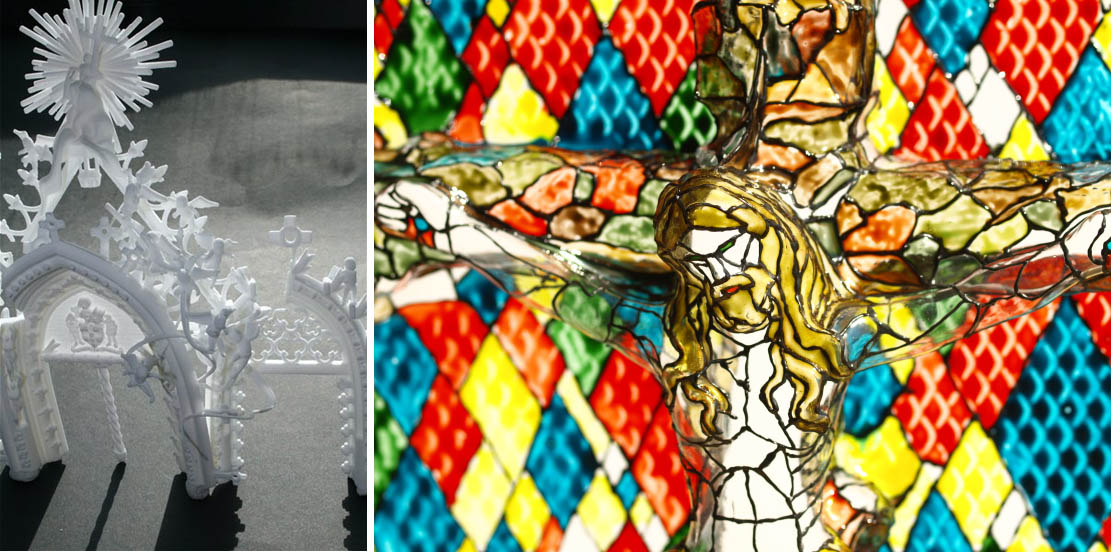 above: Celebration of the Splendour of the Workhouse, Rapid prototype; 3-dimensional stained glass
Jordan Hodgson contemplates a new Gothic aesthetic that arises from "Victorian models of control" in response to economic crisis and social immobility. The labor-intesive architectural projects would be executed by a workhouse labor force. Hodgson calls it the Workhouse of the Infrastructural Counter Reformation.
Ceramics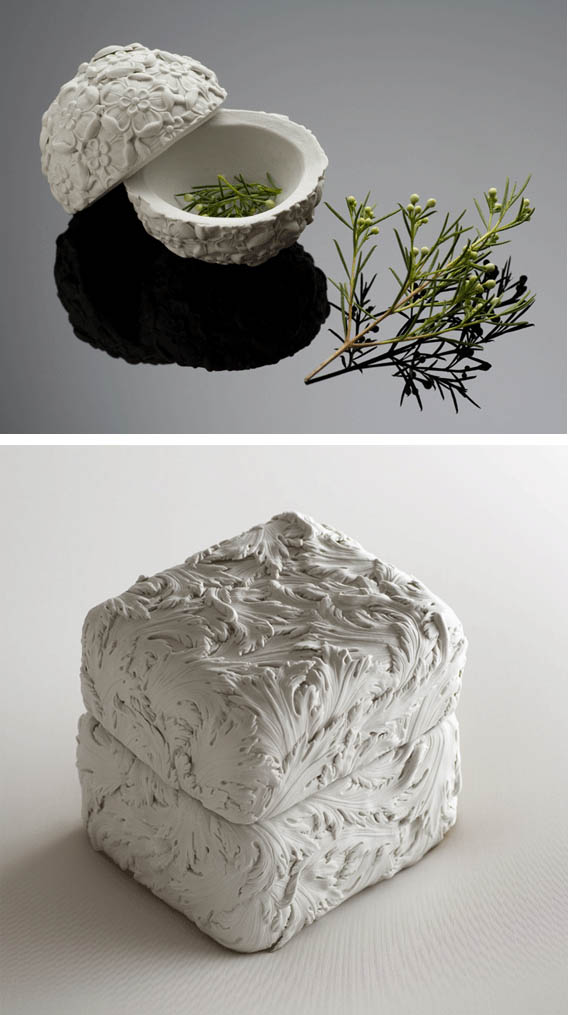 above: Jasper Project for Wedgwood (Photographs by Sylvain Deleu)
I have to mention the beautiful and incredible work by Hitomi Hosono. I love Hitomi's ornate ceramic boxes. (www.hitomihosono.com)
Design Interactions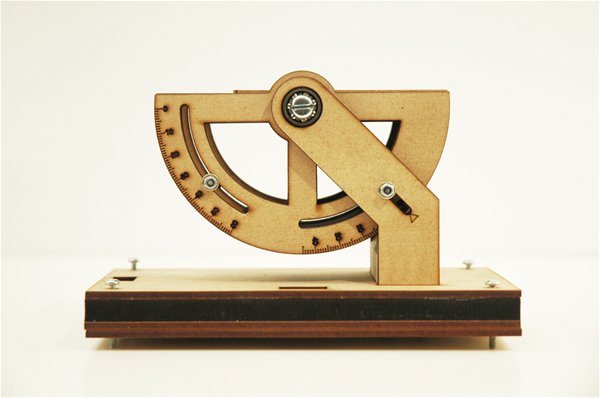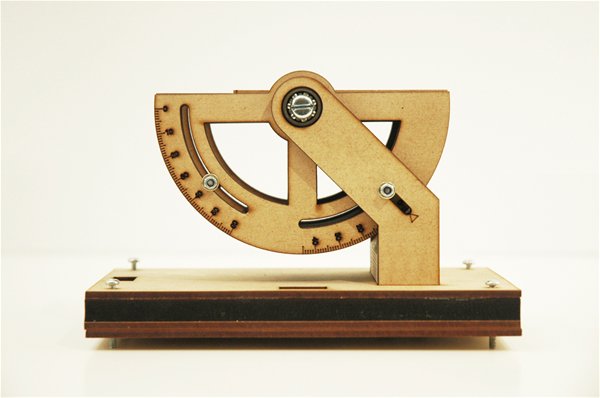 Check out my previous post on Nitipak Samsen's Controllable Coin Toss prototypes.
Design Products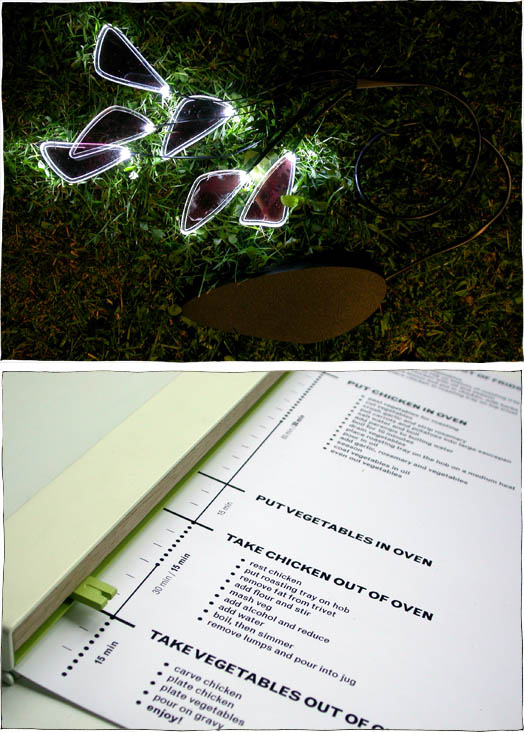 Emma Caselton's Solar Garden Lamp is decorative outdoor lighting made from LED embedded transparent solar cells. Her Dinner Timer follows a recipe card and sets multiple alarms at the appropriate intervals. (www.emmacaselton.co.uk)
Oliva-Flore Decaris has used fabric, plywood, and steel to create Drop. This unique lamp constructs an illuminated space that offers a degree of privacy to an intimate gathering. (www.oliviadecaris.com)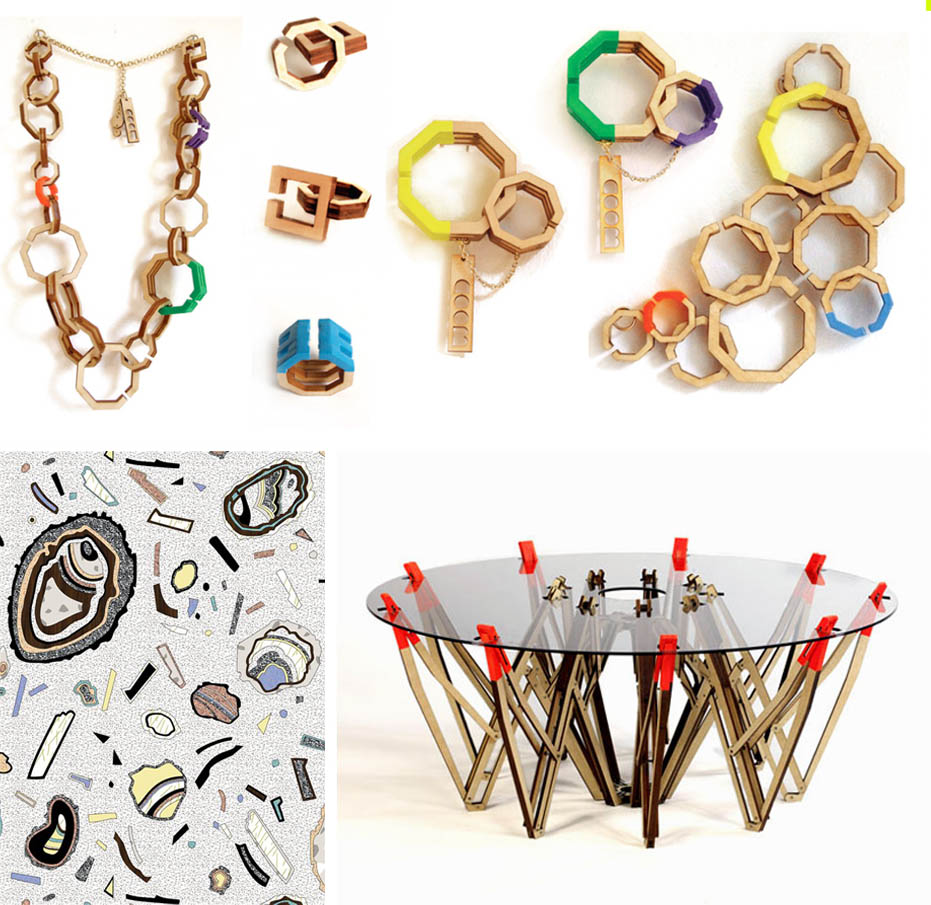 Bethan Wood uses laser-cut birch in her jewelry line Link and expanding Umbrella table. At SHOW, Bethan exhibited Super Fake, a range of digitally printed designs that "celebrate the laminate". Go here for more in-depth coverage of Bethan's work. (www.woodlondon.co.uk)
Industrial Design Engineering


DaeKyung Ahn has designed his own rapid manufacturing machine, Micro Factory featured earlier on the blog.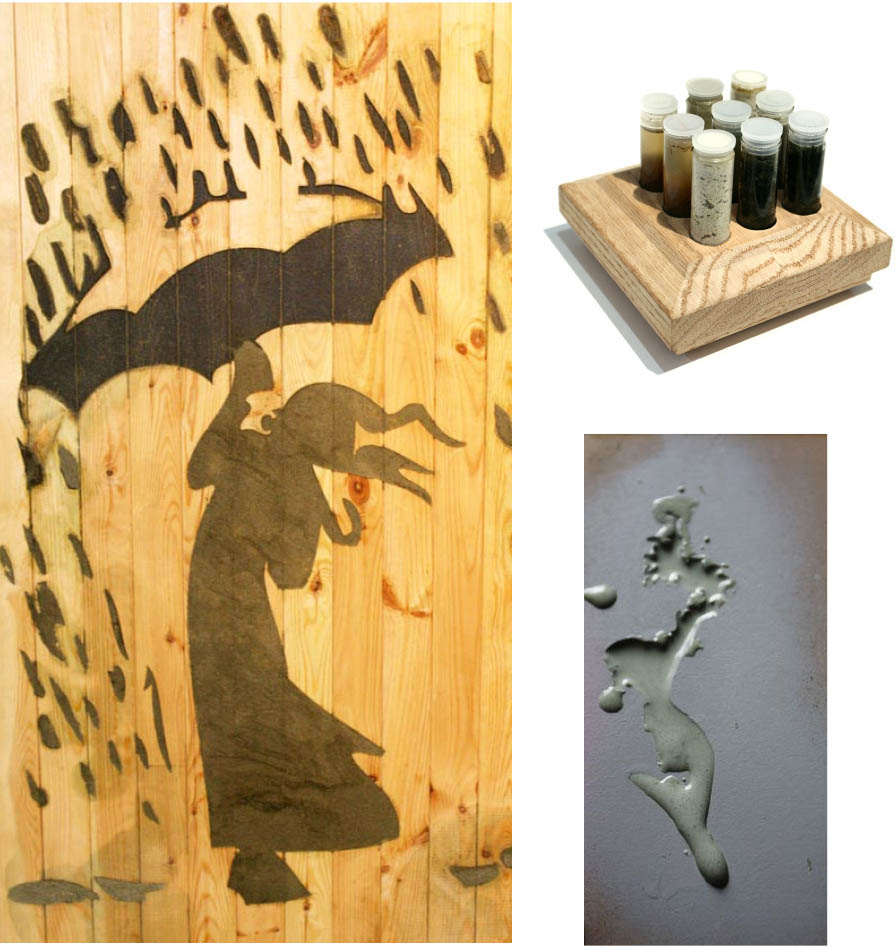 Sheraz Arif developed a 100% biodegradable Living Paint. Read the full post here.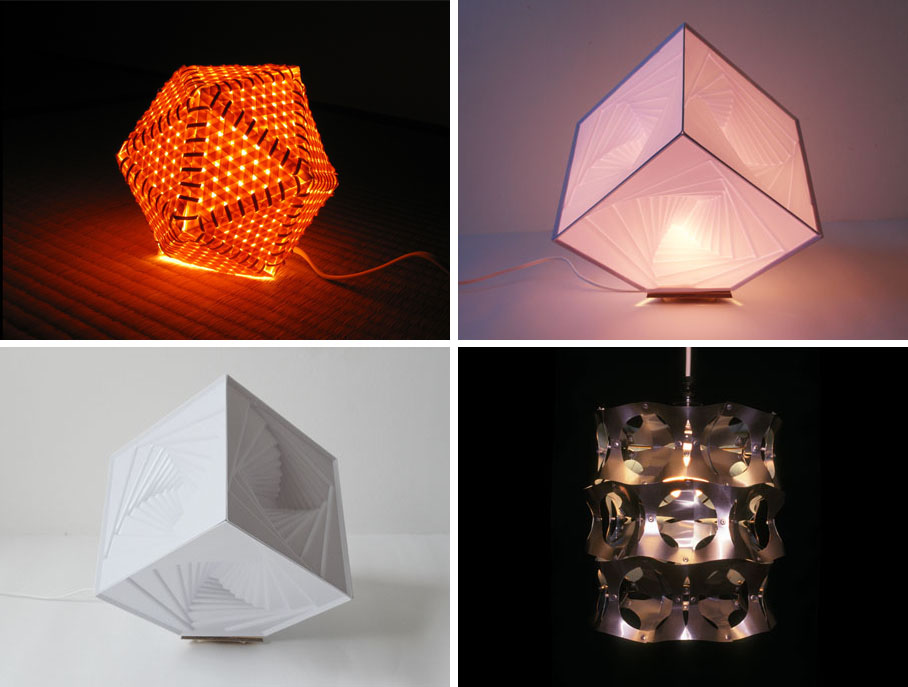 Isabel Lizardi is well versed in graphic and product design. She created the brand identity behind the Bare Conductive project and designed the exhibition booklet for the Industrial Design Engineering program. Above is a selection of her lighting designs. (www.lizardi.com)
Soon to come on the Ponoko blog is Part Two of SHOW RCA featuring more extraordinary art and design, this time from the Fashion, Jewelry, and Textiles programs (plus a beautiful rendering from a student in Vehicle Design).