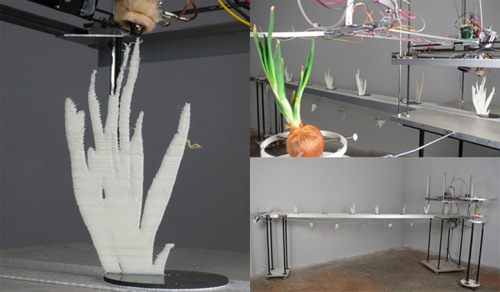 Growth Modeling Device by David Bowen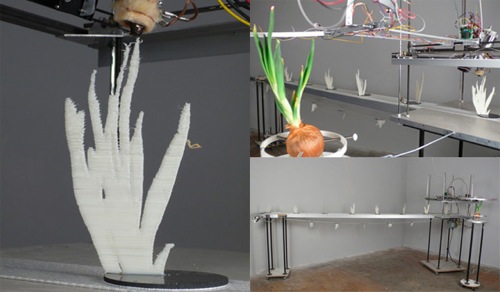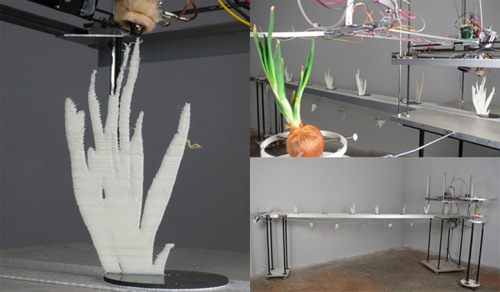 Growth Modeling Device by David Bowen uses lasers to scan an onion plant from 3 angles. The data is then triangulated and used in by a fuse deposition modeler, to create a plastic model of the current state of the plant. This process takes place every 24 hours so in the end you have several models illustrating the growth of the plant.
Check out the video of the installation in action or if you are in New Orleans David will be an artist-in-residence and the growth rendering device will be featured in BioLogic: A Natural History of Digital Life at the 2009 Siggraph.
Also check out the Generative Fabrication component of the event featuring MyLight.MGX, Complex Form in Timber and Holy Ghost which was previously mentioned on the Ponoko blog.
David Bowen is an artist and assistant professor of sculpture and physical computing at the University of Minnesota Duluth.
The SIGGRAPH conference and exhibition is a five-day interdisciplinary educational experience including a three-day commercial exhibition that attracts hundreds of exhibitors from around the world. SIGGRAPH is widely recognized as the most prestigious forum for the publication of computer graphics research. The conference's installations provide close-up views of the latest in digital art, emerging technologies, and hands-on opportunities for creative collaboration.
SIGGRAPH 2009
Conference: 3-7 August (Monday through Friday)
Exhibition: 4-6 August (Tuesday through Thursday)
SIGGRAPH 2010
26 – 30 July 2010
Los Angeles, California USA
Los Angeles Convention Center
SIGGRAPH 2011
8 – 12 August 2011
Vancouver, British Columbia, Canada
Vancouver Convention & Exhibition Centre
if you want to plan ahead..