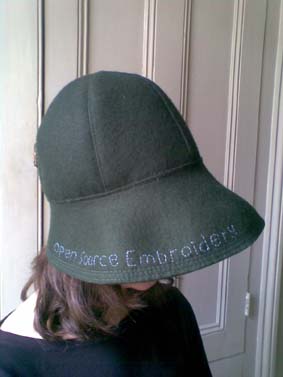 Just came across this upcoming exhibition on a couple of lists:

Open Source Embroidery is a project initiated by curator and researcher, Ele Carpenter of the University of Umea, Sweden. The project explores the links between open source software coding and the creative processes and social interactions involved in embroidery However, the project has grown to support and facilitate a range of artists practice investigating the relationship between programming for embroidery and computing.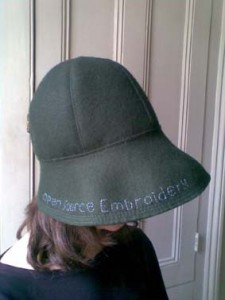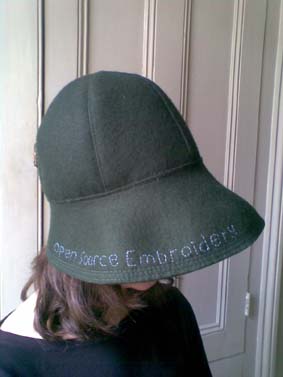 From Ele's project website:
Embroidery is constructed (mostly by women) in hundreds of tiny stitches which are visible on the front of the fabric. The system of the stitches is revealed on the back of the material. Some embrioderers seal the back of the fabric, preventing others from seeing the underlying structure of the pattern. Others leave the back open for those who want to take a peek. A few integrate the backend process into the front of the fabric. The patterns are shared amongst friends in knitting and embroidery 'circles'.

Software is constructed (mostly by men) in hundreds of tiny pieces of code, which form the hidden structure of the programme or interface. Open Source software allows you to look at the back of the fabric, and understand the structure of your software, modify it and distribute it. The code is shared amongst friends through online networks. However the stitches or code only make sense to those who are familiar with the language or patterns.
One interesting piece involves contributions from 216 embroiderers, each creating one patch of a giant hexadecimal patchwork colour chart, entitled HTML patchwork: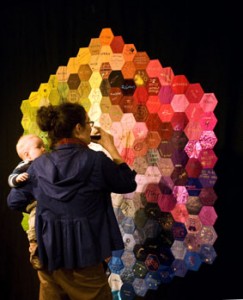 The Open Source Embroidery exhibition will be at BildMuseet, Ume̴ from 6 June Р6 September 2009 and at the Museum of Craft & Folk Art, San Francisco: 1 October 2009 Р24 January 2010.
Its interesting to see how open source thinking and the idea of coding applies so easily to various craft forms – as Ele says, it really comes down to knowledge of different languages, or requiring machine languages, the use of which forms a standard vocabularly for sharing designs within.
I shall leave you with another intriguing insight from Ele:
Open Source Embroidery pays homage to Ada Lovelace (1816-52) who helped to develop the Analytical Engine, the first idea for a universal computer, with Charles Babbage. Lovelace wrote "we may say most aptly that the Analytical Engine weaves algebraical patterns just as the Jaquard Loom weaves flowers and leaves." (Gere, 2002, p24). The Jaquard Loom (1810) was the first machine to use punched-card programming.
via OpenMaterials blog and the Electron Club list
And while we're on the subject, embroidered MRI scan slices anyone? via ladyada