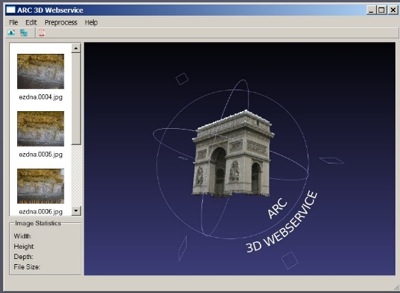 A Family of Free Web Tools for Remote 3D Reconstruction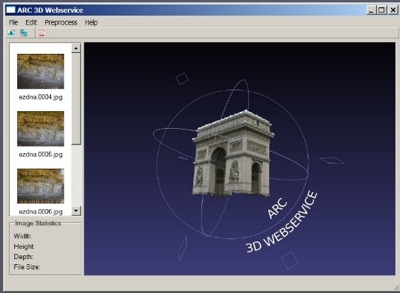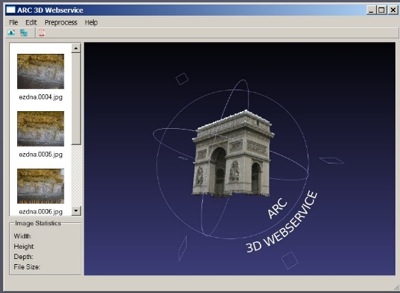 Maarten Vergauwen and Luc Van Gool have developed a group of web tools, allowing users to upload digital images to their servers where they perform a 3D reconstruction of the scene and report the output back to the user. They also provide a tool for producing and visualising the 3D scene using the data computed from their servers. Originally developed for the use of 3D information in the field of cultural heritage now everybody can now make pictures in 3D, with a regular photo camera and the free ARC 3D website.
You only have to take a number of pictures from an object from different angles, load it onto the website and you will be notified when you can pick up the 3D photo from the ARC 3D ftp-site. With the ARC 3D model viewer you can generate your 3D model, ready for viewing on the internet. For this you need to save it as a vrml or x3d file and download a 3D viewer from the internet for viewing in a webbrowser. You can also save the model in other higher quality formats. The free MeshLab software provides professional tools to enable you to refine and enhance your 3D model.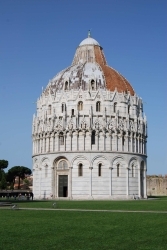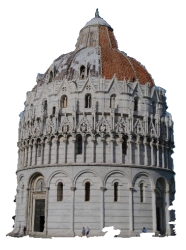 Just in case you could not pick it, the photo of the Baptisterium, Pisa, Italy is above or left, and the 3D model on the right or below…. (Photo: Bas Bogaerts)
Thanks to my new friends at FreeFormFab