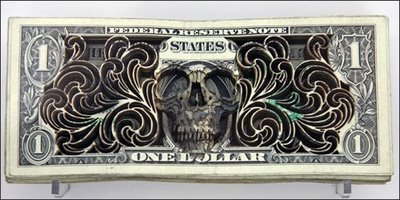 by Tattoo Artist Scott Campbell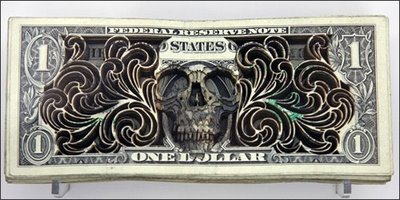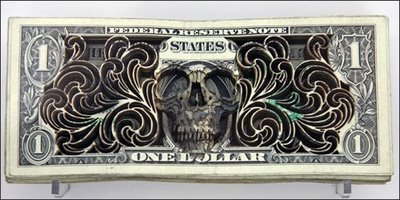 Brooklyn based Scott Campbell of Saved Tattoo has recently showed his work at the O.H.W.O.W. gallery in Miami, FL. in an exhibition called Make It Rain.
One of the highlights of the exhibition is a series of laser-cut etchings, each on a stack of $1 bills.
Scott Campbell was born and raised in a fishing camp, perched alongside a muddy bayou in rural Louisiana. With a clever knack for drawing and a fondness of stories, he began his career by doing illustration and assistant editing. Curiosity soon led him to experiment with tattooing and his immediate mastery of the art was undeniable. After a subsequent 18 month stint in Spain honing his craft, he packed up his skills and his tattoo machines and traveled for the next 5 years taking inspiration from the art and folklore of tattoo cultures all over the world.
Also check out Mama Tried for more wicked products like hand tattooed leather upholstered chair, laser etched skateboards and laser cut books.