I recently wrote about my love of notebooks, and those of you that read my review of LaunchYourLine.com may remember that I went through the steps with a hypothetical stationery company in mind. Well maybe I should have taken my business to Pinball Publishing. The Portland based print-on-demand service and independent publisher can make custom greeting cards, post cards, posters, business cards, cd packaging, and notebooks — everything you need to start your own greeting card line."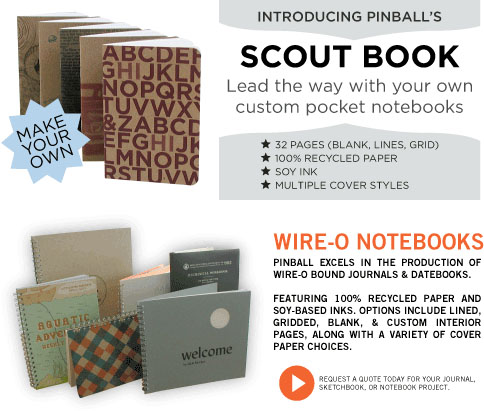 Minimum quantities for most jobs start at 250, but prices are pretty reasonable. 250 blank notebooks with two different cover designs printed in one color will cost $475. That's less than $2 per booklet for making costs.
Based in one of the greenest cities in America, Pinball offers printing with soy based inks on recycled paper. (For a neat tool that gives you details on the environmental impact of different printing choices, take a look at the post on the Sustainable Graphic Design widget.) There is also a Creative Resource Center that lets designers list their services and those in need of creative aid find what they're looking for.
Pinball Publishing also produces Tenth and Grant, a line of artisan paper goods that feature the graphic design, patterns, and illustrations of contributing artists. Some of my favorites are below.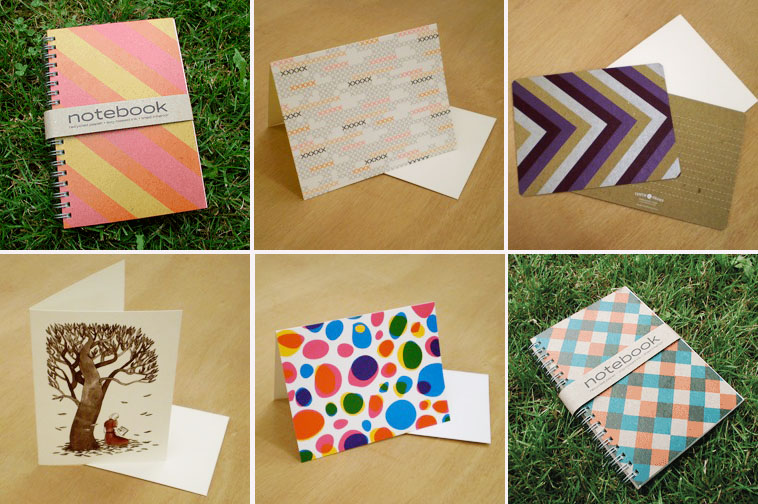 Keep up with the latest prints off the press at Pinball's CoinOp blog.