Launch Your Line is a new web service that aims to comprehensively support the creation of an original product line. Within the site you build a dashboard by refining your ideas and defining the stage of your product. From your dashboard you can find manufacturers, develop branding and packaging, commission a website, order a prototype, and find interested buyers. Signing up for an account is free, and Launch Your Line collects a percentage from the products and services you order through their site. This all sounds amazing, but is it too good to be true?
I decided to sign up and go through the steps with a hypothetical stationery line to see how this potentially industry-changing service shakes out.

First of all, the site needs a make-over. There are certain design characterstics of Web 2.0 and Semantic Web sites that communicate a sense of competence and secure an initial trust in users. I'm a little skeptical of trusting my own branding and graphic design to the partners of a site whose own logo looks like Cash4Gold. (Not that I'm bashing Cash4Gold; that's a brilliant business.)
To get started, you select whether you would like to create a product line (for designers) or bid on a project (for manufacturers). Going the designer route, I define my line as a stationery series under Gifts & Crafts. Then you select at which stage you are at in terms of Product Development.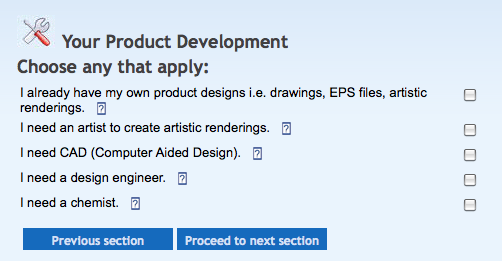 You then define what you are looking for in terms of manufacture: if you need a prototype, if you plan to manufacture the item yourself, if you want a pre-existing item with your own signature, etc.
Next you choose the packaging you need: boxes, blister packs, tags, labels, etc.
The next step is to select a distribution mode. It looks like Launch Your Line will have its own online store.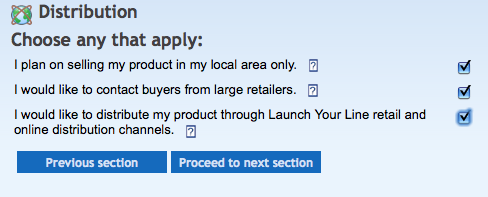 Marketing considerations include print, tv, internet, press releases, and product catalogs.
Getting down to business: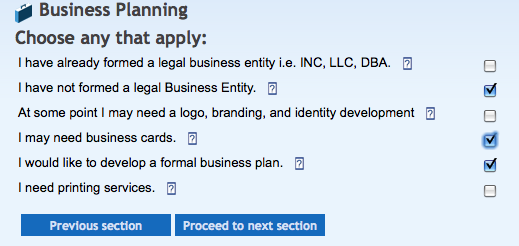 Then you select what you need in terms of online resources: a domain name, a web site, personalized email, e-commerce, etc.
The Legal section includes requests for copyright, patent, and trademark information and insurance.
After filling out these seven or so forms, I now have my Super Stationery dashboard. Each phase of my product line can either be revisited for changes or started. They should probably get rid of the thumbs down icon in the feedback button gif; not a good visual cue.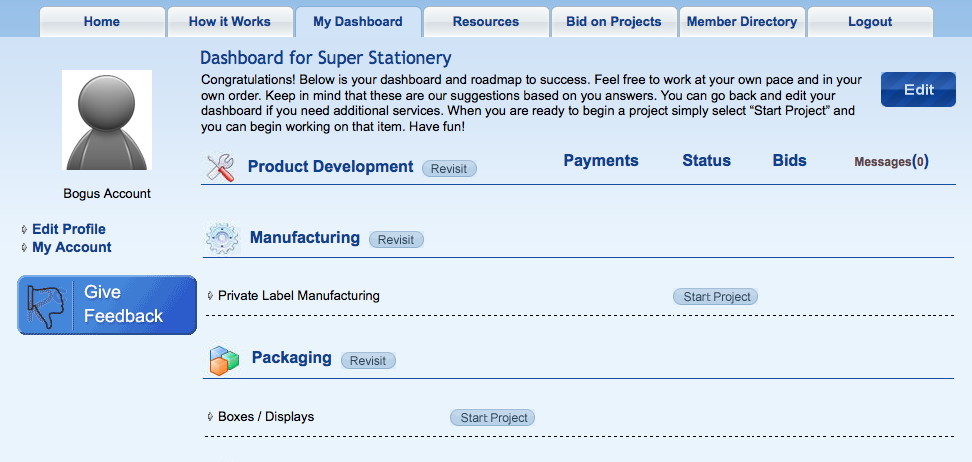 If you're overwhelmed with where to start, you can contact someone for paid consultancy services. Jumping into manufacturing, you're asked for a project description, budget, and response deadline. It's up to manufacturers to contact you if they are interested in producing your line. There's a typo on this page which increases my discomfort with this site. While a human error, it reflects a lack of attention to detail — something that concerns me if I'm trusting my 'baby' to this company.
You fill out the same information for packaging. For making a product catalog, there's an internal service called Catalog Creator. When I click to launch the Catalog Creator, a blank window opens i.e. it doesn't work. The Press Release Creator does work however.
It's less of a write-your-own-release tutorial and entirely a 'buy now' pitch. Starting at $599, a Launch Your Line's partner will write the release and distribute it to Google, USA Today, the New York Times, and a variety of optional target markets. Not exactly a cheap way to get started. I think I'll go with word-of-mouth.
On to legal operations. I can choose to form an LLC or incorporate. I'm actually well aware of the differences, but check out their comparison chart of the two entities. A lot of details are presented, but not very clearly. On this page is a right hand column of ads for books. In my opinion, if a company makes money on commissions from successful partnerships, having ads on the site tells me that either its service is not so successful or they're out to make any cash they can.
Like the press release, forming a legal business is a 'buy now' affair. LLCs are sold in 'Economy', 'Standard', or 'Express Gold' packages. There's something a bit bogus, a little too Cash4Gold, in buying an 'Express Gold' business package for $359.
My final investigation into Launch Your Line is the Distribution phase. Will I be able to have my products pitched to Target? or directed to create an Etsy site? or given a list of local retailers that sell my genre of product? Nope. All I get this.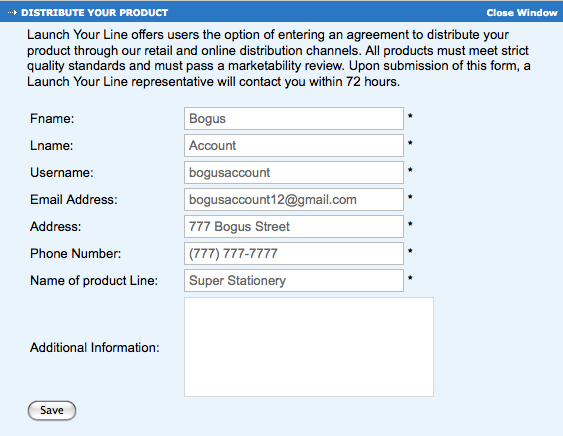 Having been official for only a week, there's nothing except their own release in the press section, and I doubt they add this review.
Conclusion: Launch Your Line is a wonderful concept that I believe would be quickly embraced and much-loved by designers if it wasn't a scam. From the terrible logo to the typo, the broken link to the book ads, and the hundreds of dollars to be dropped everywhere, I don't think this company's heart is in the right place. They are out to cash in on the design-democratizing movement through advertising, guillible entreprenurial-hopefuls, and probably the sharing of personal information. Launch Your Line looks like an online danger zone to me.