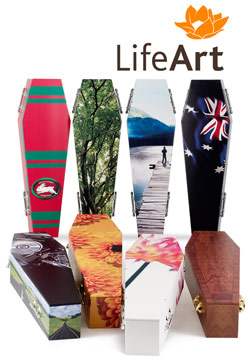 Following on from Kristen's great post on cardboard furniture,a little more macabre, but just as eco-friendly, customizable, cardboard coffins.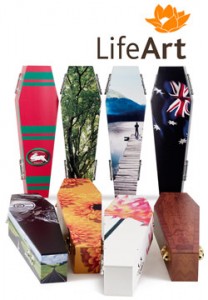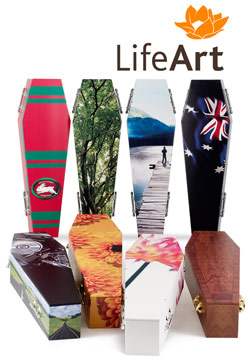 LifeArt is an innovative wholly owned Australian company specialising in the manufacturer of the standard in personalised and environmentally friendly coffins to the Funeral Industry. LifeArt was formed in 2004 based on a commitment to listen and bring new innovative products to families and the funeral industry. With changing attitudes to funerals, and concern for the environment, we are dedicated to ensuring our products meet these requirements.
Since the formation of the company in 2004, thousands of people around Australia and New Zealand have chosen a memorable LifeArt coffin.
Utilising the latest print technology, LifeArt can create a truly personal, expressive coffin for a more memorable funeral. This versatility means that LifeArt can supply your requested order to your funeral home within the 3 days normally required to arrange a funeral service.
In a time of concern for diminishing forests, carbon emissions and climate change, LifeArt have created the world's first fully functional cardboard coffin.
Says Natalie Verdon, Managing Director of LifeArt, "We required a recycled fibre board that could achieve four aspects critical to our product success."
Board has to pass the following strict guidelines we set for our designs:
To be strong and durable to ensure it meets the strict set of guidelines and
regulations of the funeral industry.
To be versatile in application so as to deliver our full range of manufactured
products.
To be best-in-class environmental board, free of wax, polyethylene, monomers and volatile organic compounds (VOCs).
To be best in class print quality for our range of personal and custom-printed designs.
Xanita's X-Board was selected as the preferred product to be used. X-board can also be used for less permanent structures, both indoor and out, perfect for point of sale displays, exhibition work and even furniture (as previously mentioned) or an entire interior as by Joost van Bleiswijk…..