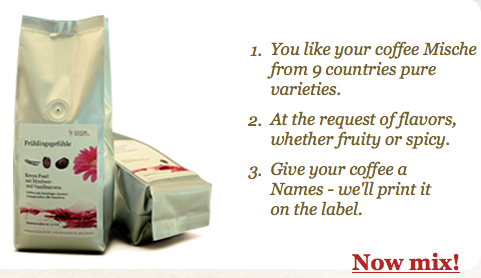 St. Patrick's Day partying takes a break today between the weekend and the actual holiday. Monday, for those who still have jobs, usually means early morning work. So how about some customized caffeine?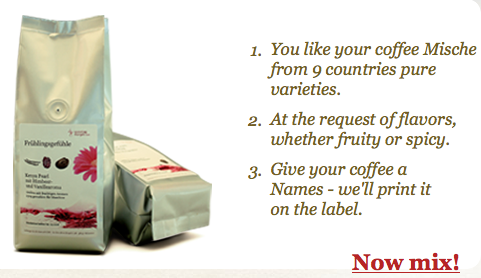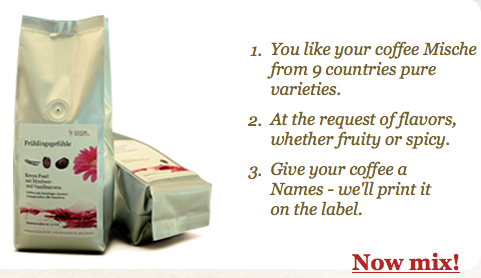 The U.S. is a coffee country, but you'll have to look to German based Sonntag Morgen for a customized bag of roasted coffee beans. There are nine beans to choose from originating from countries across the Americas and Africa. After selecting a mixture of beans, you can add up to three flavors for better taste and aroma. There are thirteen total including various fruits, nuts, and sweeteners like chocolate, vanilla and caramel. Give your customized coffee a name (Sonntag Morgen means Sunday Morning.) and place your order. About £12.

Coffee isn't my thing, but I love tea. There are three companies I came across that offer customized tea blends. Artisan's Cup was founded by Lisa Wynn, the owner of Embellish, a tea cafe that opened in St. Paul, Minnesota in 2001. Now living in North Carolina, Wynn offers her customized blends online. Unfortunately, the site is antiquated by today's standards and not the best for e-commerce. But for flavor selections like "Prozac" and "Pass My Shotgun" it may be worth the extra confusion.

UK based Blends For Friends delivers a tin of custom loose leaf teas anywhere in the world for £27 (plus shipping). I say 'custom' as opposed to 'customized', because unlike most on-demand food and beverage services out there, Blends For Friends doesn't mix ingredients you select. An experienced tea taster actually makes a custom blend based on the personal information of the recipient. An online form asks you for a name, occupation, physical description, list of hobbies, known tea preferences, and even a personal anecdote to help develop a one-of-a-kind tea leaf blend.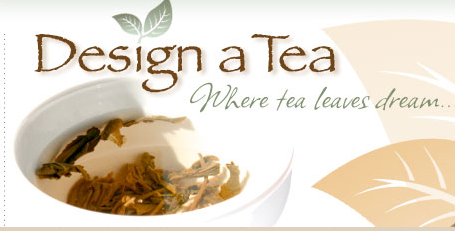 While Artisan Cup's tagline "It's okay to be loose." is way cooler than "Where tea leaves dream…", Design a Tea is much more functional, and they offer free samples! There's also more variety here; you can can have green, black, oolong, or roobois as your base, and there are over forty flavors of fruits, herbs and nuts. Your order can be packaged in bags or loose.  A carton of 20 tea bags costs $8.50.
While I always try to include information on how to order anything I mention here on the blog, I never explicitly endorse a particular company or product. (Except for Ponoko; we love for you to use our services and buy from our showroom.) But since I'm talking about tea — and like I said, I love tea — there is a certain tea I sip while writing nearly every post. Speaking on behalf of myself and not for Ponoko, the most delicious tea with the most amazing fragrance and beautiful packaging I have ever had is Harney&Sons. I'll say no more!