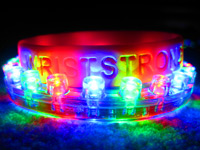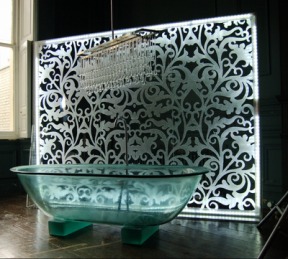 Jona Hoad Design of London designs wall panels, dividers, mirrors, chandeliers and more with light. By etching or carving glass and mirrored panels, illuminating them with colored led lights and in some cases, color-changing lights, Jona transforms interiors into glowing environments. In addition to projects for interiors of bars and hotels, installations on yachts and custom creations, Hoad also creates small art sculptures, lighting fixtures and more.
Jona's work uses elegant patterns in the same vein as classic wallpapers by Australia's Florence Broadhurst or Cole & Son of London. Check out her website for more.
Etching clear or translucent acrylics is a great way to generate interesting illuminated effects. An object can be transformed with the flick of a switch by sending light via LED through the edge. If you are not savvy with a soldering iron there are many 'off the shelf' LED strips (both rigid and flexible) available that can be simply plugged in to a wall to generate interesting effects..