The future is demanding more of materials; we need materials that are ecologically safe, superior in performance than in the past, and shed their usual restrictions.  To meet these new standards artists, designers, and engineers need to push the boundaries and go beyond the typical expectations of what a material is made of and what it can do.
One such designer is Kathy Schicker. Having received her MA in Design for Textiles Futures at Central St. Martins, it follows that she is now challenging the commonly held assumptions of textiles. She specializes in Jacquard weavings that incorporate or involve light as a transformative element.

Her glow textiles are constructed with yarns that glow in the dark, rendering the invisible patterns visible. Continuing with the theme, what first appears as solid white fabric turns to color with exposure to sunlight. The colors reveal the printed and woven patterns which were previously hidden.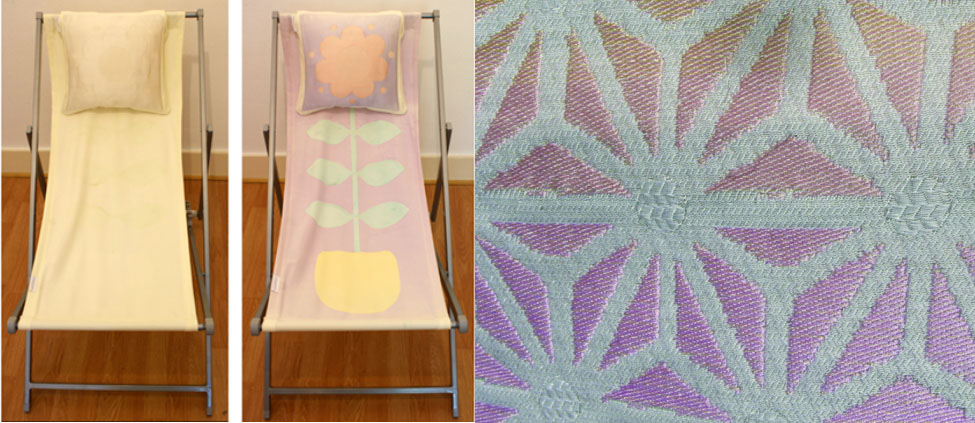 Kathy recently exhibited her photonic crystal fiber prototype at Futurotextiel08 in Belguim last fall. She assisted Professor Maksim Skorobogatiy at Polytechnique de Montreal Polytechnic Montreal in developing a fade-resistant fiber that emits a uniform color with light.

Kathy's work opens up the possibilities of hidden customizations and products that react to certain environments. Imagine outdoor furniture that featured bold, colorful stripes on sunny days and appeared more neutral and subdued under cloudy skies.
Keep up with Kathy here. And if you're interested in purchasing a pillow that changes color in the sun, check out GlimpseOnline for Kathy Schicker designs.