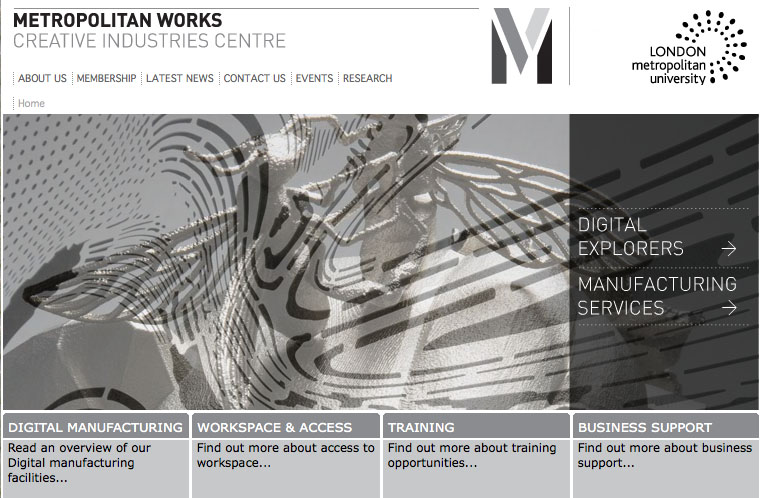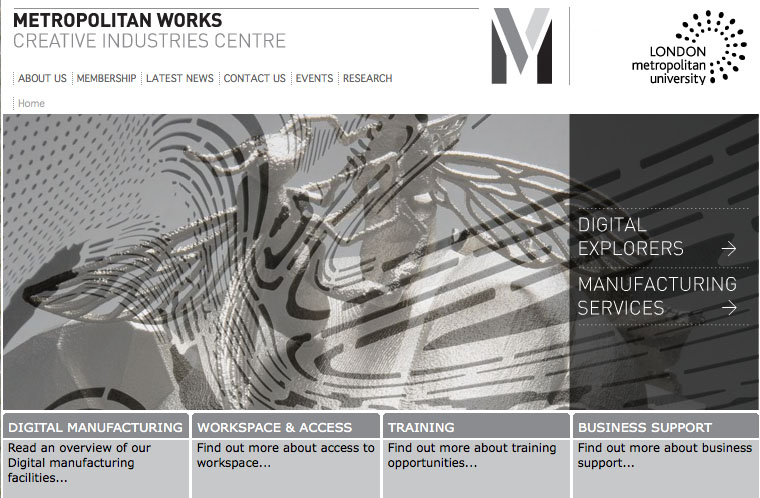 Metropolitan Works is London's foremost Creative Industries Centre. They provide support to designers through training, manufacturing, advice, and exposure in order to bring innovative ideas and products to actualization and marketplace success.
The Digital Manufacturing Centre of Metropolitan Works has just about anything you could want for cutting-edge manufacturing technology. Rapid prototyping options include Selective Laser Sintering, Z-Corp 3D printers, a Perfactory 3D printer, and Direct Metal Laser Sintering. There are three different 3D scanners, a large format laser-cutter, and 3 and 5 axis CNC routers. There are also traditional fabrication workshops as well as a service which can outsource special requests to trusted contractors.

Metropolitan Works doesn't just give you access to tools, they can give you space. Members can rent facilities ranging from workspace and computer labs to galleries and showrooms. Courses in computer software skills, furniture design, silversmithing and jewelry are offered to members with others being developed as per demand.
From 9 February to 12 March, Metropolitan Works is hosting a free exhibition entitled Digital Explorers: Discovery. New works from previously mentioned Timorous Beasties and Tord Boontje are on display as well as many other avant-designers who are demonstrating "how new manufacturing technology can inspire, assist, develop and direct contemporary practice to produce new and exciting objects."

Membership to Metropolitan Works is free and offers several benefits including discounts on all of the aforementioned production facilties, workshops, courses and services. Metropolitan Works collaborates with Design-Nation, an institution devoted to promoting UK designers to worldwide recognition, and exchange, London based support for creative research, consultancy, and business.