Digitally printed silks with collages of English roses, vintage stamps, detailed moths, and ink splots; DIY wall decorations of embossed flourishes; laser-cut and digitally embroidered leather upholstery. This is the work of Catherine Hammerton.
The '05 graduate from the Royal College of Art's textile program was the recent recipient of an innovation grant from Central Saint Martins. (The other amazing art school in London.) With the award and in partnership with a top British manufacturer, Summer 2009 will see the launch of her digitally printed wallpapers.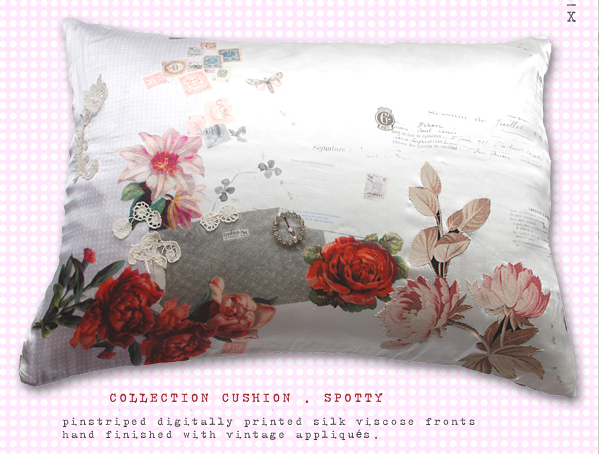 I recently interviewed Catherine about her love of fabric and technology, her current work in mass-customization, and her thoughts on the future of the field of textiles.
Textiles is somewhat esoteric in the field of design. What led you to this discipline, and what about textiles continues to engage you?
I adore the freedom Textile & Surface Designers are indulged — be it for soft or hard surface. There are numerous outcomes for a wide range of products and seemingly fewer rules to what you can and cannot do. Ironically I don't think textile and surface design gets the recognition it deserves — there seems to be less kudos and perceived value in its practice and end uses than that of a product or furniture designer.
I completely agree with this and have experienced an institutional bias against being a textile designer in my own career. Do you have ideas or opinions on how to elevate the perceived status of being a textile/surface designer? Do you think the pejorative connotation is associated with the mentality that textile design is a 'woman's field'?
I don't think it is necessarily a sexist issue, but we all need to keep pushing the boundaries and hope for a new found perception. Rubbish answer, but if I knew then we wouldn't be so disregarded in the first place!


Just as you juxtapose current technology and traditional craft in the construction of your work, there seems to be a relation between contemporary and time-honored motifs: a silk pillow with ink splots and roses. What is your thought process behind these juxtapositions, both in technique and aesthetic?
I like to mix traditional hand finishing techniques, like embroidery and applique, with modern processes, like digital printing and laser cutting, that would not be physically or financially possible any other way. I find the two work well together – adding personal value to something that would be otherwise mass-made.Likewise the technology allows me to collage and make the best use of the imagery around me. I love the qualities of blobby mark making and spatters alongside traditional hand drawn elements and photographic work – its a haphazard jumble that seems to work.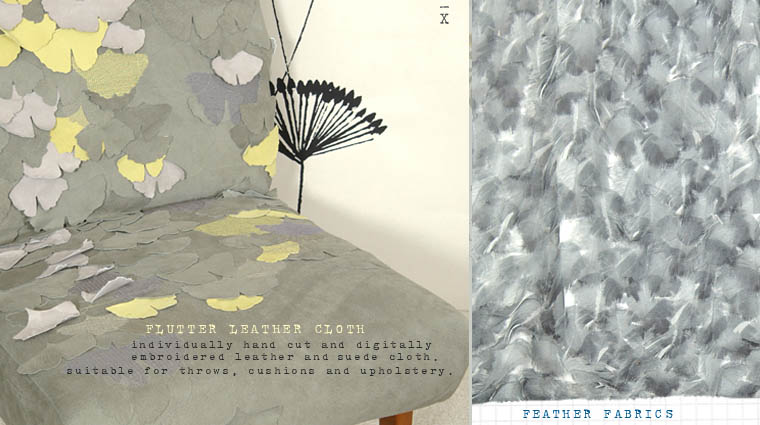 What gave you the idea to create dimensional cloths? Can you also talk about the labor involved in making them?
Traditional textiles are tactile, in their drapery, but ultimately flat. I create textures that make you want to run your fingers through the cloth as well as it looking great on the surface. Many of my cut work pieces use die and laser cutting but all of them are stitched in by hand — it's a great marriage of craft and technology and ultimately a labour of love.
What is your favorite part of designing? The moment of inspiration, the sketching, the production, the finished work, or something else?
I love researching new work and pulling the threads out of my head, onto the paper and cloth. The experimentation during this process — drawing, painting, collaging and recording ideas – is where happy accidents happen, scuppering your original ideas but ultimately leading to the best possible outcomes.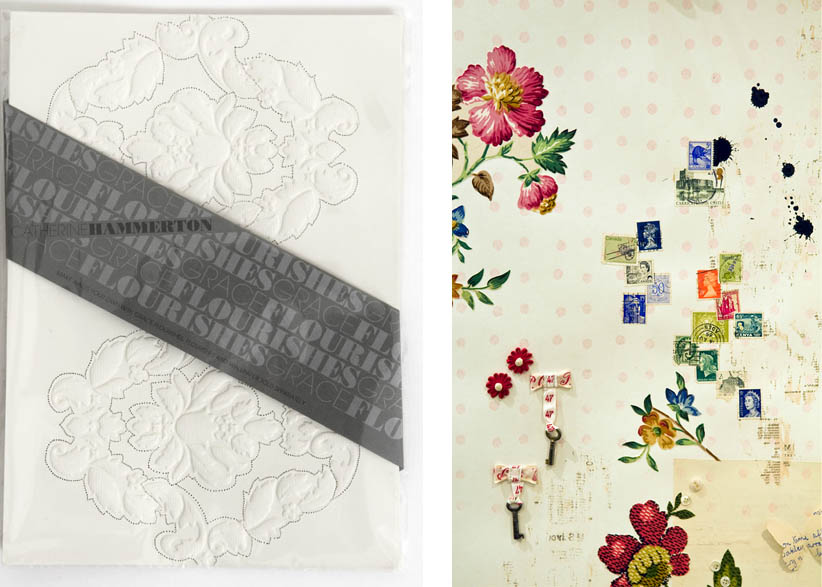 You offer a bespoke wallpaper service, but do you have any thoughts on the mass-customization movement?
I think its great when people want to make something their own – it adds a special value that money can't buy. Likewise it is costs effective and better for the environment, especially important now given the economic climate. I am currently working on a more costs effective range of papers that bears these ideas in mind. The designs will offer customers the look of my bespoke wallpapers, but with custom kits so they can add finishing touches in situ and make the paper their own.
What new methods, tools, styles, or concerns do you think will have the greatest impact on textiles in the near future?
The market is definitely becoming more environmentally and ethically aware – which is fantastic! Whilst this concept is fashionable at the moment, I hope it is something that people will commit to as a lifestyle choice. Textile disposal is a huge problem (an estimated 1M tonnes in our homes alone are sent to landfill every year) so lets hope the next innovation is responsible – one that addresses this issue and encourages people to think about how best to reuse and recycle their waste to minimise their effect upon the environment. If this means more make-do-and-mend or customization, then great.
Thank you Catherine! And if you're interested in supporting her work and having a cushion to call your own, the Catherine Hammerton online shop is open.