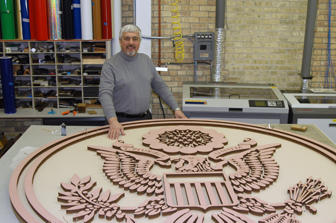 A recent article in the Business Journal of Milwaukee reported on Obama's first use of laser's in his term as president of the U.S.A.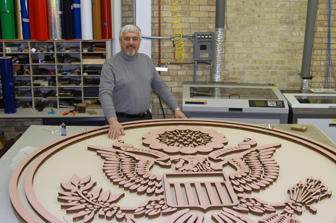 A local laser cutting firm produced the seal, which is painted gold and measures more than seven feet in diameter and took less then one week to manufacture and deliver. The seal will be permanently on display at the Capitol Hilton in Washington, D.C.
In his Inauguration Speech Obama said
"Rather, it has been the risk-takers, the doers, the makers of things — some celebrated but more often men and women obscure in their labor, who have carried us up the long, rugged path towards prosperity and freedom."
Let's hope Obama acts as he speaks, and supports risk takers, doers and makers of things (such as Ponoko users), and continues to use lasers for good, and not in any kind of weapons of precise destruction way..
Oh, and if you want to get your own laser cut Obama try here.
Thanks to Dori Tunstall, Organizer, US National Design Policy Initiative for the insight into Obama's speech, you rock…….