More lighting designs, this time from the Japanese company Nendo. The multi award winning (3 Red Dot Awards, Furniture Design Award, iF Product Design Award just to name a few for 2008) designer Oki Sato fronts what Newsweek listed as one of "The Top 100 Small Japanese Companies" in 2007.
Giving people a small " ! " moment.
There are so many small " ! " moments hidden in our everyday.

…

That's nendo's job
Nendo's designs are especially interesting I think, in how they work with the concepts of nature: from the motion of a flower, to the craft of a bird, to the affects of a rainstorm.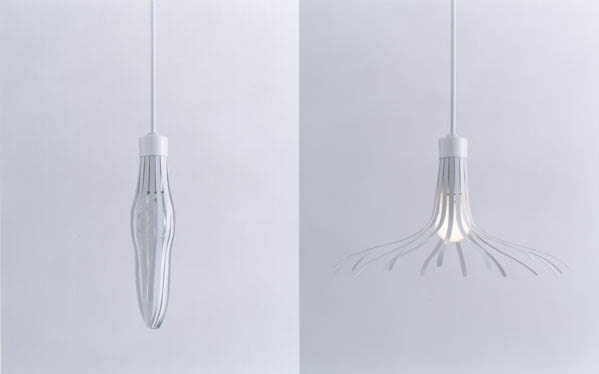 hanabi: I.D. Annual Design Review / Best Product
The heat of the bulb makes this shape-memory alloy lamp "bloom" whenever the light is turned on. "hanabi", the Japanese word for "fireworks", literally means "flower + fire." Both flowers and fire fade away so quickly and easily. Like its namesake, this light flickers between beauty and disappearance.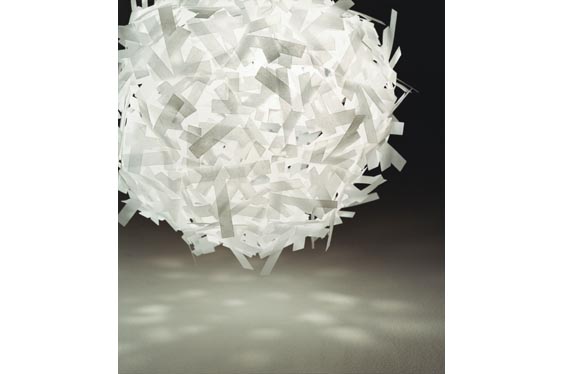 trinos
Light and shadow emerge at random from this lighting fixture of uniform flat pieces woven together just as a bird collects twigs to make a nest.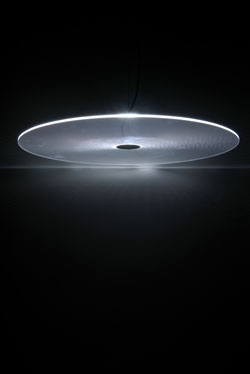 sorane
sorane means 'sound of sky' in Japanese. This transparent acrylic disc emits sound and light from above, just like soft rain and thunder.
I think it's that unexpected link to nature, to something organic, that gives these designs the " ! " To see more of Sato's work "ranging from architecture and events to product and graphic design" visit Nendo.