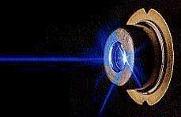 So maybe you are feeling as though the cost of getting your laser cutting outsourced to a professional bureau is too high and you want to take things into your own hands?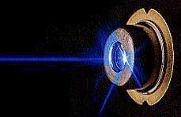 Why not build your own laser cutter (instructions here) with a 150mW blue laser diode available for just $50 (plus other assorted parts and accessories).
This is a Original, Powerful laser diode That can be used in Blue Laser Pointers.
Output power is rated 25 to 150 mW Max.
People have successfully run it at up to 200 mW with a proper heat sink, however it will operate best around 100 mW.
This laser Diode can be used to light matches, burn plastic, pop balloons, the laser is easily visible in mid air in dim light.
WARNING: This is a high-power laser diode unit. Buyer assumes all responsibility and inherent dangers associated with this unit. As with all lasers, use caution and avoid direct eye contact with the beam.
Hmmm, I personally am going to rely on the safety and precision of Ponoko's laser cutting service, but it would come in handy to light matches.
The old fashioned striking method is SO clumsy.