Generate Design is three things: 1) an online store for some of the best new product designs, 2) a source for limited edition works from some of the best new product designers, and 3) a beta program accepting design submissions from you.
The store carries lighting, home goods, and gifts for kids. You should really take a look at everything they have to offer, but to give you an idea of kind of supercool stuff they have, below are, yep, light designs. But these aren't your grandma's lampshades.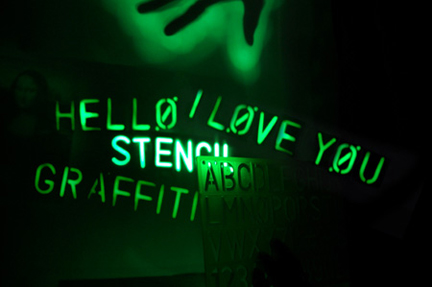 Glow Graffiti by rAndom International is an awesome idea. And for $59 you get the can of glowing paint, a canvas, and a stencil. You could design your own stencil with Ponoko, and create some amazing graphics with Glow Graffiti.
Glow graffiti cans are filled with glow-in-the-dark paint and come with a bright LED light near the nozzle, which charges the paint. Powered with UV light you can write, stencil and draw rude pictures to create your very own glowing light show.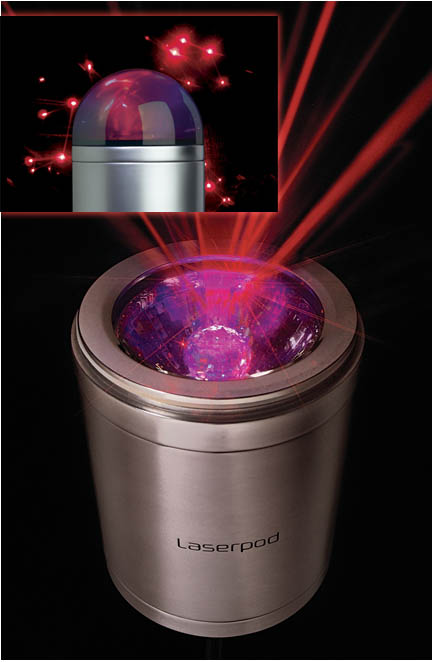 Bring the cosmos home for $99 with the Laserpod by Chris Levine.
A few inches shorter then a classic lava lamp, this tube splits three lasers and a load of ultraviolet LEDs through a Swarovski crystal to generate random patterns of multicolored LED light. Laserpod comes with two translucent plastic domes to diffuse the light, projecting swirls on their surface. But the real fun comes when you remove the dome and let the light crawl across the walls and ceiling.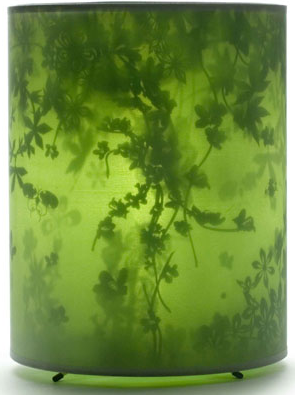 2nd Shadow, your own Tord for $189.
Delicate, enchanting and beautifully crafted, Tord Boontje's Second Shadow transforms any room into a magical, edenic getaway. Natural images, fancifully painted on a Mylar interior, are projected through stretched gauze filters, creating the intricate patterns that encompass your interior space. Ideal for turning a child's room into a fantastical, fairytale setting… or perhaps yours?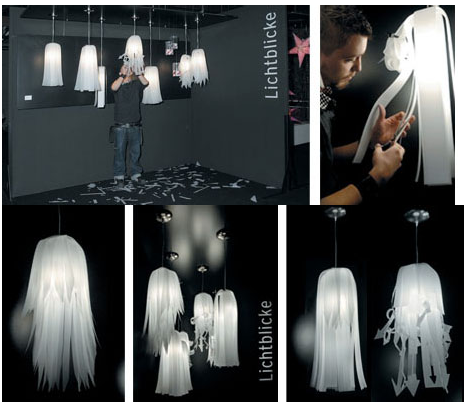 Customize the Cut Light by Monica Singer for $65.
A beautiful, interactive, pendant lampshade, designed by Monica Singer and perfected by you. Included with the Cut Light are a pair of scissors, inviting you to add your own personal touch to the layered, feather-light strips of fabric. Short or long, even or irregular, your customized design has the potential to match any room and adapt to any mood.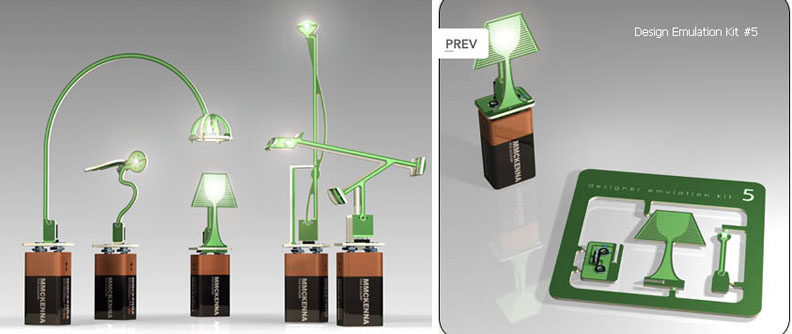 Don't you think this is great? Design Emulation Kit by Mark McKenna for just $29.
The Designer Emulation Kits are meant as the sincerest homage to some of the greatest modern designers of our time. The lamps and designers being "emulated" have a particular importance in the history of design. Each kit is made of separate parts, which are snapped off, fitted together, and plugged into a nine-volt battery (not included), resulting in a miniature classic.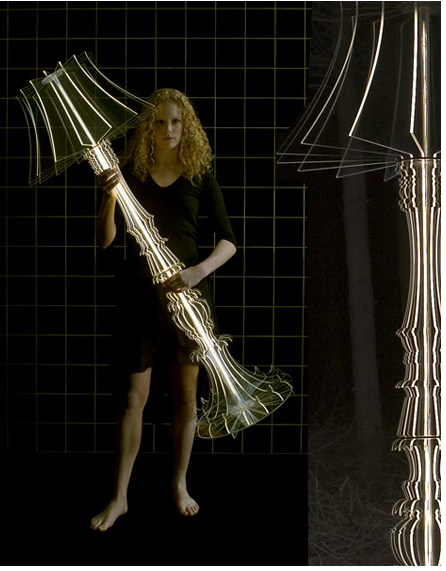 The fabulous floor lamp Josephine by Sander Mulder for a flooring $2,649.
Made of PMMA sheets illuminated by a special fluorescent bulb, Josephine is definitely a new take on the traditional floor lamp. Josephine emits a soft magic glow. A definite eye-catcher in any environment.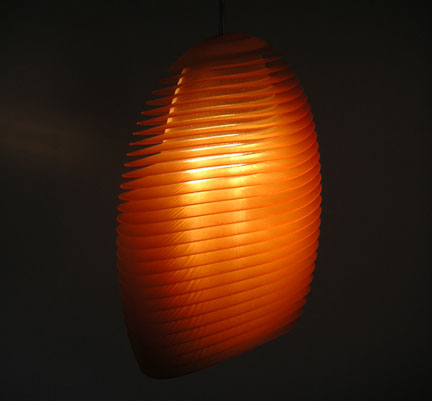 A sliceform pendant, Pale A by Dan Yeffet. $649
This futuristic, cocoon-shaped lamp is a "perfect balance of" art and technology. Its incredible detail is made possible by Materialise's innovative and versatile rapid prototyping technique. Instead of using paper and ink, digital designs are printed with a laser, adding layer upon layer until a beautifully complex object is formed. PaleA, named from the Greek 'paleo', meaning ancient, fossil, aged, makes for an interesting and somewhat ironic comment on this innovative way of preserving designs.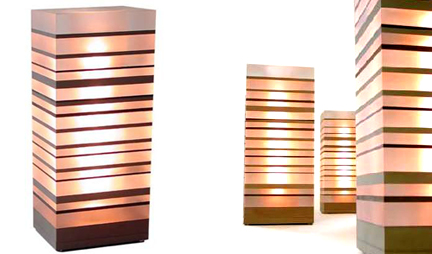 I sort of love these rectangular prisms of stripes and light. Acrylic Lamp by Matt Gagnon. $679
New materials (acrylic) and old (wood) come together in this sleek lamp.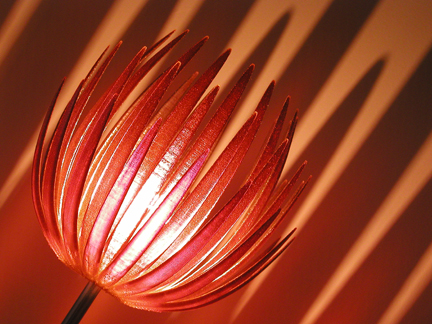 Beautiful blossom Lotus.mgx by Janne Kyttanen for $749.
Art and high technology combine to produce this series of exceptional lampshades by materialise. These exclusive lamps are created through rapid prototyping techniques —stereolithography and selective laser sintering — that offer almost unlimited freedom of design, as well as numerous possibilities for customization.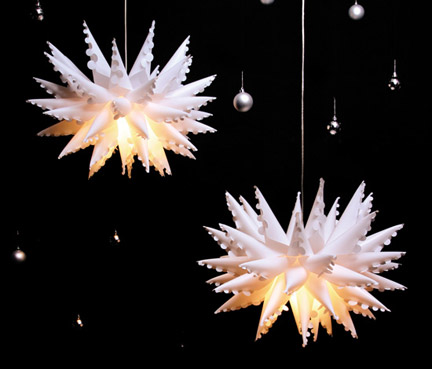 Flying urchins. Actually Snowflake Light Shade by Neels Kattentidt & Jette Scheib. $59
A dramatic pendant lampshade, inspired by the intricacies of a natural, wintry snowflake. Made from polypropylene and ingeniously flat-packed, the large-scale Snowflake unfolds into a spectacular array of illuminated, 3-dimensional cones.
If you thought looking through those was fun, jump over to Generate's Pipeline and comment on, rate, and even submit your own ground-breaking prototype. Seriously, I've been at this website for like an hour.