Jeweler and sculptor Megan Auman recently posted a great little video on her blog of her receiving and opening her very first Ponoko design.
Her first experiment with Ponoko was to create a laser cut cardboard coffee cup cozy so she could carry her steaming hot latte with style.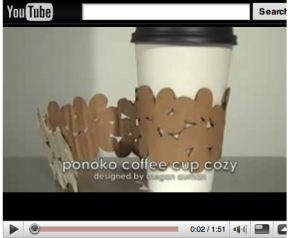 Almost as interesting as her great design was the fact that she opened it with a video camera rolling, capturing her excitement of anticipation and honest disappointment when she realized she had not taken material thickness into account in her design.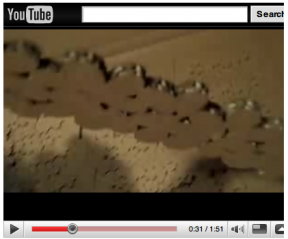 To over come this, with minor modifications to the design she was able to get her coffee cup cozy to function, and share her solution with the viewers of her video. What she was also sharing was a valuable lesson for all of us to check designs as thoroughly as possible and treat each design as a prototype and an iteration of producing a refined object. In industry designers and engineers make multiple mock-ups and prototypes (both physical and virtual) before going into production.
So I will share another lesson I learnt regarding checking designs.
I was working on an exhibition for a local brewery (Coopers) and part of the interpretive display included an array of old cooperage tools pinned off of a wall. Because each of the tools was a different size, hand made, and heavily worn, each of the clasps for the tools had to be custom made. I measured each tool carefully, made 3D CAD models of them, and then modeled up 36 (or so) custom clamps to fit.
I produced a cutting file and sent the file to a water-jet cutter to cut the clamps out of 10mm stainless steel.
All was well then the client asked for some additional tools to be mounted, so I modified the file to suit and 'quickly' sent it back to the cutters (without double checking file).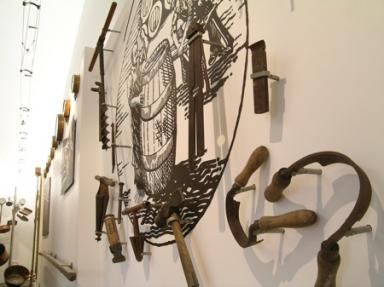 A week later when the courier returned with the $800 worth of cut stainless steel my stomach sank when I saw what should have been about 2 foot by 1 foot arrive at exactly half that size.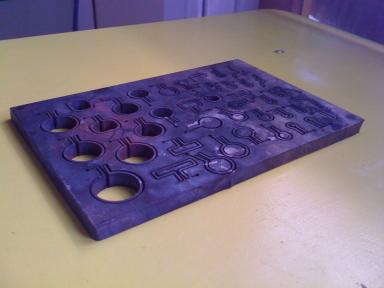 In my rush I had exported the cutting file at half scale, with no dimensions and that is what I received.
I triple checked and re-exported the file (with dimensions) which all worked fine.
Now I have a $800 stainless steel trivet, perfect for my stove top espresso machine to sit on