Helene Ige's birds of a feather mobile is made from walnut plywood has been laser cut to create the "birds of a feather" mobile. Each piece is packaged with its negative silhouette which can be used as a wall hanging or stencil.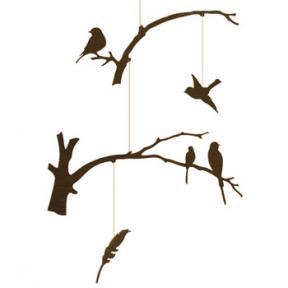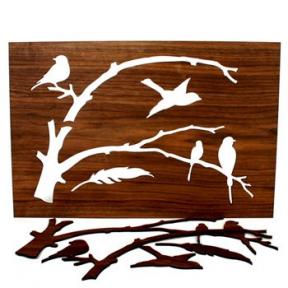 Helene's design aesthetic reflects her Japanese ancestry, west coast upbringing and New York training. Growing up in the multicultural hub of Los Angeles provided the genesis of her creativity, which was nurtured by her mother and then refined at Parsons School of Design in New York.
Helene's signature Ige designs are comprised of couture handmade home, fashion, furniture and children collections. Also in March 2004 she opened her first retail boutique in Los Angeles, California. She continually expands her creative world by endlessly exploring new and unfamiliar opportunities around her…
This is a really great example of a simple 2D design that translates well into a '3D object', a great flat pack gift and an inspiration for what is possible using Ponoko.
Available from her online store.
Available in Australia at One Small Room.
Via Aphasia Design.