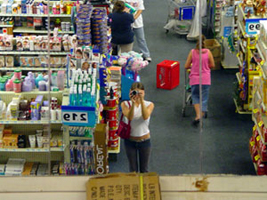 based in the Brooklyn NY, RE-SURFACE is a boutique factory and design studio established by Donna Brady.
RE-SURFACE produces a range of hand-crafted lighting and interior decor objects with art at heart, and design in mind.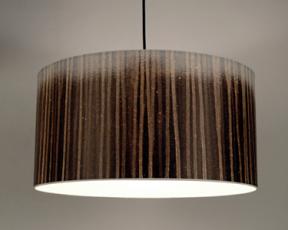 Born on the 4th of July, Donna was raised in New Smyrna Beach Florida in a home where everything was made by hand. After studying architecture at Columbia University and working as a freelance graphic artist / web designer in Manhattan for 7 years, she crossed the Williamsburg Bridge and left the virtual design world behind to begin working in the 3D world of her Brooklyn studio.
In 2003, Donna Brady formed RE-SURFACE with the idea that urban decay could be transformed into beautiful design elements for the home.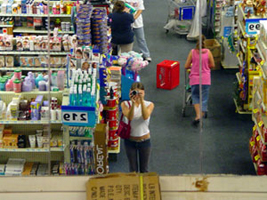 The MORE-LIGHT pendant lamp is a 16″ diameter x 9" body lamp with the shade constructed from a photographic print on transparency. All the images used are ultra hip and urban, available in four styles, South3rd, Kent, Bedford II, Noble (pictured above) and Jewel.
Each lamp comes with a 15′ plug-in cord set available in black or white. Porcelain socket uses standard light bulb, max 100 watts (not included).
Check out the rest of her lighting range including the H-Light, D-Light & Solo.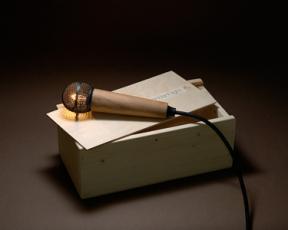 The SOLO is a re-mix of the classic microphone as light fixture. the mesh top emits a soft, disco-like glow. hang over chair or table to create atmosphere, or above turnables for reading disc labels.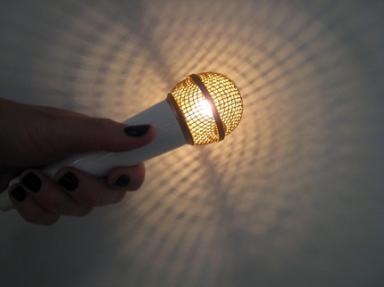 Available at Urban Alchemist, Etsy and Many More..